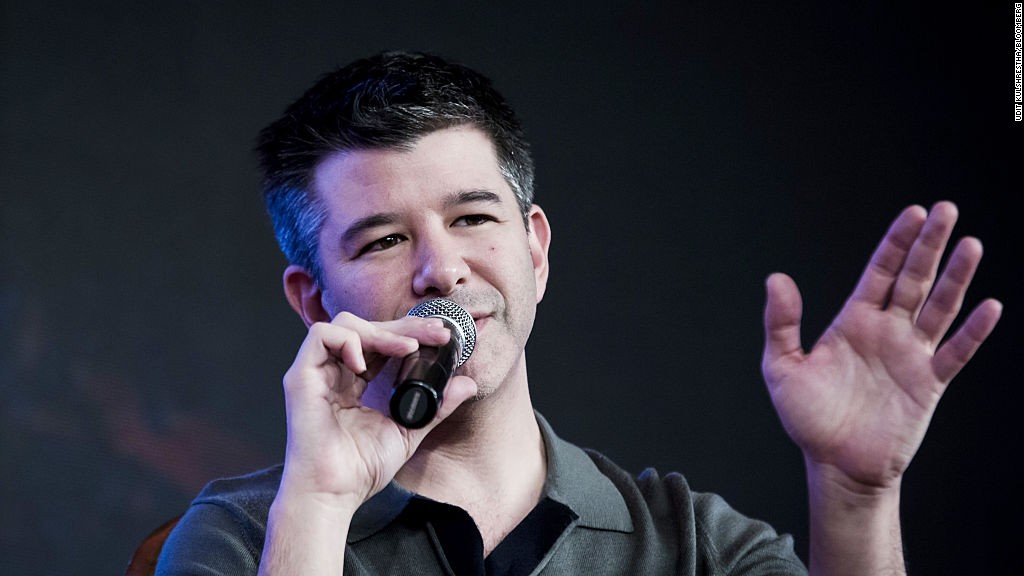 Uber's CEO has issued a remarkable mea culpa as the company scrambles to deal with yet another public relations crisis.
"I must fundamentally change as a leader and grow up," said Travis Kalanick, who's built a reputation for breaking the rules and flouting convention.
Kalanick made the remarks in a three paragraph email to Uber employees late Tuesday. Earlier in the day, Bloomberg published a video showing Kalanick arguing with his Uber driver.
The driver, who Bloomberg identifies as Fawzi Kamal, tells Kalanick that he's frustrated that the company has lowered rates for drivers. "I am bankrupt because of you."
Kalanick goes back and forth with him, but comes out verbally swinging at the end.
"Some people don't like to take responsibility for their own shit," Kalanick says in the video, which Bloomberg said was filmed from Kamal's dashboard cam. "They blame everything in their life on somebody else."
In his email, Kalanick admitted he treated the driver "disrespectfully."
"To say that I am ashamed is an extreme understatement," he said, offering his apologies to Kamal and Uber's drivers, customers and employees.
Related: Uber investors blast company culture
The video comes on the heels of several high-profile public relations nightmares for Uber. Last week, a former engineer accused the company of rampant sexism, causing outrage far beyond the tech community. Uber responded by hiring former Attorney General Eric Holder to run an internal investigation.
In January, a #DeleteUber campaign went viral when Uber turned off airport surge pricing as New York City taxi drivers protested President Trump's travel ban. Customers were also furious about the fact that Kalanick was serving on Trump's business advisory council.
In response to the outrage, Kalanick stepped down from the council.
Related: Uber pleads with users deleting the app: 'We're hurting'
Uber is on thin ice with its customers and Kalanick's email is the latest in its damage control campaign. He seems to be aware that he must step up.
"My job as your leader is to lead...and that starts with behaving in a way that makes us all proud," he wrote. "That is not what I did, and it cannot be explained away. This is the first time I've been willing to admit that I need leadership help and I intend to get it."