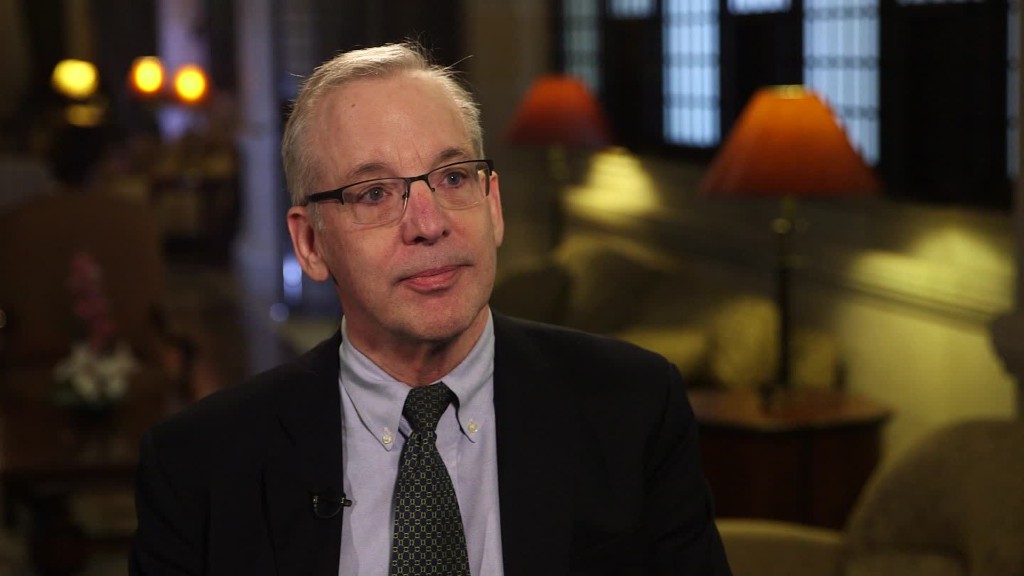 Investors have grown dramatically more confident that the Federal Reserve will raise rates next month.
New York Fed President William Dudley told CNNMoney on Tuesday that the case for raising interest rates is growing.
"I think the case for monetary policy tightening has become a lot more compelling," Dudley told Richard Quest.
Dudley cited recent "sturdy" job gains, an increase in inflation and rising optimism among business owners and consumers as key reasons behind his case for raising rates "in the relatively near future."
Related: Dudley: 'Animal spirits have been unleashed'
After Dudley's interview, the chance of a rate hike in March doubled to 66% on Wednesday from 35% Tuesday morning, according to CME Group.
"The real news this week was the dramatic shift in rate hike expectations," says Peter Boockvar, chief market strategist at the Lindsey Group, an investing firm. Boockvar cited Dudley as well as comments made by other Fed members for the change.
The U.S. dollar also gained value Wednesday morning. Fed rate hikes -- or the anticipation of them -- tend to boost the currency.
"The gains in the U.S. dollar appear to be more a function of shifting expectations of Fed policy than new clarity on fiscal policy...President Dudley's remark that an increase in rates has become 'more compelling' was the catalyst," says Win Thin, head of emerging market currency strategy at Brown Brothers Harriman.
Related: Transcript of Dudley interview with CNN
It wasn't just Dudley's remarks that boosted the odds of a rate hike. San Francisco and Philadelphia Fed Presidents John Williams and Patrick Harker have recently indicated interest in a potential March rate hike.
But Dudley's voice matters much more to markets. He is the third ranking member at the Fed behind Chair Janet Yellen and Vice Chair Stanley Fischer.
Dudley also has a permanent vote on the Fed committee that decides whether to raise, lower or maintain interest rates. Harker and Williams don't always have a vote.
Yellen speaks Friday and will give investors the best indication of where the Fed is headed going into its two-day meeting on March 14-15.