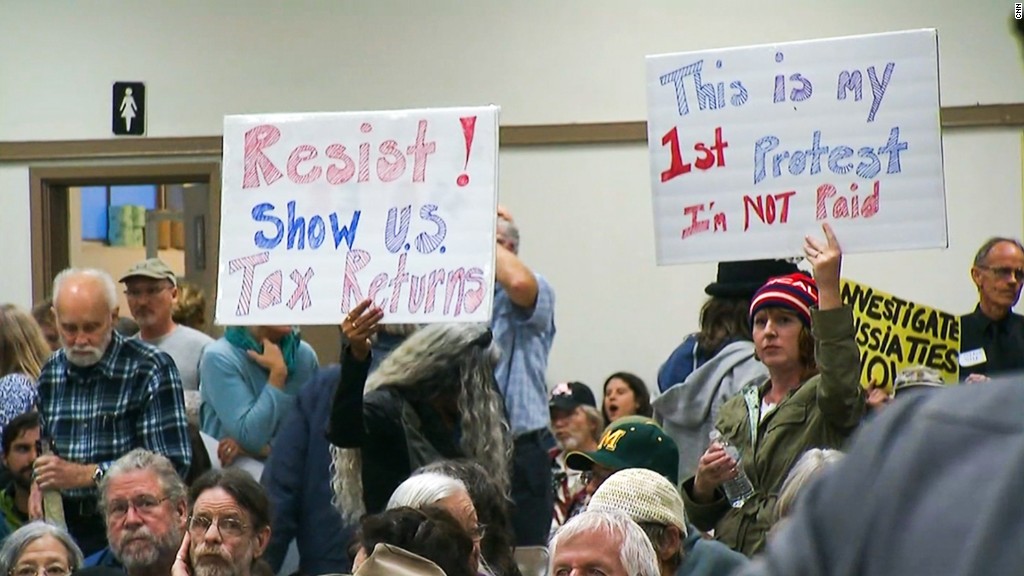 Democrats are making good on their vow to keep pursuing legal avenues to review President Trump's tax returns for potential conflicts of interest that violate the Constitution or pose a national security risk.
Their latest effort: Seven Democratic members of the Senate Finance Committee, led by Senator Debbie Stabenow, sent a letter Wednesday to the committee's chairman, Republican Senator Orin Hatch.
They urged Hatch to use his legal authority to obtain the tax returns of the president and his businesses so committee members may review them in a closed session.
Such ties may directly violate the emoluments clause of the Constitution, which prohibits federal office holders from accepting any "present, emolument, office or title" from a foreign state.
"As you are aware, there have been numerous reports in the media of the Trump Administration, the Trump campaign, and other Trump associates' close ties to the Russian government. These concerns are compounded by reports of the President's business entanglements, which may reach around the globe," the senators wrote.
Related: Republicans face tough questions about Trump's tax returns at town halls
Under the law, chairmen of the Congressional tax-writing committees are authorized to confidentially review anyone's return -- including the president's -- without that person's consent if they have cause for concern. The committees may then opt to release the returns publicly if they believe it would be in the public interest and advance a legitimate committee purpose.
A similar letter from more than 140 representatives in the House, including two Republicans, will go out on Thursday to Hatch and his House counterpart, Ways and Means Chairman Kevin Brady.
On Wednesday evening, Hatch and Brady issued a joint letter, flatly rejecting the senators' request, calling their approach
"an abuse of the tax-writing committees' statutory authority."
That power has only been used to investigate specific allegations of misconduct by federal officials, they said. "To date, we have not seen or received any specific allegations of tax-related misconduct by federal officials or abuses of taxpayer rights that would lead us to invoke it at this time."
Hatch and Brady called the senators' request "a distraction from more pressing needs" such as tax reform and the repeal and replacement of Obamacare.
Related: China grants Trump a trademark he's been seeking for a decade
Though Trump is not legally required to release his returns, every sitting president and presidential nominee has done so for the past 40 years.
Trump chose not to follow that tradition, and claims the public doesn't care "at all" about his returns.
Yet at a series of town hall meetings in the past few weeks, Republican lawmakers were questioned and heckled by their constituents about why they're not doing more to support efforts to review them.