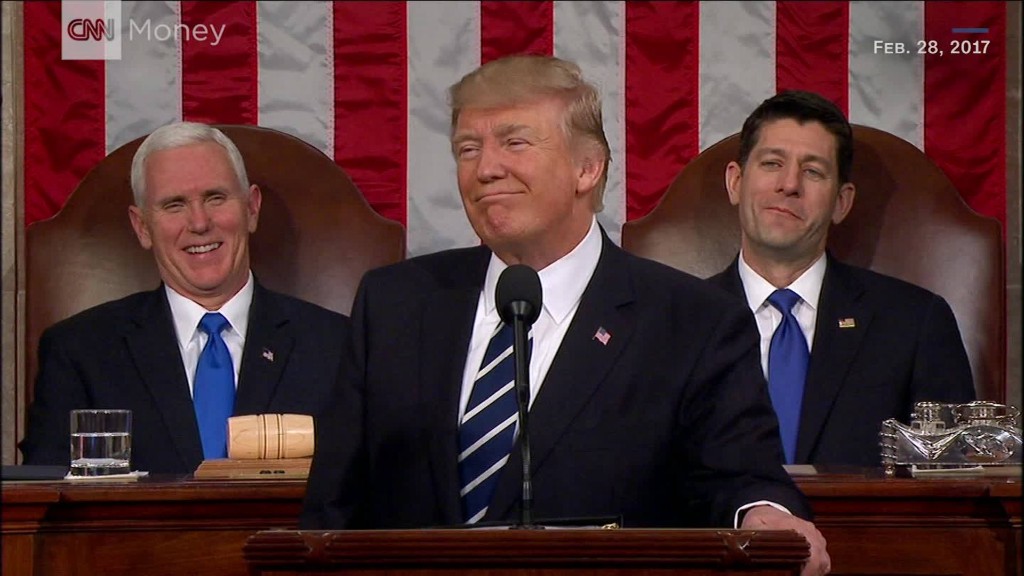 It's true that there's a country with a 100% tariff on U.S.-made motorcycles. Donald Trump said the tax is unfair to Harley-Davidson in his speech Tuesday night.
But it's not clear that the iconic U.S. company is hurt by that tax.
That's because India is the only country with a 100% tariff on motorcycles, and Harley happens to have its own factory in India. So none of the motorcycles it sells there are considered imports, and thus none are subject to the tax.
Trump vowed to negotiate an end to the tariff. He said when he recently met with Harley-Davidson (HOG) executives at the White House, they told him that tariffs make it difficult to sell in overseas markets, including one country with a 100% tax.
"They weren't even asking for a change," Trump added. "But I am."
Related: Trump is (still) spoiling for a trade war
In a statement, Harley-Davidson said it opened the plant in India in 2011 "to improve production flexibility, market responsiveness and strengthen operations in the country." It doesn't address whether the tariff played a part in its decision.
"We had a positive conversation with the president on U.S. manufacturing," the company said. "Among the issues discussed was taxes in excess of 100% ... that place companies like ours at a competitive disadvantage in a global economy."
Harley's statement referred to a 100% tariff in both India and Indonesia, but according to the World Trade Organization, Indonesia has a 40% tax on motorcycle imports. The company did not respond to a request for clarification.
Some of the motorcycles Harley assembes in India are made with parts produced in Wisconsin and then shipped to India for final assembly. That's a move typically made manufacturers to avoid paying tariffs.
India is a major market for motorcycles. There were 16.5 million motorcycles and motor scooters sold there last year, according to the Society of Indian Automobile Manufacturers. That's more than 50 times as many motorcycles than were sold in the U.S. last year, and represents 80% of all vehicle sales in India. While Harley-Davidson sells the majority motorcycles in the U.S., it has less than 1% market share in India.
Related: The real deal behind the 94 million Americans Trump says are out of work
Trump has often denounced U.S. companies, like Ford (F) and Carrier, that shift production to foreign countries. But those are companies that ship their finished products back to U.S. to sell to American consumers.
Harley-Davidson's India plant only sells its bikes in India, Italy, Spain and Portugal, not the U.S.
Getting rid of the tariffs won't be easy. The U.S. has been fighting for more access to India's motorcycle market for years.
Before 2007 India simply blocked all imports of the full-size motorcycles that are Harley-Davidson's core product. Then the U.S. negotiated a deal that had India accept motorcycle imports in exchange for agreeing to export Indian mangoes to the U.S. But the 100% tariff on motorcycles remained in place.
Tariffs on motorcycles are common across the Asia-Pacific region. Besides India and Indonesia, China has a 30% tariff, as does Malaysia. Thailand has a 60% tariff and Taiwan's tariff is 20%.
But Harley-Davidson reported record motorcycle sales in the Asia-Pacific region last year, selling 33,000 across the region. The plant in India is the company's only one in the region.