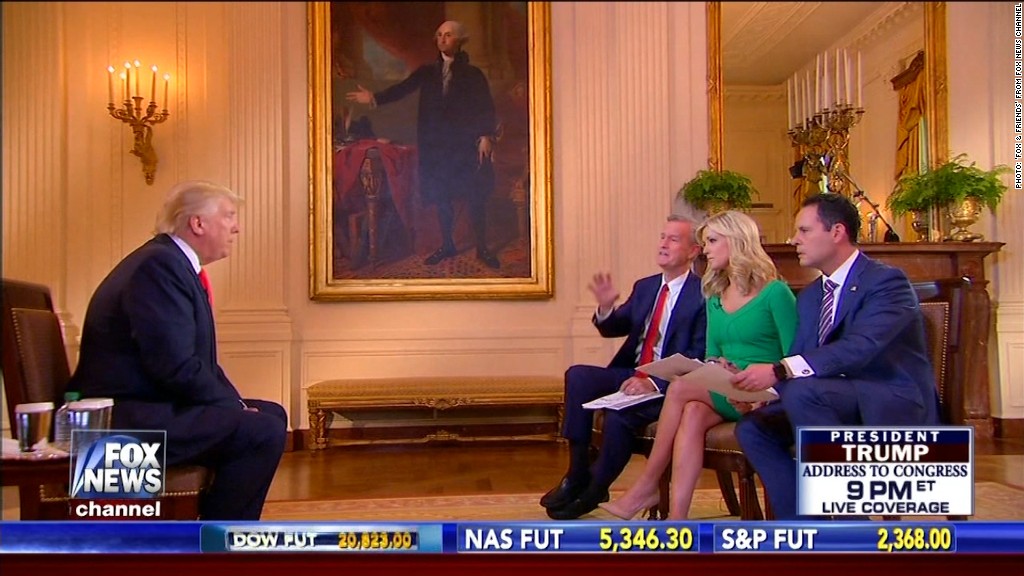 President Donald Trump's social media activity often provides a window into what he's watching and reading: A photo he shared Friday on Twitter might have offered some clues, too.
Trump tweeted out a 14-year-old image of Senator Chuck Schumer with Vladimir Putin, calling Schumer a "hypocrite" for his accusations about the administration's ties to Russia. (Schumer has not been accused of misconduct with the Russian government.)
But the photo had already been making the rounds among right-wing outlets and commentators.
When Trump shared the photo on Friday afternoon, the Drudge Report was giving the same image top billing on its widely read homepage.
The website, a repository of stories aggregated by conservative media pioneer Matt Drudge, linked to a piece that was published Thursday by The Gateway Pundit.
Related: Fake story about Obamas, Hillary Clinton ensnares Sean Hannity
The story about Schumer and Putin, who were photographed together in New York City in 2003, was written by the blog's owner, Jim Hoft.
"Where's the outrage?" Hoft wrote. "Democrat Senate Minority leader Chuck Schumer continues to push the Russian conspiracy. But it was Schumer who met with Putin in New York City - not Trump."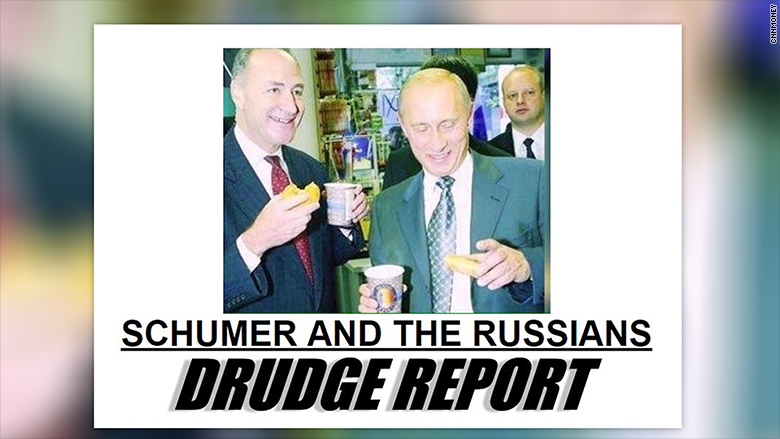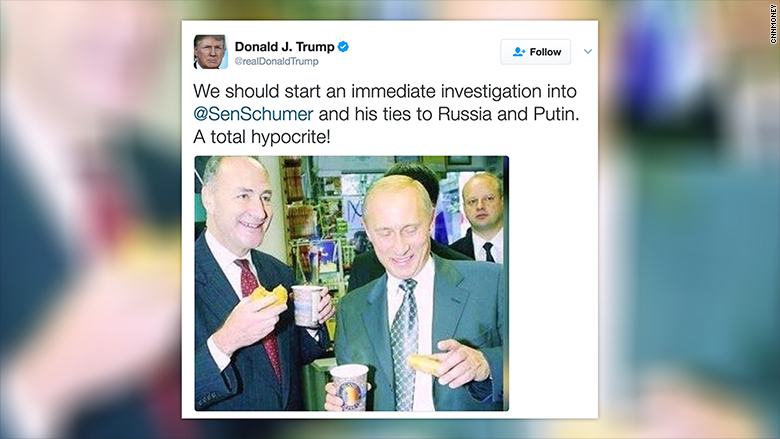 The pro-Trump blog, long confined to the fringe of American politics, has made a play for legitimacy in the Trump era; last month, it announced that it had received credentials to attend White House press briefings.
Related: While other outlets fact-check Trump, Infowars provides alternative facts
And Hoft wasn't the only one to share the image. Paul Joseph Watson, an editor-at-large for the conspiratorial and pro-Trump site Infowars, tweeted out the photo on Thursday to his more than 520,000 followers.
"Chuck Schumer must resign immediately!" Watson said. "The horror!"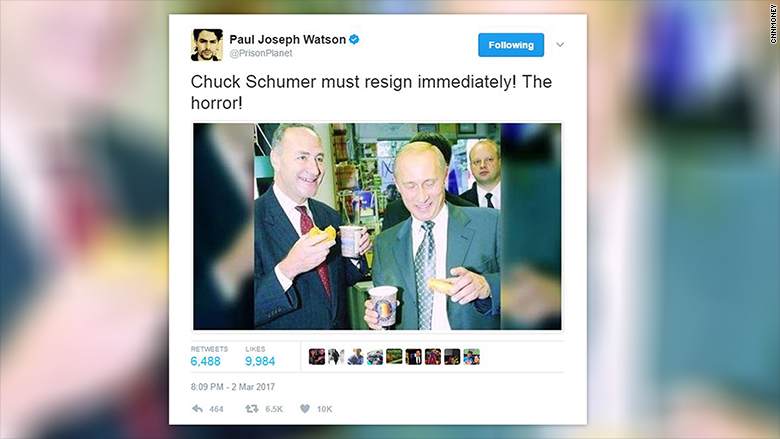 Infowars has attempted to shift from outlier to major media player in the Trump presidency. Alex Jones, the founder of Infowars, announced the creation of a Washington bureau earlier this year that is led by Jerome Corsi, perhaps best-known for promoting the false conspiracy theory surrounding former President Obama's birth certificate.
The anti-establishment Jones, who has claimed that 9/11 was an inside job and that the Sandy Hook massacre was a hoax, has embraced Trump perhaps more than any other elected official. Trump, in turn, has offered praise to Infowars unusual for a mainstream politician.
"Your reputation," Trump told Jones in a 2015 interview, "is amazing."