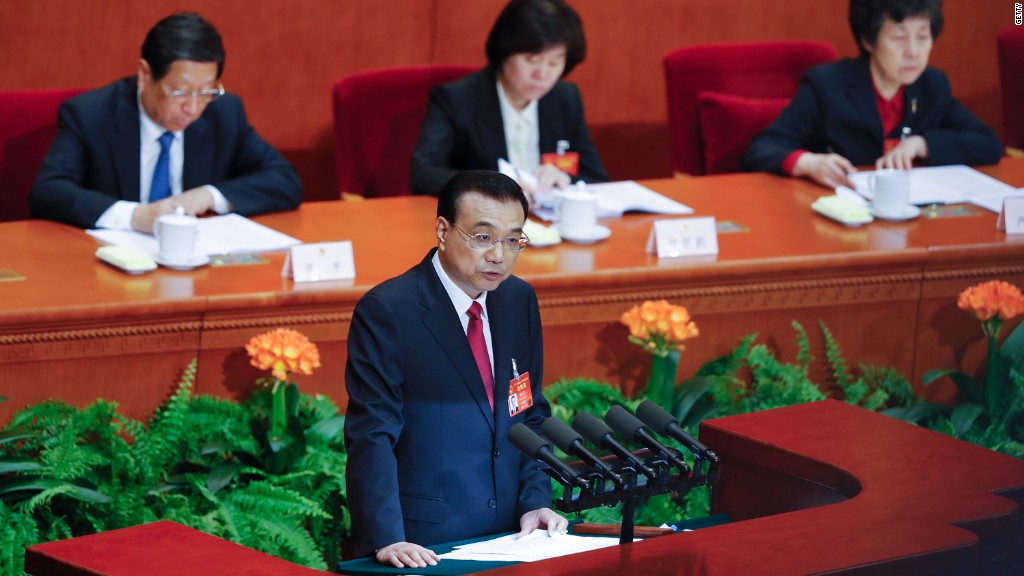 China expects its growth engine to continue to cool off after decades of breakneck expansion.
The government said Sunday that it's targeting growth of "around 6.5% or higher if possible" in 2017.
That's below the rate of 6.7% at which the world's second-largest economy grew last year, the slowest pace in more than a quarter century. But it's right in line with the forecasts of many economists.
The Chinese government used a substantial dose of stimulus to keep the economy chugging along in 2016. Public investment in infrastructure skyrocketed and bank lending soared despite repeated warnings about the country's high level of corporate debt.
Related: Trump promises more coal and steel jobs. China is cutting 500,000
The government said cutting companies' debt burdens is one of its main priorities for the coming year. The 2017 goals were outlined by Premier Li Keqiang in a work report delivered at the start of the National People's Congress, an annual gathering of lawmakers in Beijing.
Some economists have questioned the relevance of the government's headline growth target.
"Smoothing by official statisticians and flaws in the way the GDP data are calculated mean that the official growth figures are no longer a reliable measure of China's economic performance," the research firm Capital Economics said in a report ahead of the announcement.
Related: China's richest lawmakers are worth over $500 billion
Last year, Chinese authorities reported that economic growth came in at exactly the same rate for three quarters in a row, which is unusually consistent for such a rapidly expanding economy.
The credibility of the official data took a further hit in January when the governor of one of China's major industrial provinces admitted officials there had been falsely boosting economic data for years.
The central government goals announced Sunday include some huge numbers that highlight the staggering scale of China's economy and the major challenge that leaders face in trying to shift it away from a traditional reliance on low-end manufacturing and state-directed investment in infrastructure.
Related: China announces smallest military spending increase in 7 years
The government says it wants to cut tens of millions of tons of excess capacity in inefficient industries like coal and steel, where it's laying off hundreds of thousands of workers.
Authorities are also aiming to create 11 million new jobs in urban areas this year. That's fewer than 13.1 million the government says were created last year.
-- Tim Schwarz contributed to this report.