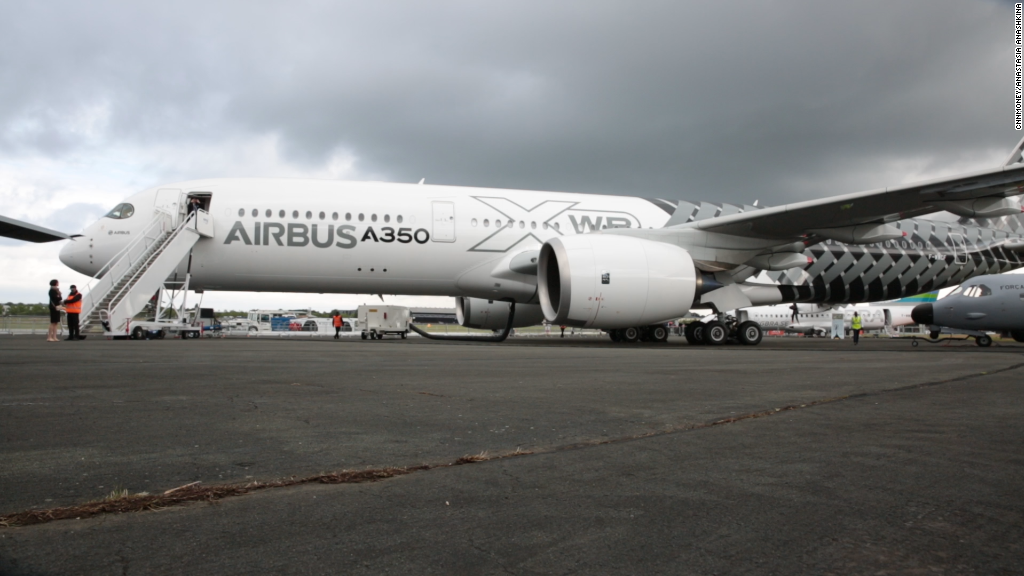 As the old saying goes, you wait ages for a bus and then two come along at once. In this case, it's two passenger airplanes. One in Brazil and one in the U.S.
New airplanes are a rare occurrence, costing years and billions of dollars to develop, but a new generation of more-efficient airliners are arriving.
A Bright Spot For Brazil
Brazilian plane maker Embraer on Tuesday rolled-out the largest passenger plane the company has ever built. The E195-E2 was unveiled at a ceremony in Sao Jose dos Campos near Sao Paulo where the plane maker is based.
John Slattery, chief executive of Embraer Commercial Aviation, said the development of the new jet is ahead of schedule and on budget, a rare feat for the perennially delayed aircraft manufacturing business.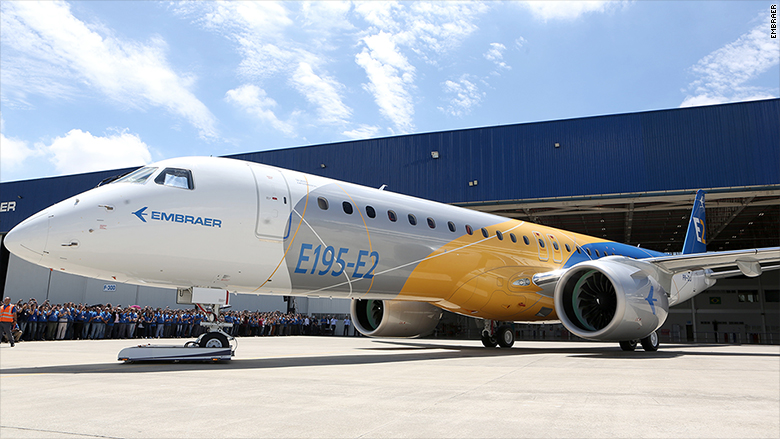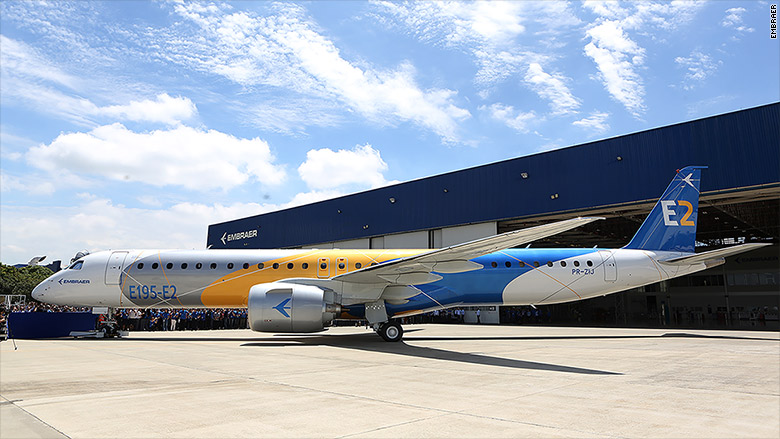 Embraer's business, which is heavily exported to the world's airlines, has been a notable bright spot in an otherwise abysmal Brazilian economy. The E195-E2 will fly before the middle of the year, said Slattery in an interview Monday. The jet will enter service in the first half of 2019. The jet is the second of three jets planned by the plane maker.
And at nearly 137 feet nose to tail, it's the second longest airliner with only four seats across the cabin. Only the supersonic pencil-like Concorde was longer.
Related: The world's new planes in 2017
The Embraer E2 aircraft are heavily updated versions of its popular E1 regional jet series of aircraft.
The jet will carry up to 146 passengers in an all-economy layout, putting it squarely in competition with Airbus and Boeing's smallest jets. But Slattery is quick to offer the jet as a complement to U.S. and European models, not a direct competitor.
Embraer's Canadian rival Bombardier was met with a fierce competitive response over the last decade when it aimed its CSeries at Boeing and Airbus' smallest single-aisle jets.
Slattery also expected an uptick in order activity, even as sales have been sluggish across all manufacturers in 2017. Slattery said he is chasing possible deals in China, Southeast Asia, Europe and Latin America, where he is seeing early signs of an economic recovery in Brazil.
Boeing's Max 9 Unveiled
Boeing, too, rolled-out a new model on Tuesday. The U.S. manufacturing giant showed off its new 737 Max 9 at a morning ceremony at its Renton, Washington, plant near Seattle.
The new aircraft is heading for its maiden flight in April.
Related: What Boeing's new 737 Max 9 has under the hood
The 737 Max is Boeing's latest update to its single-aisle jet lineup. The longer Max 9 is the second of five Max models Boeing is planning. The first, the 737 Max 8, recently completed testing and is heading for certification by aviation regulators ahead of its springtime first delivery.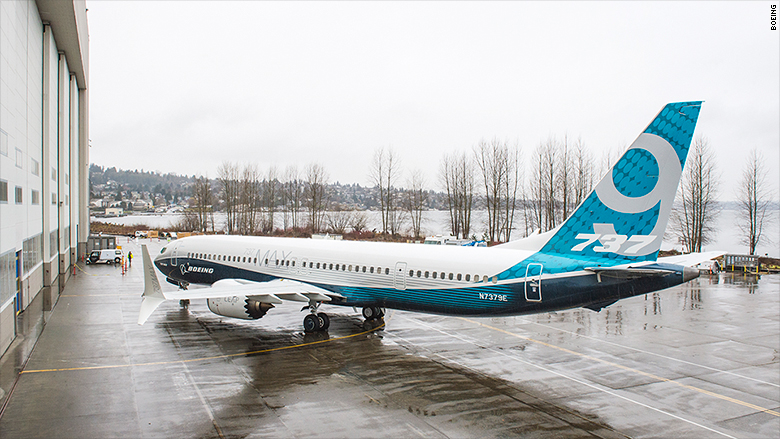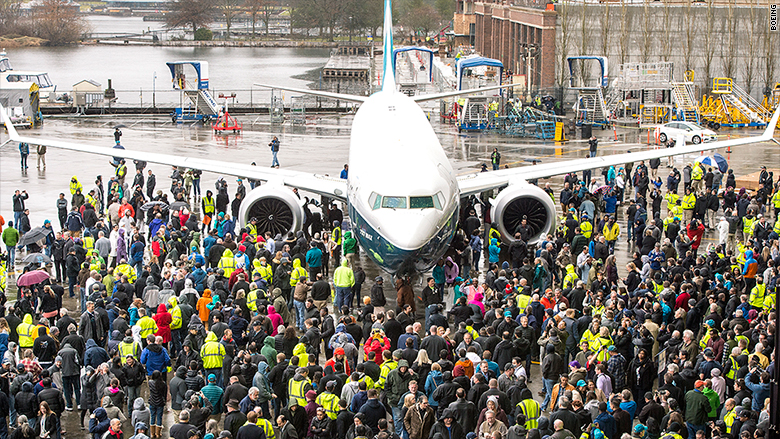 The Max 9 was originally going to be the largest version of Boeing's 737 Max family of jets, but on Tuesday, Boeing shared plans for a possible even-larger Max 10X that seats 190 in first and economy class, or about 12 more passengers than the Max 9.
Related: Boeing chases airlines for stretch 737
The Max 9 has been a slow seller for Boeing compared to its rival Airbus, and the U.S. plane maker is looking to spur sales with an even larger 737. Boeing aims to have its first orders from airlines in 2017 and wants to be flying passengers by 2020, said Randy Tinseth, Boeing Commercial Airplanes vice president of market.