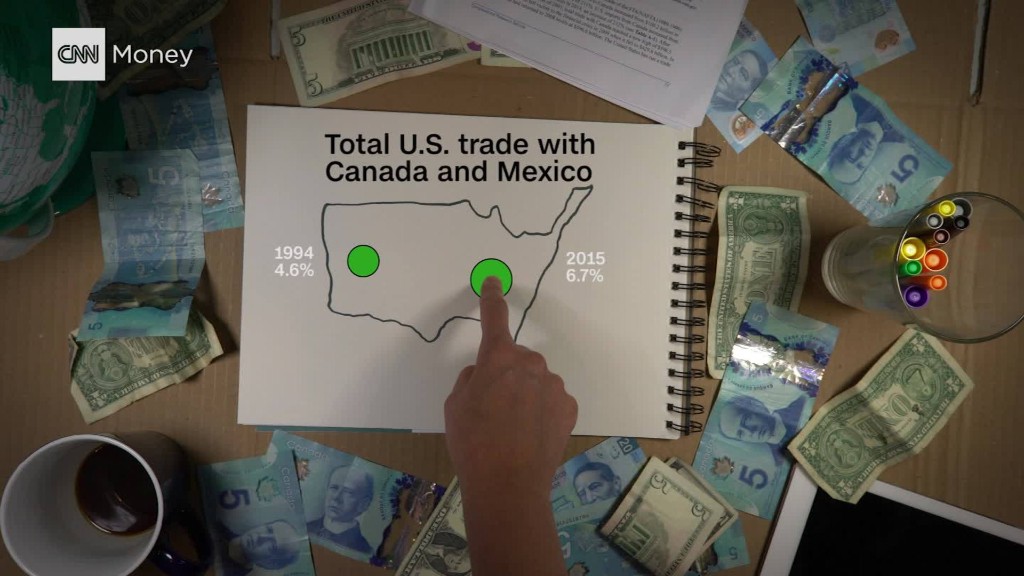 Under President Trump's description of a trade deficit, America is losing money to Mexico, China, Germany and Japan.
America had a trade deficit with all those countries in 2016. But that's not the same as losing money.
A trade deficit means the U.S. bought more goods and services from each of those countries than they bought from America.
These normally mundane trade stats, which were released Tuesday, have come under fire from Trump. He frequently cites trade deficits as a reason to renegotiate or even withdraw from deals with other countries.
Related: Trump administration: We may ignore the World Trade Organization
The big 4 trade deficits
The U.S. had a $61 billion trade deficit in goods and services with Mexico in 2016.
The U.S. trade deficit was significantly larger with China: $309 billion.
Trump lambasted China on the campaign trail. But his criticism of China over trade has not been as frequent as his criticism of Mexico since he arrived at the White House.
America's trade deficit with Germany was $67 billion, and with Japan it was $56 billion last year.
Peter Navarro, director of the White House National Trade Council, criticized Japan and Germany for manipulating their currencies to make their exports cheaper and more competitive against the U.S. (Germany uses the euro, not its own currency, but its economy has a heavy influence on the euro).
However, Trump has had very little criticism about either nation's trade ties to the United States.
Related: Trump trade negotiator boosts Mexican peso
Trade deficits - good or bad?
Navarro and Trump both like to say that a trade deficit is a negative factor when officials calculate U.S. economic growth. That's true.
But the U.S. trade deficit has grown for decades, including during periods of strong economic growth. A report from Trump's U.S. Trade Representative acknowledged that fact last week.
"Of course, a rising trade deficit may be consistent with a stronger economy," the USTR noted last week.
For example, in the late 1990s, the U.S. economy grew at 4% annually, while the trade deficit got bigger. And during the Great Recession, between 2007 and 2009, the trade deficit got smaller.
How could the U.S. grow if the trade deficit got bigger?
Because America is a consumer economy. About 66% of U.S. economic activity consists of consumer spending. Cheaper products from Mexico, China and elsewhere make it easier for Americans to spend. And all that spending is the main engine of growth behind the U.S. economy.