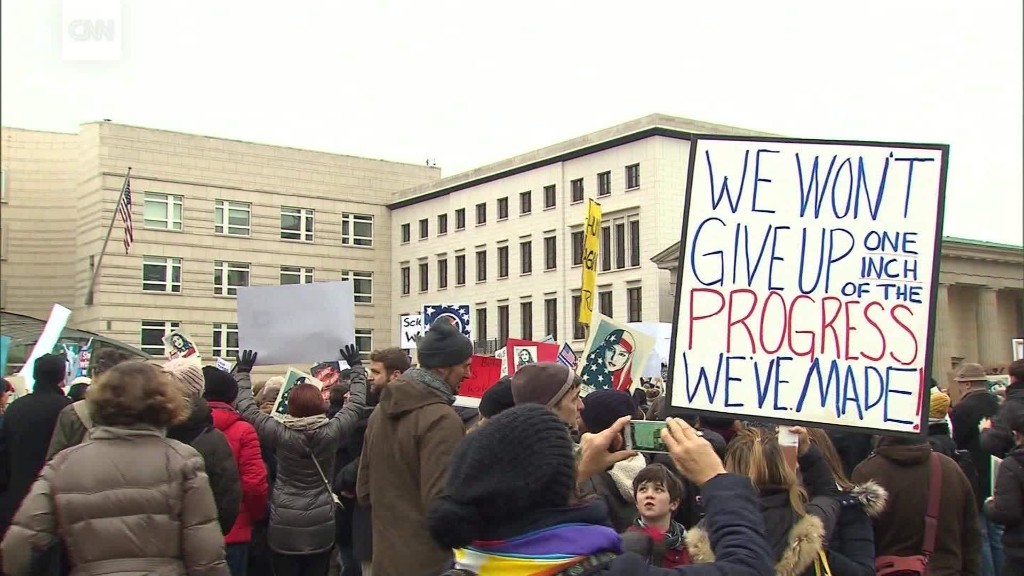 Women around the world are celebrating International Women's Day, and prominent tech figures like Facebook COO Sheryl Sandberg are weighing in.
Wednesday marks a day for celebrating "extraordinary women around the world and for renewing our commitment to taking on the conditions that still hold far too many women back," Sandberg wrote in a Facebook (FB) post. In particular, she detailed the plight of women worldwide who have no access to prenatal care or reliable contraception. Sandberg is "more committed than ever" to supporting women's reproductive rights and healthcare, she said.
Sandberg also discussed the wage gap: "Even though women work more hours per day and more days per year than men, we earn only a small percentage of the world's income and own even less of the world's property."
Related: International Women's Day: Global rallies for equal rights
International Women's Day is designed to "reflect on progress made, to call for change and to celebrate acts of courage and determination by ordinary women who have played an extraordinary role in the history of their countries and communities," according to the United Nations' website. Some women in the United States are participating in a national strike called "A Day Without a Woman."
It's not clear whether Sandberg is striking or taking action today. "If people want to support the strike, we support them. We support our employees' rights and freedoms to express their beliefs," Joe Benarroch, communication manager at Facebook, told CNNTech.
Facebook, meanwhile, published its own post detailing International Women's Day features including a 24-hour Facebook Live broadcast and artwork that will appear in users' feeds.
"Facebook's effort on International Women's Day is to help support people's participation and celebration of the women who have played an extraordinary role in their communities," Benarroch said.
Related: Sheryl Sandberg gives $1 million to Planned Parenthood
Twitter (TWTR) also commented on the occasion, with a blog post from data editor Elaine Filadelfo explaining the day is a "time to celebrate the accomplishments of women around the world while also acknowledging the progress that remains ahead." She encouraged people to use the hashtag #SheInspiresMe, which will automatically trigger a custom #WomensDay emoji.
In 2016 there were 25% more Tweets about "feminism" or "women's rights" (and translations of those phrases in 10 languages) compared with 2015, Filadelfo said. So far in 2017, the conversation has nearly doubled compared to the same period a year ago.
Snapchat (SNAP) marked the day with photo filters honoring women including Frida Kahlo, Rosa Parks and Marie Curie, as well as a general International Women's Day filter.