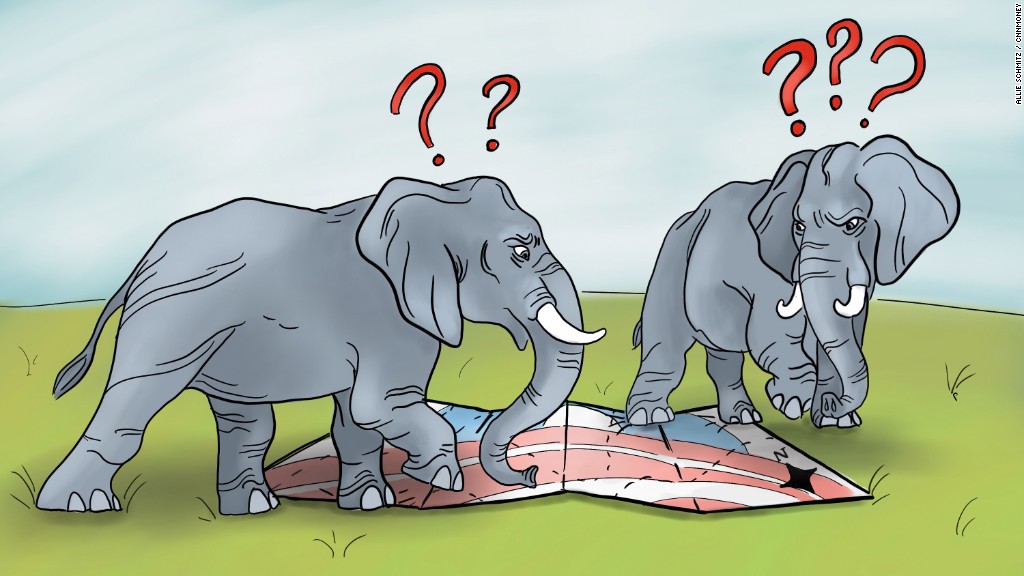 Health insurers are worried that the Republicans' bill to repeal Obamacare will leave many lower-income Americans unable to afford coverage.
The nation's two leading insurance industry groups, America's Health Insurance Plans and the Blue Cross Blue Shield Association, are asking lawmakers to provide more assistance to these consumers.
The Republican bill calls for giving people refundable tax credits of between $2,000 and $4,000 that are adjusted mainly by age to help reduce their premiums. But this method is widely viewed as less generous for those lower on the income scale than Obamacare's subsidies, which are based on an enrollee's income and cost of coverage.
Another point of concern for insurers is the Republicans' effort to overhaul and reduce federal support for Medicaid.
Already, health care experts are predicting that the bill will leave millions uninsured because of this shift and several other provisions.
Unlike leading health care provider groups representing doctors and hospitals, the insurers' associations do not oppose the bill. In fact, they say some of the measures will help stabilize the individual market. But they are flagging problems, mainly with the tax credit structure and the measure to curtail federal support of Medicaid.
Related: Republicans' Obamacare replacement bill: The winners and losers
Insurers have a vested interest in keeping people enrolled in the individual and Medicaid markets since it means more business for them. However, many carriers have found themselves losing money in the exchanges after sicker-than-expected people enrolled, prompting some to pull back or hike premiums. They have lobbied the Obama administration for years to help them deal with high-cost enrollees.
Now, they see problems looming with the Republican approach to replacing the Affordable Care Act.
The tax credits are a main concern. Many people in the Obamacare exchanges make only 100% to 200% of the poverty level, or about $12,000 to $24,000 a year. The Obamacare subsidies cover nearly all of their premiums.
Under the Republican plan, a 27-year-old making only $20,000 annually would lose $1,225 in assistance, on average, according to a study by the Kaiser Family Foundation. A 60-year-old earning the same amount would receive nearly $5,900 less. And the difference could be even greater in some high-priced places because Obamacare takes into account the cost of the premium, while the GOP tax credit does not.
"Making a payment [with a credit] that's just age adjusted is going to be difficult for them, Marilyn Tavenner, CEO of America's Health Insurance Plans, said at the group's annual conference this week.
Related: Millions could lose insurance under GOP Obamacare repeal bill, S&P reports
Likewise, the Blue Cross Blue Shield Association, whose members are big players in the individual market, want the GOP to adjust the tax credit structure.
"The tax credit to purchase health insurance coverage should be tied to income and the cost of coverage, in addition to age, in order to provide adequate assistance to older and lower income Americans," the association wrote in its list of recommended changes to the legislation.
The industry groups also have other issues with the bill, primarily the GOP's push to curtail federal support for the overall Medicaid program, which covers more than 70 million Americans. Insurers have become increasingly active in this sphere, contracting with states to cover these folks through Medicaid managed care.
Republicans want to set a cap on federal funding for Medicaid per enrollee, leaving states to make up any additional costs. And they want to curtail the rate of growth of future federal support. This would likely prompt states to limit eligibility or cut benefits.
This does not sit well with the insurers.
"As a core principle, we believe that Medicaid funding should be adequate to meet the healthcare needs of beneficiaries," Tavenner wrote to two Republican committee chairmen. "We are concerned that key components of the proposed new funding formulas starting in 2020 ... could result in unnecessary disruptions in the coverage and care beneficiaries depend on."