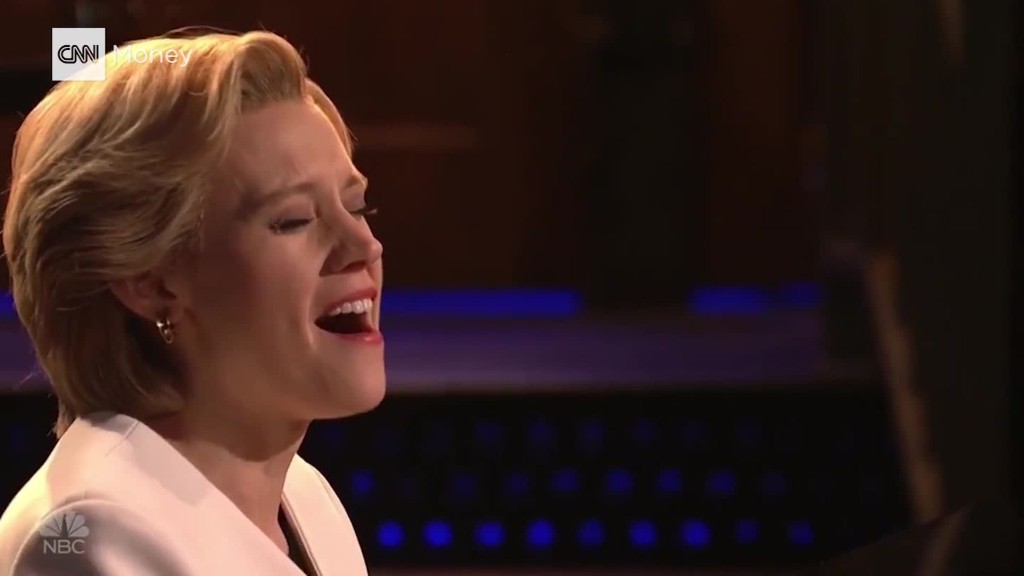 In the fall of 2012, with the election between Barack Obama and Mitt Romney down to just a few remaining weeks, and the first of the year's scheduled debates looming, I spent a week around the production offices at "Saturday Night Live," preparing to write a piece for The New York Times about the show's iconic place in American politics during presidential years.
Lorne Michaels, the creator and executive producer of "SNL," had kindly assented to my doing an article about the show's political humor, but he had asked me to wait until the week of the first debate because he believed that was when the nation most paid attention to "SNL's" take on the race and the candidates.
Most of that week I spoke with Michaels and Seth Meyers, then the head writer, about the pressure the show team felt because of all the previous smash sketches based on presidential debates ("Strategery" et al.). Michaels decided to reach up his sleeve for a familiar ace, Jim Downey, who had composed many of those well-remembered debate sketches, to work his magic again.
As it happened, the debate proved to be a dull slog, utterly devoid of obvious comedy hooks. (Obama turned in his worst performance ever as a debater and Romney was wonky to a fault.) Downey struggled mightily to find the theme for a comic take. He told me it was by far the hardest political sketch he had ever undertaken to write.
In the midst of all the fretting over the signature piece, I watched the rehearsal of some of the other bits that night, and noticed one performer whom, to that point, I taken little notice of. I didn't really know her name off the top of my head, because she had joined the show very late the previous season and had not yet forced her way into my consciousness as any particular character.
But during the rehearsal of the Weekend Update segment, Meyers introduced her as a woman in the news, Cecilia Gimenez, an 82-year-old amateur artist who had taken it upon herself to "fix" a centuries-old fresco of Christ called "Ecce Homo." The segment was so spectacularly funny -- and spectacularly performed -- I asked Seth immediately afterward who the heck was that cast member.
"Isn't she fabulous?" he told me. "That's Kate McKinnon. Keep your eye on her."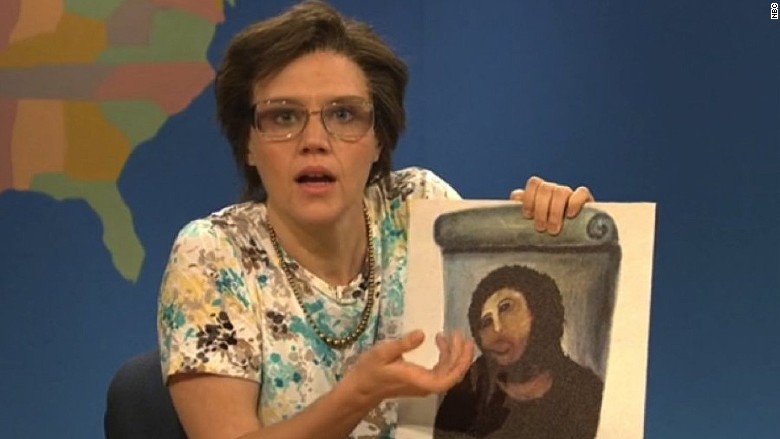 It has been almost impossible for fans of "SNL" to take their eyes off McKinnon ever since. This season, with the show enjoying yet another renaissance, as ratings have soared to 12-year highs, McKinnon has elevated herself to rarefied status as one of those classic performers who dominate the peak eras of NBC's storied late-night franchise.
"Kate McKinnon is a breakout star for 'SNL,'" said Rick Ludwin, who spent decades as the NBC executive supervising the show. "I think she has that rock-solid ability to commit to the bit, whether she's doing a celebrity or political impression, or an original character. Even before she says anything, you see her body language and facial expressions. She sells the bit before she even speaks." He noted that those abilities were the same in previous breakout stars from the show "like Amy Poehler, Will Ferrell, Kristen Wiig."
Nobody foresaw that for McKinnon when she joined the show in April, 2012, but then stars on "SNL" have always burst from obscurity (except for the one season when established performers like Billy Crystal and Martin Short filled in as cast members). Michaels felt under the gun that season to replace a recent exodus that had included Wiig, Jason Sudekis, Bill Hader and others. He told me, "I absolutely think about who I am replacing," but added, "One thing you can't do is look for another Kristen Wiig."
They just happen.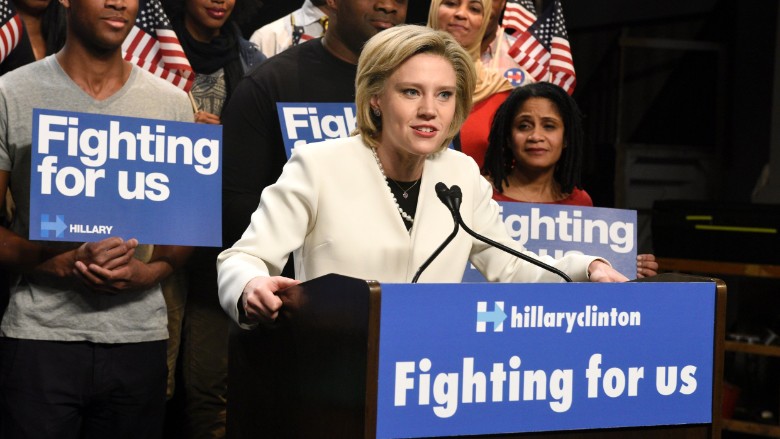 Even though she already won an Emmy for her work on the show last season, this season has seen McKinnon climb to new heights of recognition, even as fates threw her a massive, unexpected twist. Having put her own indelible stamp on the show's Hillary Clinton impression one that she somehow made distinct from the equally memorable turn Poehler had done on Clinton -- McKinnon and just about everyone else associated with the show expected her to take on regular duty as the new President in whatever sketches touched on the ongoing political situation.
Obviously, that did not turn out. McKinnon, who is passing on commenting on her SNL work while the current season is in production, had many reasons to be disappointed, including her own support for Mrs. Clinton as a candidate. When asked by Rolling Stone before the start of this season how she would feel getting to portray the first woman elected President of the United States, McKinnon said, "I had not thought about it in those terms until this moment. Not my involvement in it, but just -- what's that moment gonna be like? How hard are we gonna cry? I could cry just thinking about how hard we're gonna cry when it happens."
She may have cried in private. On the air, she performed what amounted to a valedictory -- or perhaps elegy -- for Clinton's campaign (and the recently deceased Leonard Cohen), singing "Hallelujah" in full Hillary make up the first show after the election. She seemed to barely hold it together on the words: "I told the truth, I didn't come to fool ya." And it was either she or Hillary, or both, who ended the song by telling the audience "I'm not giving up and neither should you."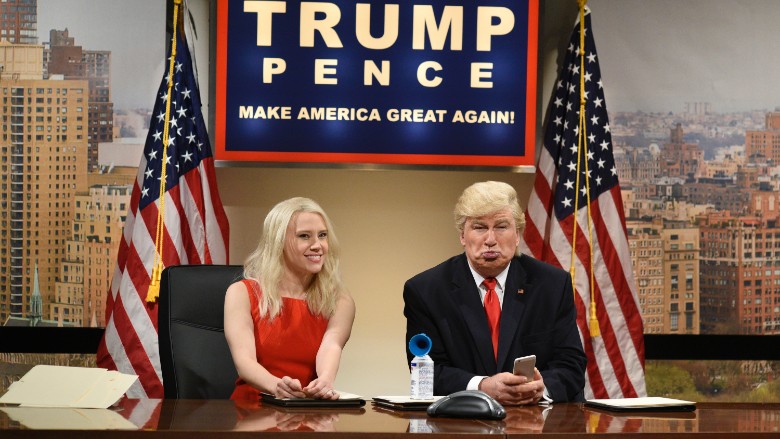 For SNL, Donald Trump's victory was a transformative in virtually every way except in foreclosing a potential showcase for its biggest current star. McKinnon quickly pivoted to another dead-on impression, KellyAnne Conway, which she performed to devastating effect. But, perhaps partly because McKinnon has filleted Conway so effectively, the formerly ubiquitous White House apologist has largely gone to ground in recent weeks, reducing McKinnon's opportunities for skewering her further. (Last week McKinnon was limited to doing Conway as a sort of potted plant in other sketches, kneeling mutely in her much-commented-on Oval Office couch pose, iPhone in hand.)
Naturally KcKinnon only summoned up another trick in her bag, taking on Jeff Sessions as a mock Forrest Gump. Presumably she will have those two go-to moves for the foreseeable Trump era, along with Betsy DeVos, Elizabeth Warren and a host of others, female or male, to come as needed.
As Rick Ludwin put it: "Kate has that sense of danger. You're watching because you never know what could happen. John Belushi, Bill Murray, Farley, Sandler, Poehler, Wiig all had it. So does Leslie Jones. Having observed how Lorne puts the cast together, it's vital to have a few who are dangerous."
And if all else fails Germany has its own election coming up later this year. Nobody does a better Angela Merkel.