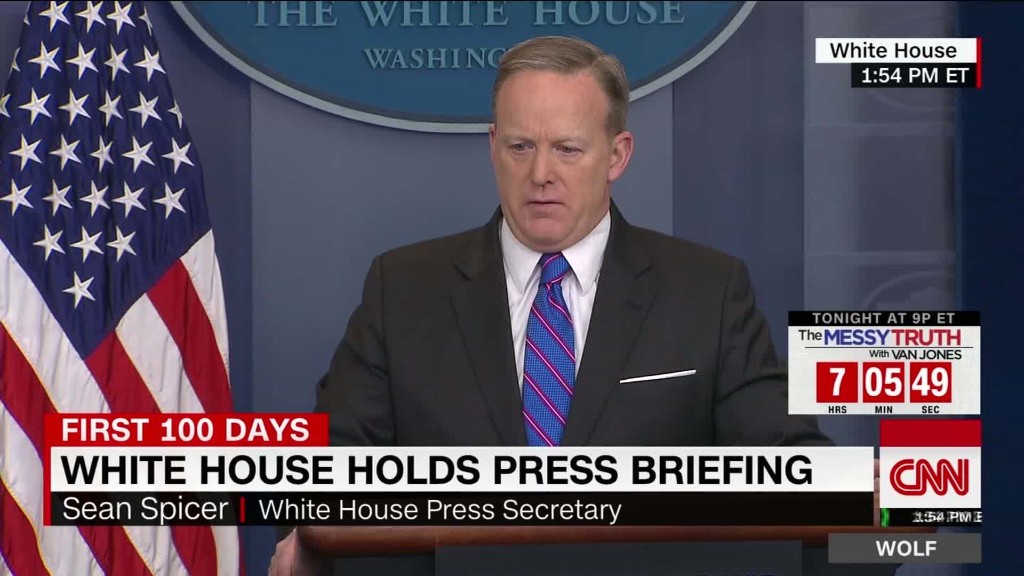 The White House press briefing is usually a forum for reporters and the public to learn new information about the president and his administration.
On Monday, after two months of baseless accusations and contradictory statements from the White House, the briefing instead turned into a debate about whether claims made by the president and his administration can even be trusted.
"When can we trust the president?" NBC's Peter Alexander asked press secretary Sean Spicer. "When he says something, can we trust that it's real?"
Alexander highlighted two claims by President Trump that raised questions about his trustworthiness. The first was Trump's accusation, made without presenting any evidence, that President Obama had wiretapped his phones. The second was his claim, also made without presenting any evidence, that previous jobs reports were "phony," while current ones were real.
"Is it phony or real when he says that President Obama was wiretapped?" Alexander asked.
Related: Spicer: Trump didn't mean wiretapping when he tweeted about wiretapping
Spicer sought to defend the president's wiretapping claim, but did so by walking back the use of the word "wiretapping." "The president used the word 'wiretapping' in quotes to mean broadly surveillance and other activities," Spicer said Monday.
Spicer then sought to defend the president's assertion about "phony" jobs numbers by noting that previous jobs projections by the Congressional Budget Office had been inaccurate. But the monthly jobs reports that Trump called "phony" were provided by the Bureau of Labor Statistics, not the CBO.
In neither case did Spicer provide actual evidence to support the assertion that Obama had wiretapped Trump or that the BLS reports were phony.
Finally, Alexander pressed for a yes or no answer: "Can you say affirmatively that whenever the president says something, we can trust it to be real?"
"If he's not joking, of course," Spicer replied.
Hallie Jackson, another NBC reporter, also pressed Spicer again on the CBO numbers.
"Are CBO numbers legitimate are not?" Jackson asked.
"That's not my determination to make," Spicer responded, before reiterating that CBO projections for the number of people insured under the Affordable Care Act had been "off by more than 50%."
However, the jobs reports in question are provided by the BLS, not the CBO.