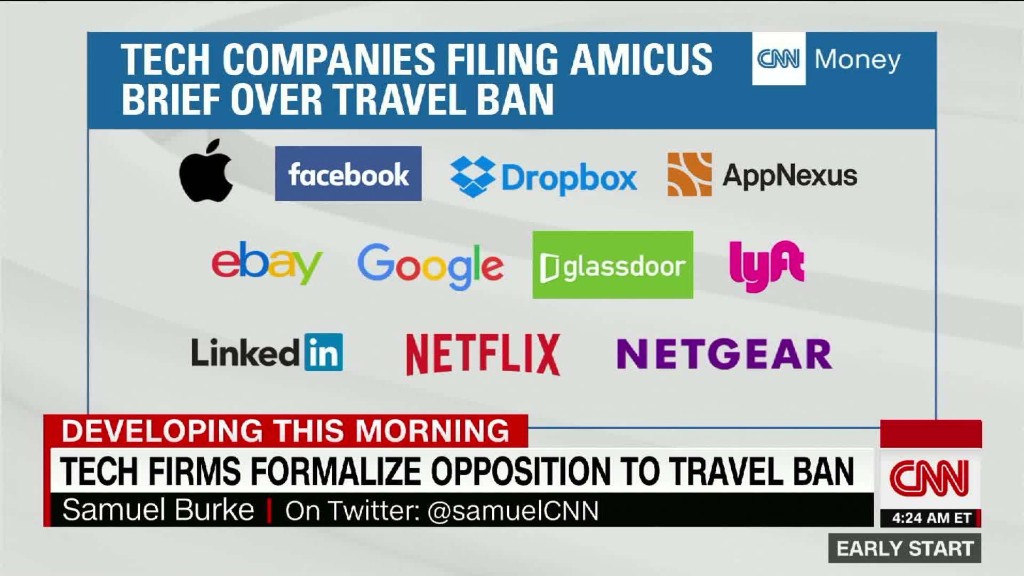 Silicon Valley marked its favorite math holiday by protesting President Donald Trump.
Hundreds of protesters joined a Pi Day rally in San Francisco Tuesday afternoon to oppose Trump's policies on issues like immigration and healthcare.
Speakers at the rally -- organized by the non-profit group Tech Stands Up -- included current and former employees from Facebook (FB), Google (GOOGL), Cisco (CSCO) and LinkedIn.
While Trump may have been the cause for the rally, the message was often about putting pressure on tech leaders rather than political leaders.
"It is far easier [for executives] to advocate for tax reform than it is for social justice because you don't have to worry about losing customers," Adam Goldstein, cofounder of travel startup Hipmunk, said on stage. "It's far easier to advocate for high-skill immigration, which directly affects your bottom line, than refugees, which do not."
Goldstein urged the tech workers in attendance to "vote with your feet" and walk away from the company if it doesn't do enough. "That is where our true power lies," he said.
The rally is the latest example of Silicon Valley's political awakening and highlights the difficult balancing act tech leaders now face.
Related: Silicon Valley's impossible balancing act with Trump
Employees are pressing their companies to speak out loudly and often against Trump and defend the industry's progressive values. Tech companies, for their part, are trying to act accordingly while working to build bridges with the new administration on tax and regulatory issues.
Many tech companies spoke up against Trump's travel ban and the administration's decision to withdraw protections for transgender students in public schools. But some in the industry want to see more.
Dilawar Syed, president of Freshdesk, urged businesses to open additional offices in Rust Belt states like Ohio and Michigan, which voted for Trump.
"When you think about hiring more workers, let's reach across. We have to bring the country together," Syed said in his speech. "Tech has to play a role."
Maria Gonzalez, an immigrant and janitor at Facebook, used her speech to ask tech companies like her own to create "sanctuary campuses" for immigrants, in the mold of sanctuary cities.
Jacky Espinoza, a barista at Cisco who spoke at the event, told CNNTech she wants to see executives stand up for "all tech workers, not just the highly-skilled immigrant workers."
Tech Stands Up was founded by Brad Taylor, a software engineer, after he grew "frustrated with the current administration." The group's goal is to defend Silicon Valley values like "diversity" and "openness."
As Taylor wrote in the group's mission statement, "Now is the time for all tech companies to stand up for these values and prove that those values are more than just hoodie slogans."