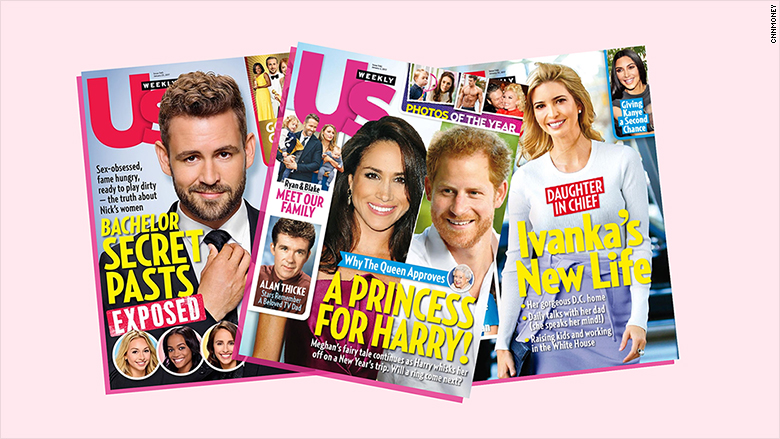 American Media Inc., the publisher of various celebrity tabloids, has agreed to acquire US Weekly from Wenner Media.
The move closes a topsy-turvy effort by Wenner to sell the magazine. Tronc, the media conglomerate that owns the Los Angeles Times and Chicago Tribune, was reportedly close to buying US Weekly earlier this month for a deal between $85 million and $95 million.
But those talks collapsed abruptly, clearing the way for AMI's winning bid. The new deal is worth $100 million, according to the Wall Street Journal.
Adding US Weekly to its portfolio will give AMI, which owns the National Enquirer and Radar Online, a possible foothold to a youthful audience.
Related: Jury awards $3 million to UVA administrator in Rolling Stone defamation case
In a press release Wednesday announcing the deal, AMI touted US Weekly's "total audience of more than 50 million young and affluent consumers across its platforms." David J. Pecker, AMI's chairman and CEO, called the celebrity gossip magazine "one of the most distinctive and powerful media brands."
For Wenner Media, the sale provides more wherewithal to pay off its debt. Last September, the publisher sold 49% of its most iconic asset, Rolling Stone, which has faced legal challenges as of late stemming from its discredited story about an alleged gang rape at the University of Virginia.
In November, a jury awarded $3 million to a University of Virginia administrator in a defamation case over the way she was depicted in the article. Another defamation lawsuit filed by the fraternity that was featured in the story is scheduled to head to trial later this year.