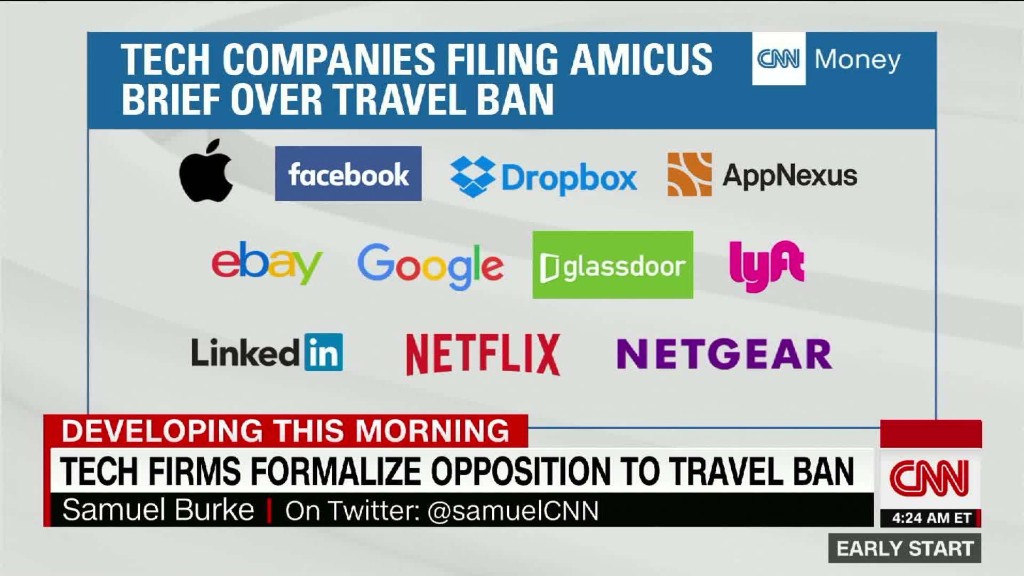 The tech industry is joining a new legal battle over President Trump's travel ban.
More than 50 companies -- including Square (SQ), Twilio (TWLO), Shutterstock (SSTK), Airbnb, Lyft, Kickstarter and Pinterest -- filed court papers Wednesday opposing Trump's revised travel ban.
The legal brief was filed in support of a lawsuit against the ban in Hawaii, which will be heard by a federal judge on Wednesday. The updated travel ban is scheduled to take effect Thursday.
In the brief, the companies argue Trump's revised ban is both unconstitutional and bad for business.
"President Trump's new travel ban is no different. It will inflict the same substantial and irreparable harm upon U.S. companies and their employees," according to the filing.
"Barring people from entering our country because of where they're from is wrong," Chris Lehane, Airbnb's head of global policy, said in a statement provided to CNNTech.
A total of 58 companies signed onto the initial filing. Justin Kazmark, a spokesman for Kickstarter, told CNNTech several more business are expected to join, including Uber and Thumbtack.
Related: Tech companies condemn Trump's revised travel ban
The biggest tech companies were notably absent from this filing, however. Reps for Apple (AAPL), Facebook (FB), Google (GOOGL) and Microsoft (MSFT) did not immediately respond to request for comment.
These four tech companies previously joined more than 100 other businesses in a legal battle opposing Trump's original travel ban last month.
The first ban barred citizens of seven Muslim-majority countries from entering the United States. The revised order drops Iraq as one of the countries and exempts citizens who are legal permanent residents of the U.S. and have valid visas to enter the country.
A smaller group of tech companies and executives condemned the updated ban shortly after it was unveiled.
"Lyft stands firmly against this order," Logan Green, Lyft's cofounder and CEO, said in a statement provided to CNNTech earlier this month. "We will continue to speak out and take action when the values of our community are put at risk."
Much of the tech industry feels pressure from employees and customers to speak up against Trump's actions. But the bigger companies must balance that with the need to build bridges to the new administration on issues like tax reform and regulations.