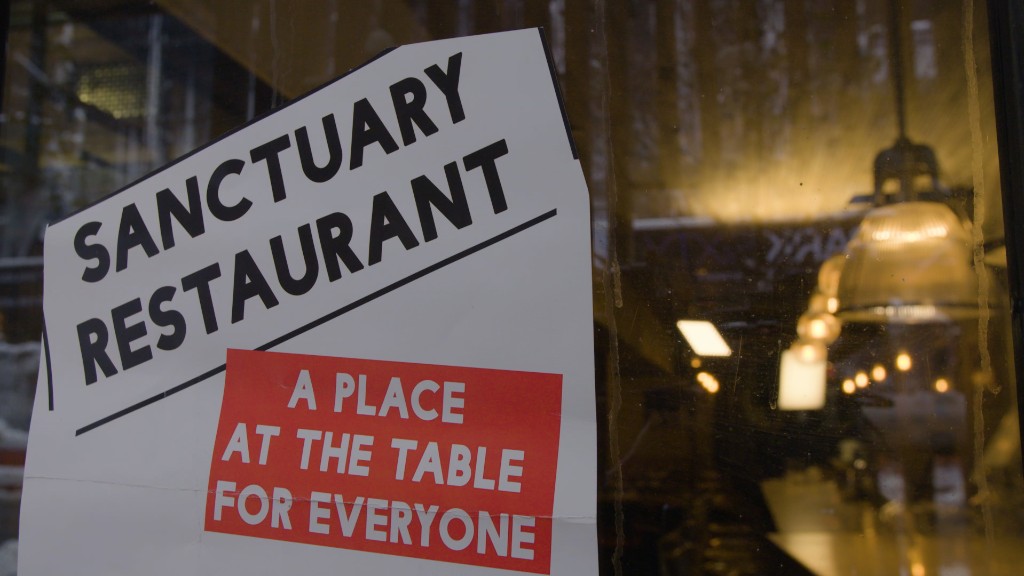 Immigrants have long been an integral part of the U.S. workforce. And while there isn't any one industry where immigrants make up the majority of workers, there are some jobs where foreign born workers dominate, a new report from Pew Research finds.
That's especially the case in America's beauty business, where immigrants made up 63% of those that provide services as manicurists and pedicurists, makeup artists, shampooers and skin care specialists. Slightly more than half of these workers (51%) were authorized to be in the country, while 12% of them were undocumented, Pew found in its analysis of 2014 Census Bureau data.
Pew also found that 60% of the workers who ensure that no bad fruits or vegetables get to supermarkets are immigrants.
Related: Without immigrants, U.S. workforce would shrink dramatically over next 20 years
Other jobs where immigrants made up more than half of the workforce included plasterers and stucco masons, sewing machine operators and farm workers.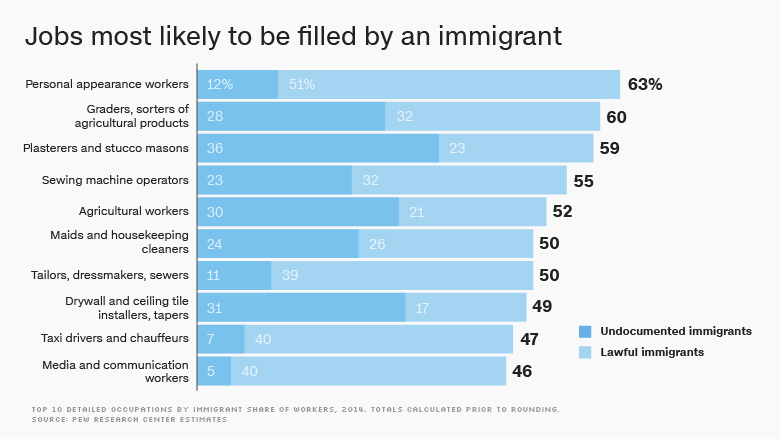 Many of the jobs held by immigrants -- especially those who are undocumented -- pay low wages, said Jeffrey Passel, a senior demographer at Pew Research Center.
"Undocumented workers, as a group, tend to work in low-paying jobs that don't require certifications, which is why you often find them working as drywall hangers or stucco masons, but don't find them in plumbing and electrical work," he said.
According to the U.S. Bureau of Labor Statistics, the median hourly wage for a manicurist in 2014 was $9.43 and an agricultural sorter earned $9.57. Sewing machine operators earned $10.54 an hour. Construction helpers like painters and paperhangers earned $12.46 an hour, while plasterers and stucco masons earned a much higher wage of $18.05 an hour.
The Pew researchers found that there was no particular industry where immigrants were the majority of workers.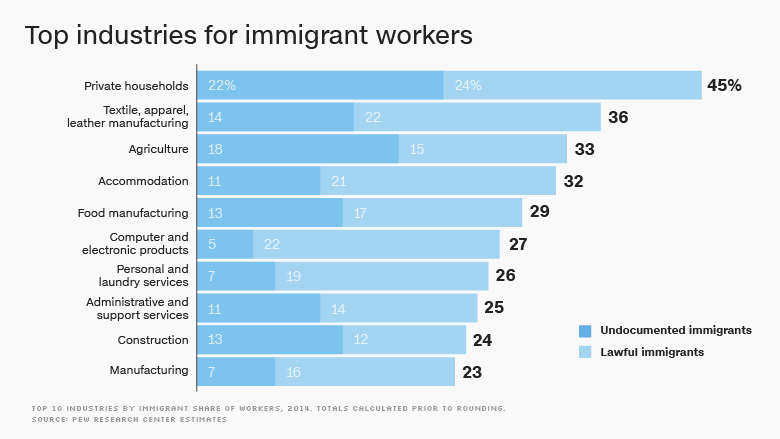 Private household employment, which includes maids, gardeners and nannies, had the largest share of immigrant workers at 45%. Among these workers there was a nearly even split between authorized and undocumented workers, the researchers found.
Related: The worker shortage facing America's farmers
Foreign born workers represented about 36% of the textile, apparel and leather manufacturing industry and 33% of the overall agriculture industry in 2014. Meanwhile, Pew found that 18% of the farming industry's foreign-born workforce was composed of undocumented immigrants, while 15% were authorized to work in the U.S.
Overall, immigrants made up 17% of the U.S. workforce in 2014, which represented about 27.6 million of the country's 161.4 million workers. Pew derived its figures from the U.S. Census American Community Survey (ACS), which includes employed, unemployed and military workers. The survey also accounts for unauthorized workers.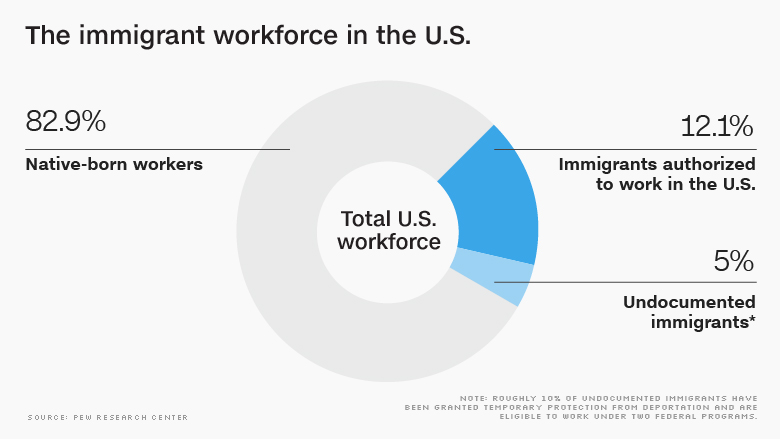 About 19.6 million immigrant workers -- or about 12.1% of the total U.S. workforce -- were in the U.S. legally in 2014, Pew reported. About 8 million -- or 5% of the U.S. workforce -- were undocumented. However, Pew noted that about 10% of this undocumented population were authorized to work through Deferred Action for Childhood Arrivals, or DACA, and temporary status protection.
Pew noted the share of authorized immigrants in the U.S. workforce has grown from 9% in 1995 to 12% in 2014, while the share of undocumented workers has risen from 3% in 1995 to 5% in 2014 -- a percentage that has remained relatively stable since 2005.
Related: America's undocumented workforce has stopped growing
As fewer migrant workers come into the country, specialty fruit and vegetable producers say they're experiencing a worker shortage that has forced them to pay higher wages. With a national average wage of roughly $12 an hour, most American workers don't want to do the work for that pay, industry sources said.
The shortage has incited the American Farm Bureau Federation to ask Congress to consider issuing more agricultural worker visas.
"This issue is critical for our farmers, who need access to a legal and stable workforce," said Kristi Boswell, director of Congressional relations for the organization. "We need Congress to pass legislation to make that happen."