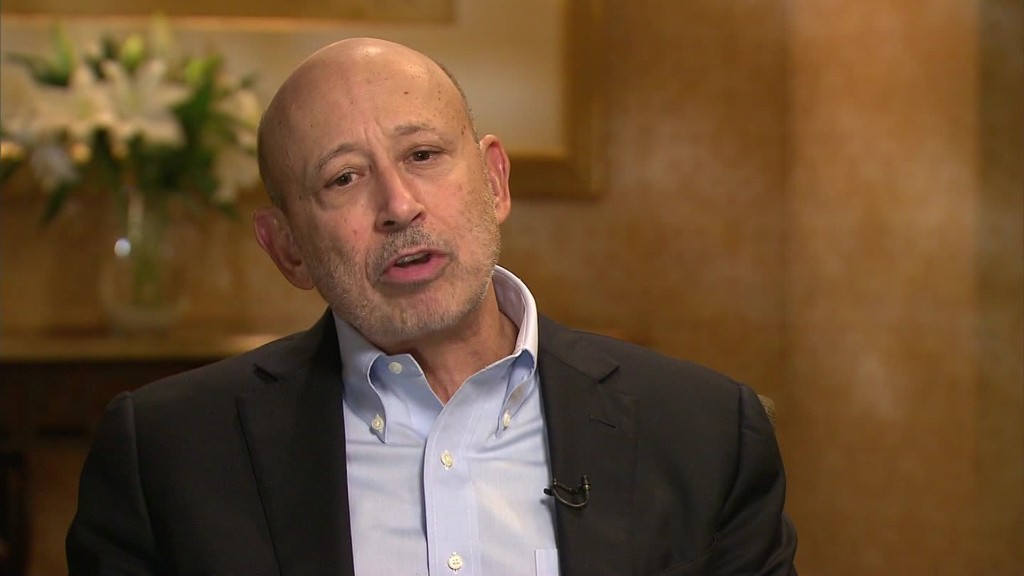 Goldman Sachs might be flying high in the Trump era, but CEO Lloyd Blankfein's paycheck has been trimmed.
A filing made public on Friday shows that Blankfein took a 4% pay cut in 2016 due to the firm's slumping revenue and a revamped compensation system that aims to hold senior executives more accountable.
Goldman Sachs (GS) paid Blankfein $22 million for last year, down from $23 million in 2015. The longtime CEO's salary remained at $2 million, but his cash bonus was cut to $4 million from $6.3 million.
The drop-off in pay comes during a year that Goldman Sachs shares surged 33% amid a boom for bank stocks.
However, Goldman's compensation committee said it decided to reduce pay for senior executives specifically because the bank's revenue fell by 9% last year. Goldman's revenue slump was caused by investment-banking struggles amid a sharp drop in fees on IPOs and other stock deals.
Blankfein himself acknowledged that the beginning of 2016 was "challenging," although the firm was able to rebound in the second half of the year.
Still, Goldman Sachs credited Blankfein with reducing expenses and demonstrating "an unwavering commitment to the firm and its people."
Related: Goldman Sachs CEO responds to 'Government Sachs' criticism
The more muted compensation for Blankfein also reflects a compensation overhaul at Goldman Sachs following criticism from shareholders. After its 2015 payouts received relatively low support from investors, Goldman Sachs met with shareholders to reform the compensation system.
Goldman Sachs said that all of Blankfein's stock bonus is now linked to the company's performance, compared with just 50% in 2015.
The other big change is that Goldman Sachs now rewards its executives based on how the firm performs relative to its rivals like JPMorgan Chase (JPM) and Morgan Stanley (MS), not just compared to its own recent history.
Goldman Sachs has also stopped giving senior executives long-term equity awards. Blankfein had made $7 million in long-term incentives in 2015, but none last year.
Gary Cohn, who stepped down as Goldman's president at the end of last year to become President Trump's top economic adviser, also took a bit of a pay hit. Cohn made $20 million in total compensation last year, compared with $21 million the year before.
But don't feel too bad for Cohn, who walked away from Goldman Sachs with a stunning $285 million that raised eyebrows and sparked conflict of interest concerns.