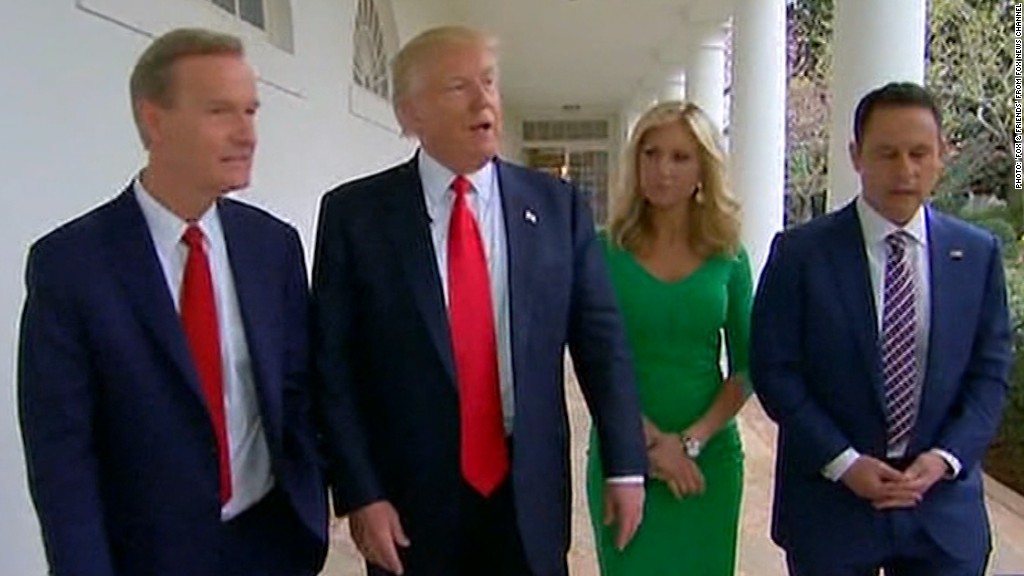 President Trump doesn't just watch a lot of Fox News, it's also his favorite place to be interviewed.
Since taking office on January 20, Trump has given five of his seven sit-down TV interviews to Fox News hosts.
His first Fox session was with Sean Hannity in January, followed by Bill O'Reilly on Super Bowl Sunday. He talked with the hosts of "Fox & Friends" in late February, sat down with Tucker Carlson earlier this week, and joked with Jesse Watters in an interview that was taped this week and will air on Saturday.
The only other networks that have been granted interviews with President Trump are ABC, which had his first interview as president; the Christian Broadcasting Network; and NBC News.
The NBC interview, which aired on MSNBC and the NBC Nightly News, was a brief conversation with Trump at the National Museum of African American History and Culture in February.
That means of the eight interviews that Trump has given on television as president, five of them have been with Fox News.
Fox brings a largely conservative audience, so giving interviews to the network allows Trump to speak to his base and those who voted for him.
However, the White House is breaking from the common practice of past administrations to rotate presidential interviews among multiple outlets. Trump's latest interview took place on Air Force One with Fox's Watters. The two spoke Wednesday before the president's rally in Nashville.
Watters, who was best known for his ambush interviews on O'Reilly's "The O'Reilly Factor," now has his own show on Fox called "Watters World," which airs on Saturday nights.
The host courted backlash in October for a five-minute segment in which he asked people in New York City's Chinatown district about the 2016 election. The segment included a number of offensive Asian stereotypes.
Related: Napolitano claim shows Fox's blurry line between reporting and commentary
Watters later apologized for the segment. "My man-on-the-street interviews are meant to be taken as tongue-in-cheek and I regret if anyone found offense," he wrote on Twitter.
The host previewed clips from the interview on "Fox & Friends" Friday morning. In one clip, he playfully asks the president if has hung a signed photograph of Watters on his wall.
"Yeah, absolutely," Trump laughed.
"That's fake news. I don't believe it," Watters responded.