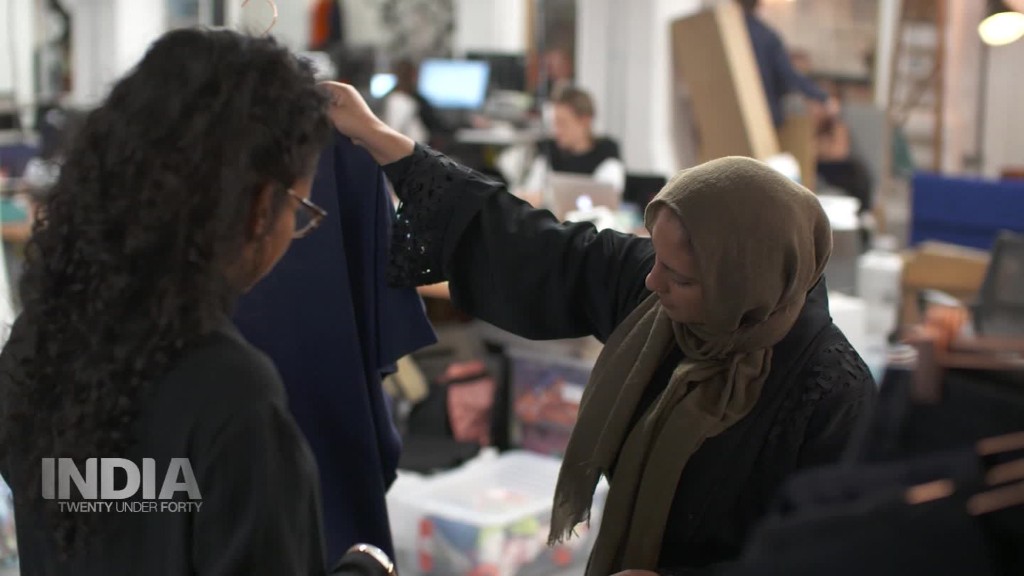 Muslim women are flocking to a startup that promises them fashionable clothes that fit with their faith.
Nafisa Bakkar and her sister, Selina, launched Amaliah from their mother's kitchen table in 2015 as an Instagram page to curate Muslim-friendly clothes from top brands.
Since then, that page has grown into an online community of more than 250,000 Muslim women.
The sisters grew up in the U.K., born to Indian immigrants from the eastern city of Kolkata.
Nafisa Bakkar told CNNMoney they grappled with multiple identities throughout their upbringing, but soon realized how big a role Islam played -- and the challenges they faced as a result.
One of those was how to find clothes that were stylish but allowed them to adhere to their religion.
"Amaliah started as a personal frustration," the 24-year-old said. "We realized that it was a big pain point for Muslim women to find clothes that were modest but also fashionable."
Related: Employers can ban headscarves, Europe's top court rules
That Instagram page has grown into a platform that allows Muslim women to share their perspectives, experiences and, of course, find the right clothes. The company's website features a curated collection from leading stores such as H&M, ASOS and Zara, which customers can order directly online.
It also features blogs and articles with titles such as "My journey to being a part-time hijabi" and "Empowerment looks different to everyone."
"I see Amaliah as a ... tool for cultural change," Nafisa Bakkar said. "I don't really see us as just a clothing brand."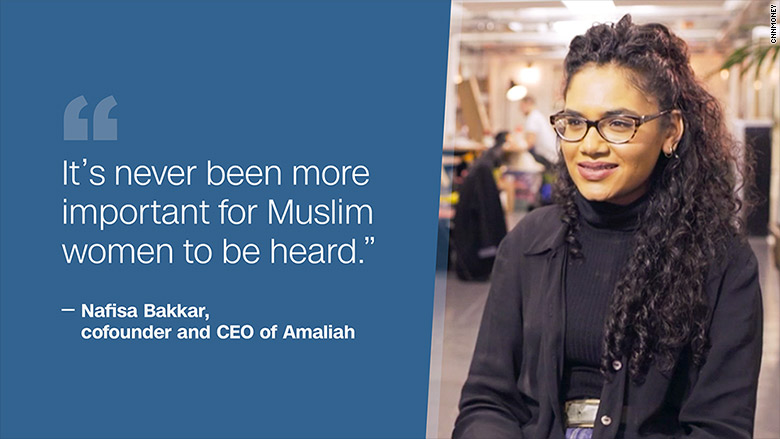 The ultimate objective is gradually to change the perception of Islam in an increasingly polarized world.
"In today's political turmoil... it's never been more important for Muslim women to be heard," the young CEO told CNNMoney. "What we're seeing in the Islamic economy [is] a lot of start-ups rising out of frustrations, out of feeling that we're not catered for."
Related: Nike has a new 'Pro Hijab' for Muslim women
That market is growing, and big global brands are beginning to notice. Bakkar says fashion powerhouses such as Dolce & Gabbana and DKNY have started catering more to Muslim women over the past couple of years.
But there's still a long way to go.
"In an ideal world, Amaliah wouldn't exist," Bakkar said. "It wouldn't be difficult for a Muslim woman to find the right clothes that she doesn't feel compromises her culture and values, it wouldn't be difficult to hear the opinion of a Muslim woman in the mainstream news."