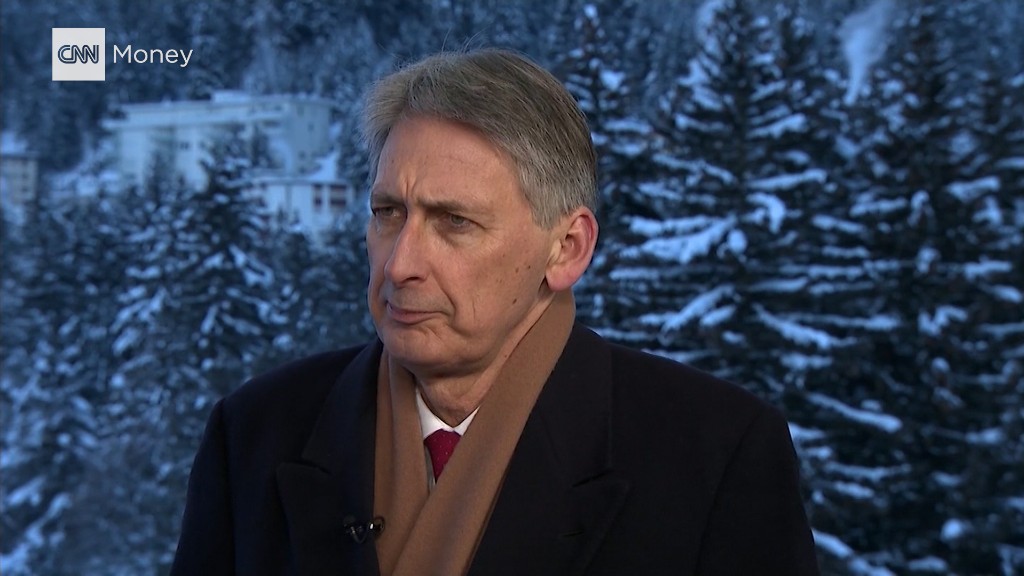 Prices are zooming higher in Brexit Britain.
U.K. inflation increased to 2.3% in February over the previous year, according to the Office for National Statistics.
That's the highest level in more than three years. The pace of the increase, from 1.8% in January, also surprised analysts.
The prices paid by consumers have risen steadily over the past year, marking a major turnaround from 2015 when prices were actually declining. It's a trend that has accelerated since Britain voted to leave the European Union, triggering a sharp drop in the pound.
Prices on car fuel, food, furniture and computers were among the main sources of inflation in February.
The move above 2% poses a challenge for the Bank of England, which aims to keep inflation around that mark. The central bank could now come under pressure to hike interest rates from their current ultra-low levels.
"Rising prices have nudged inflation well above the Bank of England's target of 2%, and it's expected to rise further in the coming months, but wage growth has not kept pace so many households are feeling the pinch," said Nick Harrison, a top executive at the British bank First Direct.
Brits are likely to find higher prices on imported items like German cars and French wine. Supermarket chains, which are locked in a fierce price war, may also try to squeeze more value out of their suppliers.
The beloved Toblerone, for example, had to be reworked for U.K. customers to keep its price from rising too quickly. In November, its producer slashed the weight of the chocolate bar and changed its shape because of higher ingredient costs.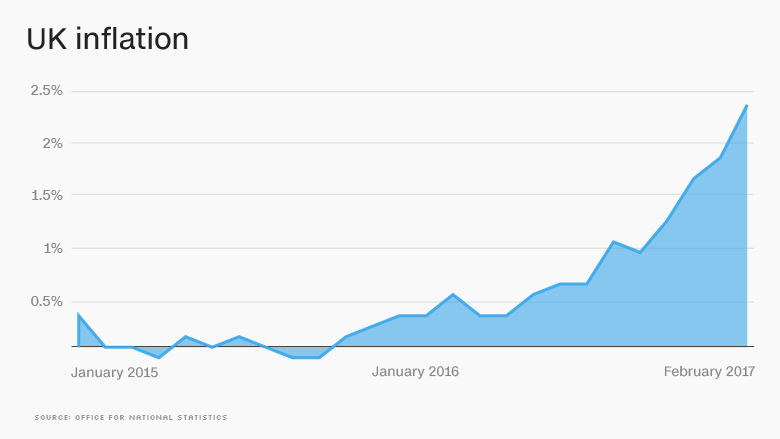 Related: Scotland seeks second independence vote
The pound fell by as much as 20% in the months following the June Brexit referendum because of worries over the U.K.'s economic prospects.
A pound is now worth $1.25, down from $1.50 on the day of the referendum.
It's expected new trade barriers and tariffs will be erected between the U.K. and it's largest trading partner -- the EU -- after Brexit.
Related: Thousands of auto jobs in jeopardy as U.K. faces Brexit
Consumer spending remained solid in the wake of the referendum, defying the expectations of most economists.
But now, it looks like consumers are starting to buckle under the pressure of higher prices. Retail sales have taken a hit in recent months.
Prime Minister Theresa May is expected to trigger formal exit negotiations with the EU next week.