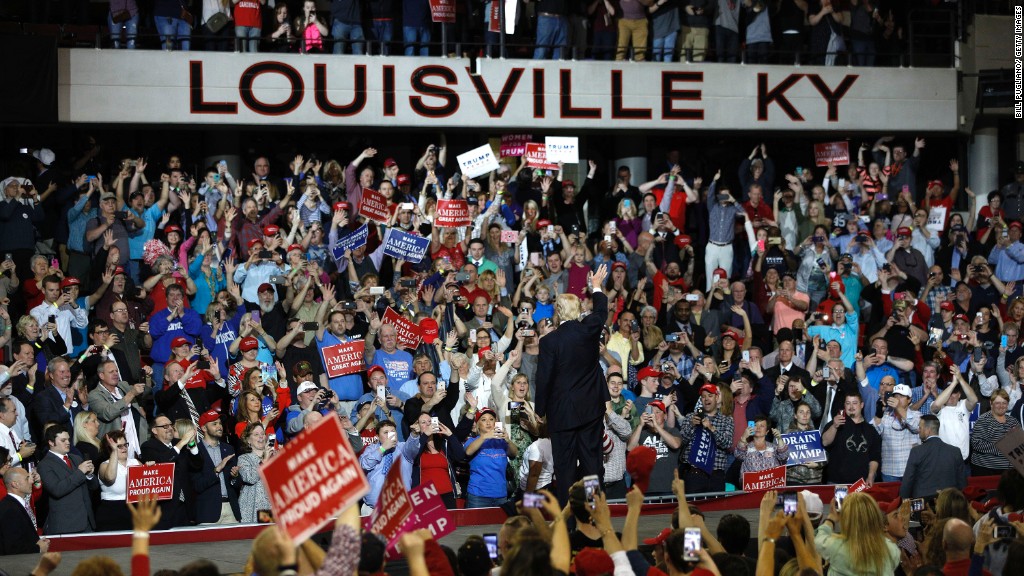 A local news station in Louisville, Kentucky, announced on air Monday that the White House made it clear prior to an interview that President Donald Trump wouldn't answer questions on Russia or wiretapping.
WDRB interviewed the President after his event in Louisville on Monday evening.
Earlier in the day, the FBI Director James Comey announced for the first time publicly an investigation into possible connections between the Trump campaign and Russian interference in the 2016 presidential election. Comey also said there was no evidence to support Trump's claim that former President Obama ordered a wiretap on Trump Tower during the election.
In the broadcast of that interview, Lawrence Smith, who interviewed the President, said, "The White House did make it clear the President would not answer questions about wiretapping or the investigation into Russia's role in the election, so we stuck to issues most directly important to Kentucky."
Barry Fulmer, the vice president and director of news at WDRB, told CNN's KFile in a statement: "Just prior to the interview the WH made clear it would not discuss wiretaps. We pointed that out in our story, but focused on Republican/WH changes and how it affects Kentucky."
The White House did not respond to a request for comment.
Another station that interviewed Trump during his visit told CNN's KFile that the White House did not place any restrictions on their interview.
"Fox19 Now was never given parameters leading up to the interview," said Fox19 News Director Steve Hyvonen. "Had we been told what to ask or had we been required to submit our questions, we would not have done the interview. As the interview was being confirmed the day before, we told White House representatives we would like to talk with the President about several topics affecting Cincinnati and the Tri-State, including his new healthcare plan. We did not submit -- and were not asked to submit -- the topics or the questions."
Fox19 did not ask Trump about Russia or his wiretapping claims in their interview.