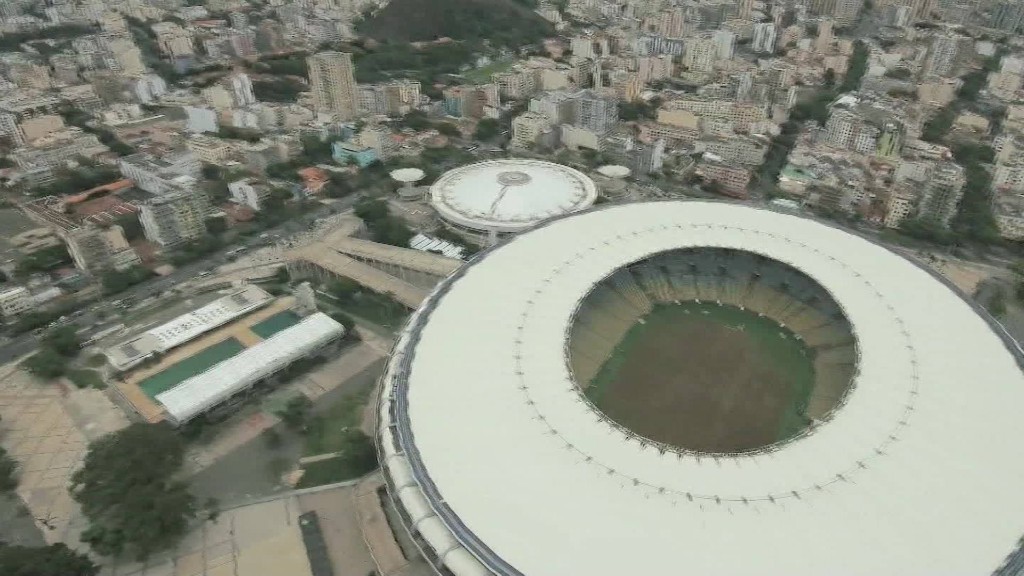 Brazil can't catch a break.
Several countries this week have banned imports of Brazilian meat after police raided several meat producers last Friday for allegedly doling out bribes to inspectors to certify meat that was either rotten or tainted with salmonella.
China, Mexico, Chile, Japan, the European Union and Hong Kong have taken varying measures to avoid importing Brazilian meat. For its part, Brazil's government shut down three plants and suspended the export licenses for 21 meat packing plants too.
"This is the last thing that Brazil's economy needed," says Neil Shearing, chief emerging markets economist at Capital Economics, a research firm.
The European Union is banning meat from any plant that is implicated in the case. China, Chile and Hong Kong suspended all meat imports from Brazil.
The scandal -- dubbed "Carne Fraca" or "Weak Meat" -- comes as Brazil is still in its longest recession in history, plagued by other corruption scandals, a political crisis and a steep fall in commodity prices.
Related: Brazil raids food giants for allegedly selling rotten meat
Brazil exported $12.6 billion of meat last year, making it one of the country's biggest exports. It's one of the world's largest meat exporters. Meat is a staple of the Brazilian diet.
Six million Brazilians work in the meat production industry, according to the Brazilian Association of Meat Exporters.
"At face value, the developing scandal over Brazil's meat exports could plausibly derail the country's economic recovery," says Shearing.
Most of the concerns have centered around Brazilian poultry, but other countries aren't taking any chances, temporarily banning all Brazilian meat imports.
Brazilian police said last Friday that some of the meat ended up in lunches at public schools, and evidence showed some meat was headed for Italy and Spain. The massive raid operation included 1,100 agents, over 300 court orders and nearly 200 search warrants.
Related: Brazil dives deeper into historic recession
Over 30 federal food inspectors are under investigation.
Brazil's largest meat producers, BRF and JBS, were among those raided.
In a statement issued last Friday, JBS said it has complete confidence in its production processes and in the integrity of its product. It emphasized that one of its employees questioned played no strategic role in product quality or any inspection processes.
BRF said in a statement last week that it meets all of the standards and regulations required by law and that there it has "rigorous processes and controls and does not condone illegal practices."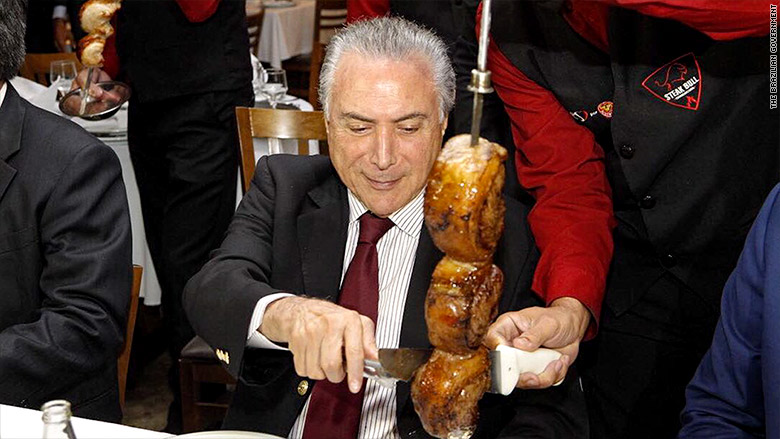 Brazil's president, Michel Temer (photographed above), has tried to cool concerns. He took ambassadors in Brazil from meat-importing nations to a Brazilian steakhouse over the weekend.
Temer defended Brazil's sanitation systems saying they're "very strict."
Related: Brazil's Olympic legacy? An abandoned Maracana stadium
Temer's administration has touted the investigation as a sign of how strong the country's protocols are. After South Korea reversed its decision to restrict Brazilian meat, Temer claimed it as a victory.
Already, there has been some backlash in Brazil, with local columnists arguing that the government jumped the gun and risked jobs in the industry by unintentionally spreading a stereotype that Brazilian meat was spoiled.
The 21 meat producers under investigation make up a sliver of the country's 5,000 meat production establishments.
"The damage is done," wrote an editoral in the Folha de Sao Paulo, Brazil's most famous newspaper. "It is the duty of the federal police to complete [the investigation] with rigor and speed, which does not exempt the agriculture ministry from restoring...the confidence undermined in the federal inspection system."
--Julia Jones, Mark Thompson, Serena Dong and Jethro Mullen contributed reporting to this article