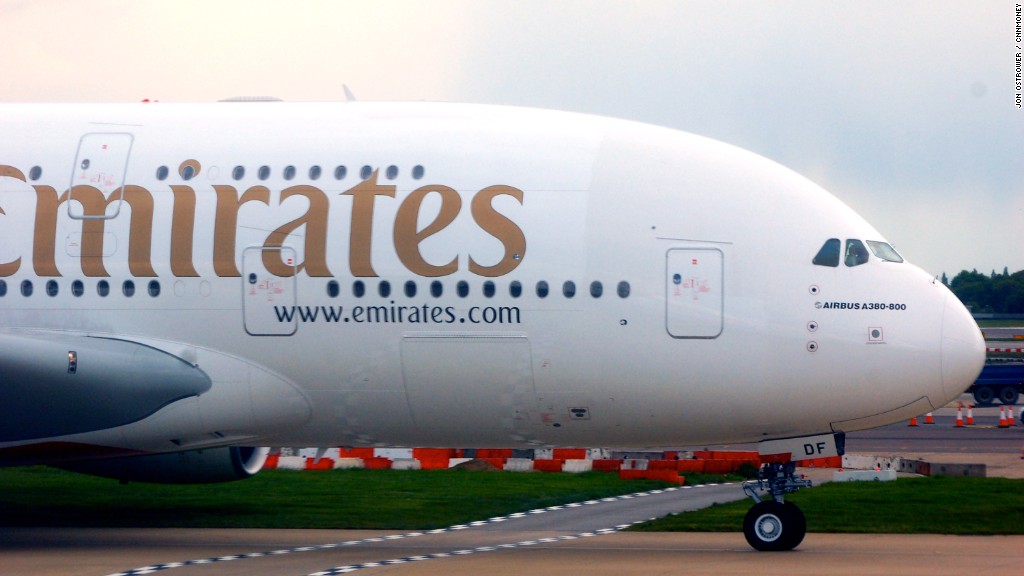 Emirates President Tim Clark said Wednesday he believed the airline's home airport in Dubai was as safe as any other in Asia, Europe or the Americas.
Speaking to CNNMoney a day after the U.S. banned passengers from bringing laptops and other large electronic devices on some flights from the Middle East and Africa, Clark said the U.S. must have "clear evidence" of a threat.
But he said the measures would be "hugely disruptive" for Emirates and he questioned why some airlines and airports were affected by the new security measures, and not others.
"After all, if these devices are viewed by the United States and the United Kingdom as potential instruments of threat, they can be loaded on any airplane anywhere," he told CNNMoney's Emerging Markets editor John Defterios.
"To suggest that Dubai doesn't have the equal capabilities or better than the Europeans, the Americans and the Asians in terms of search, interdiction and surveillance, I find amazing," he said. "I know this airport."
Related: Airline electronics ban: What you need to know
Emirates is one of 10 airlines that must prevent passengers flying from the region to the United States from carrying almost all types of electronic devices in the cabin.
Smartphones will still be allowed but any larger items -- such as iPads, Kindles and laptops -- will have to be checked in before passengers clear security and board their flight. The rules come into force on March 25.
"It's clearly a policy decision from the United States and we as an airline operating in the United States have to comply with what the government of the United States wants... Of course it's hugely disruptive but Emirates is very resilient in dealing with disruptions in our organization," Clark said.
Similar restrictions announced by the U.K. on Tuesday do not apply to Emirates or Dubai airport. But Clark said he was worried that other countries may yet follow the U.S. lead.
"What I'm more concerned about is that there is a contagion effect that other European countries may take a view, as may the Asian countries," he said.
Related: How to keep your laptop safe
Some business leaders in the Middle East have suggested the U.S. electronics ban may be aimed at disadvantaging Gulf carriers who are accused by their American rivals of taking huge government subsidies.
There's much at stake given the rapid growth Gulf carriers have enjoyed recently in the U.S.
Emirates announced earlier this year a new service between Dubai and Newark, with a stop in Greece, giving the airline its 12th American destination.
Related: Emirates Airline: We support more than a million U.S. jobs
Delta, United Airlines and American Airlines want the U.S. government to review the Open Skies agreements that allow the Gulf carriers to fly freely from the United Arab Emirates and Qatar to any U.S. destination.
A senior U.S. official denied the measure was in response to the alleged unfair practices by the Gulf carriers. Clark said he didn't believe the U.S. was using security concerns as cover to tackle commercial issues.
"No state in my view, hopefully I'm right, will allow a crossover of the two," he said. "The U.S. government has clear evidence of something going on otherwise they won't be doing what they are doing and we must trust their judgment and comply."
Emirates said the directive would last through Oct. 14, 2017.
"Look on the bright side," Clark joked about the electronics ban. "Actually I've got a good excuse not to do all the work that perhaps I had to do. Enjoy the food, enjoy the movie and get to the other end better rested."