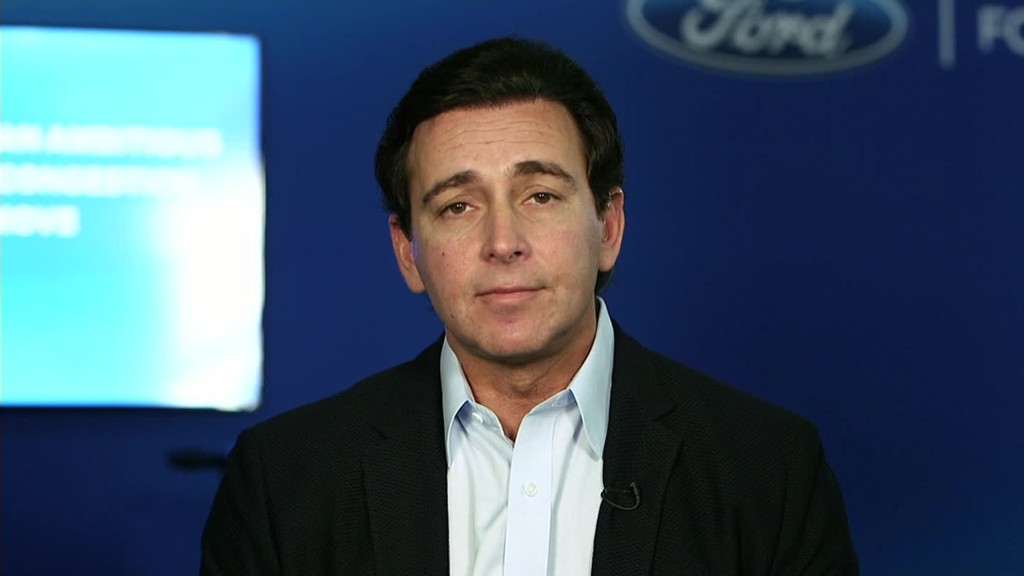 Ford Motor said its profit will fall by about 50% in the current quarter, due to weakness in the auto industry that's already been reported by rivals such as General Motors.
The guidance sent Ford (F) shares down about 1.1% in early trading. Shares of Ford rivals GM (GM), Fiat Chrysler (FCAU) and Toyota (TM) were also lower.
Ford said it expects sales to decline worldwide. Ford had reported a slight increase in global sales last year, as gains in the Asia-Pacific region offset declines in the U.S. market and elsewhere.
But now it expects a decline in sales in Asia Pacific and weaker pricing in many other markets. It's also expects Brexit to hurt its European operations, which finally moved from a loss to a profit in 2016. GM recently announced plans to sell its Vauxhall and Opel brands and exit Europe, partly due to costs associated with Brexit and political uncertainty there.
Related: Ford trying 3D printing for car parts
Ford did say will maintain its full-year forecast of only a modest decline in profits, anticipating earnings of about $9 billion this year after a $10.4 billion profit for 2016.
And the automaker says it believes it will be able to weather any change in costs if the Trump administration moves to put a tariff or some other kind of tax on imports from Mexico.
All major automakers in the U.S. market make some of their vehicles in Mexico. Ford estimates that 13% of the cars and trucks it sells in the United States are made in Mexico. While it recently dropped plans to build a new Mexican assembly plant, it is moving ahead with plans to shift its remaining small car production from the U.S. to an existing Mexican plant.