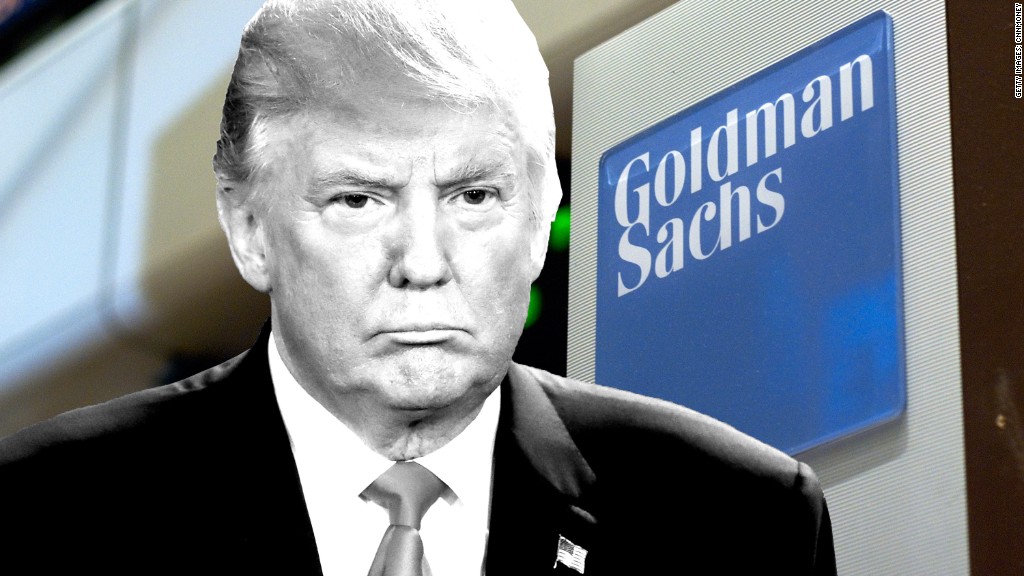 President Trump's SEC nominee Jay Clayton promised to police Wall Street without showing "favoritism to anyone" even as he faced questions about how his history representing big banks will force him to recuse himself from key matters.
"I am 100% committed to rooting out any fraud and shady practices in our practices in our financial system," Clayton told the U.S. Senate Banking Committee, which is holding his confirmation hearing Thursday.
Clayton, a star Wall Street lawyer whose wife works at Goldman Sachs (GS), said in his remarks on Thursday that there's "zero room for bad actors."
If confirmed, Clayton would fill one of three vacancies at the SEC, which is charged with protecting investors, rooting out financial crime and ensuring markets are fair to all.
But Democrats expressed serious concern that Clayton's client history will force him to recuse himself from so many matters that he won't be able to crack down on bad behavior.
Ethics rules would require Clayton to sit out enforcement votes during his first two years in office on matters involving former clients like Goldman Sachs and Deutsche Bank. Clayton would also need to recuse himself from matters where Sullivan & Cromwell, his elite law firm, represents a party.
"You can't vote to punish some of the biggest names on Wall Street," Senator Elizabeth Warren told Clayton, adding that deadlocked votes could allow some companies to "skate free."
"If President Trump wanted to make sure the SEC would have a hard time going after his Wall Street friends, it seems to me you would be the perfect SEC chair," Warren said.
But Clayton said he doesn't think recusals or his previous history will inhibit his ability to go after companies abusing the system.
"I pledge to you and the American people that I will show no favoritism to anyone," he said. Clayton also said "bad actors undermine the hard-earned confidence" that goes to the heart of the capital markets.
Related: Trump's Wall Street cop is a big defender of Wall Street
Clayton's list of clients at the elite law firm Sullivan & Cromwell reads like a who's who list of companies accused of the shady practices the SEC nominee wants to stop.
He's represented Volkswage, (VLKAF) which pled guilty to criminal charges over cheating on emissions tests; Valean, (VRX)a drug maker accused of being the "Enron" of the pharma world for fraud; and Deutsche Ban, w (DB)hich has been charged in a $10 billion Russian money-laundering scheme.
Clayton's also advised Goldman Sachs on its controversial government bailout and Bear Stearns on its fire sale to JPMorgan (JPM).
Senator Bernie Sanders, a big critic of Wall Street, slammed Clayton in a statement on Wednesday as the "embodiment of the greed that nearly destroyed the economy."
"Mr. Clayton has spent his career providing get-out-of-jail free cards to Wall Street executives," said Sanders.
While Clayton acknowledged his role on deals "during the dark days of the financial crisis," he also highlighted his role in the public debut of Alibaba (BABA), which was the largest IPO ever.
Echoing Trump's emphasis on deregulation, Clayton said it's "clear" that U.S. capital markets are "less attractive to business than in the past."
Trump has vowed to "do a big number" on Dodd-Frank and top economic adviser Gary Cohn said the administration will "attack all aspects" of the Wall Street reform law.
Asked by Democratic Senator Sherrod Brown which areas of Dodd-Frank he would attack, Clayton laughed and said, "I don't have any specific plans for attack, Senator."
Clayton explained that instead he wants to focus on whether rules mandated by Dodd-Frank have been effective and to prevent unintended consequences that could hurt the economy.
Brown said he fears efforts to remove investor protections against fraud and abuse represent a "collective amnesia" about the 2008 financial crisis.
"I can tell you that I don't have amnesia," Clayton said. "I worry about where the risks are today and making sure we don't have a repeat of that situation."