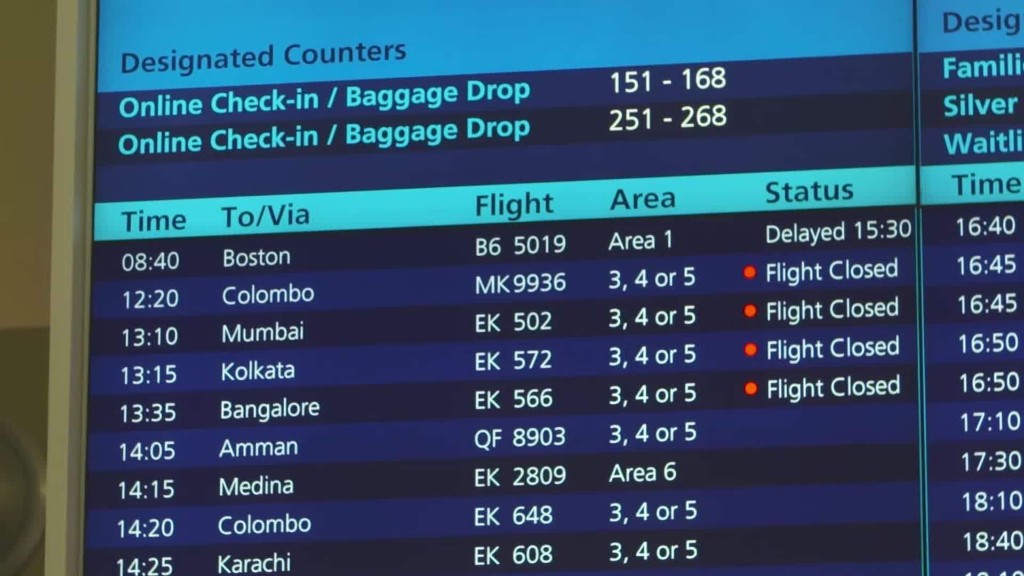 Airports across the Middle East are bracing for a very busy weekend. It could be chaotic too.
New rules preventing passengers from carrying laptops and tablets onto flights bound for the U.S. must be implemented by early Saturday.
Dubai, the world's busiest international airport, and its main carrier Emirates are scrambling to make sense of the new rules. Emirates is one of nine airlines at 10 airports across the Middle East and North Africa that need to roll out the U.S. ban on electronic devices larger than a smartphone in the cabin.
U.S. officials say intelligence shows that al Qaeda in the Arabian Peninsula, and other terrorist groups, are perfecting techniques for hiding explosives in batteries and battery compartments. The U.K. has introduced similar restrictions for some flights from the region but omitted the big Gulf airports and carriers from its list.
Emirates is worried about the impact on its business, and moved Thursday to ease the pain for passengers.
Passengers starting their journey in Dubai would be "encouraged" to check in devices with their luggage, but would be able to keep them until boarding, the airline said. Transit passengers will be able to use their laptops and tablets until they arrive at the gate for their U.S.-bound flight from Dubai.
"They must then declare and hand over their laptops, tablets, and other banned electronic devices to security staff at the gate just before boarding their US-bound flight," the airline said in a statement.
Turkish Airlines said early Friday it would also allow passengers to continue using their devices until the boarding gate, where they would be tagged for "safe and secure transportation" in the cargo hold.
Related: Airline electronics ban: What you need to know
On arrival, devices would be collected from the plane by staff and returned to their owners at a designated point in the baggage reclaim area. Staff will have to check tags against their lists.
Other airlines are taking a different approach, requiring all passengers flying to the U.S. to ensure devices are placed in checked baggage before they clear security.
There's clearly room for confusion. U.S. officials have only recommended that passengers transferring at one of the 10 affected airports check in their devices for their entire journey.
Emirates President Tim Clark has described the measures as "hugely disruptive" and questioned why some airlines and airports were affected by the new security measures, while others were not.
"To suggest that Dubai doesn't have the equal capabilities or better than the Europeans, the Americans and the Asians in terms of search, interdiction and surveillance, I find amazing," he told CNNMoney. "I know this airport."
Security experts have questioned whether the measures will make flying any safer, or just less convenient. It's not clear that it's safer to limit electronics to checked bags. If anything, experts say, screening for carry-on bags is more rigorous than for checked bags at many airports.
Emirates said it expects nearly 90,000 passengers to pass through Emirates Terminal 3 during the weekend, which marks the start of the spring vacation in the United Arab Emirates.
Related: Laptop ban may force business travelers to skip Middle East airports
Dubai international airport is a major travel hub between east and west. It expects to handle 89 million passengers this year.
The first flights from Dubai covered by the U.S. ban are headed to New York and Washington early Saturday.
-- Isil Sariyuce in Istanbul contributed to this article.