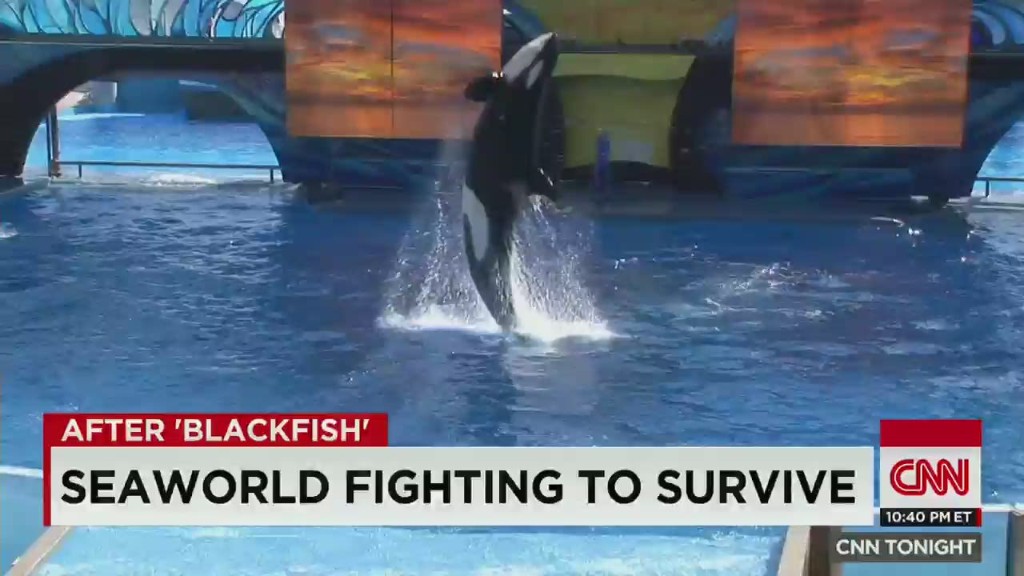 SeaWorld stock is surging after one of its owners agreed to sell its stake to a Chinese company.
Blackstone (BX), the private investment firm, is selling its 21% stake in the amusement park chain to Zhonghong Group for $23 a share.
The stock price for SeaWorld Entertainment (SEAS) jumped 6% on Friday to $18.37.
SeaWorld could use some good news. Its stock price has fallen by a third since CNN released the documentary "Blackfish" in 2013. The film focuses on Tilikum, an orca that killed three people, including its SeaWorld trainer, and alleges that its confinement to a small, dark tank contributed to its violent behavior.
The movie was a serious PR hit to SeaWorld, which relied heavily on orca shows before it started to phase them out last year. Visitors to its Florida parks declined, and the company was relentlessly criticized by animal rights activists. SeaWorld cut hundreds of jobs.
Related: SeaWorld to open first park without killer whales
The company has tried to preserve its animal-friendly image by touting its conservation and animal rescue efforts.
SeaWorld has 67,000 animals. Most are fish, but the company also has manatees, tigers and rhinoceroses. SeaWorld owns five amusement parks in Florida, including Busch Gardens in Tampa, and parks in California, Virginia and Texas.
Related: Ringling Bros. closing after shutting down elephant acts
SeaWorld announced last year that it was opening its first park outside the United States, in Abu Dhabi, and that that park would not have killer whales.
Zhonghong Group invests in real estate and tourism. SeaWorld did not immediately respond to questions from CNNMoney about how Zhonghong might change the company in the United States or whether it would expand to China.