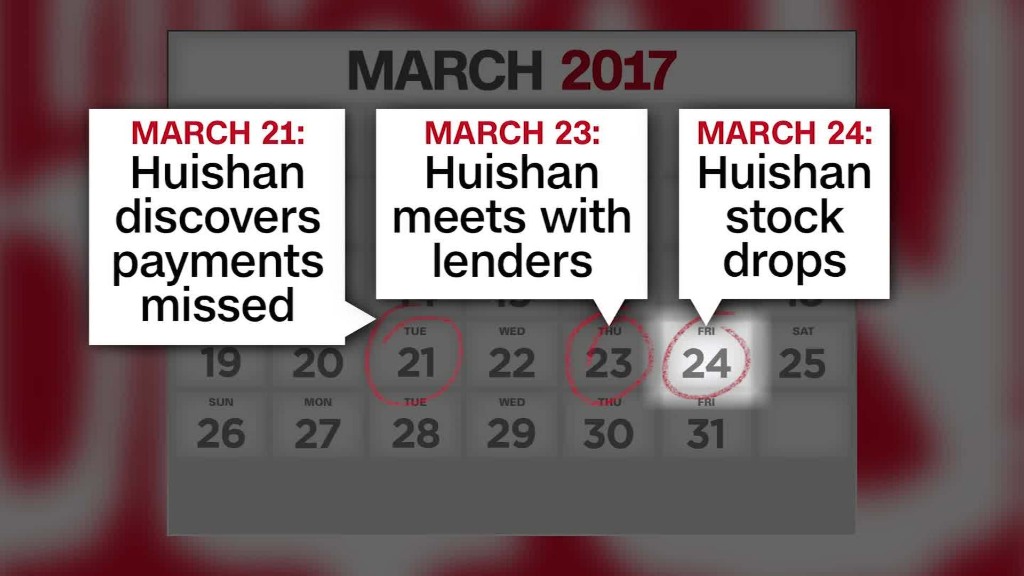 A major Chinese dairy firm, whose shares nosedived as much as 91% last week, revealed it has lost contact with a top finance executive and missed bank payments.
The mysterious plunge in China Huishan Dairy shares on Friday wiped $4.1 billion off its market value, triggering confusion and speculation about what was going on at the company.
After several days of silence, Huishan attempted to set the record straight in a filing to the Hong Kong stock exchange on Tuesday.
It said it has been unable to contact Ge Kun, an executive director who oversees the company's treasury and cash operations, since March 21. That's the same day, according to the company, that its chairman and controlling shareholder, Yang Kai, learned that Huishan had failed to make some of its bank payments.
Related: This Chinese stock just mysteriously plunged 90%
Ge, who managed relationships with the company's main bankers, sent a letter to Yang "indicating that the recent work stress had taken a toll on her health, that she would take leave of absence and does not want to be contacted at this time," Huishan said.
Ge is also Yang's wife, according to respected Chinese financial news outlet Caixin. Huishan didn't immediately respond to a request for comment on Ge and Yang's relationship.
Related: Major European company says employee has gone missing with $100M
The company is now trying to figure out what state its finances are in.
It said it held a meeting Thursday with 23 banks that have lent it money and is continuing to seek their support in "the increasingly challenging environment" it's facing.
Huishan has also launched a review of its financial position.
Trading in its shares in Hong Kong was halted Friday after their huge drop. They will remain suspended until the company's financial review is finished, it said.
Related: Investors wipe $6.6 billion of Toshiba's market value
Last week's massive plunge came more than three months after U.S. investment research firm Muddy Waters slammed Huishan in a lengthy report. It accused the company of engaging in fraud and reporting fake profits.
"It was somewhat surprising it took this long from our report for the stock to break," Muddy Waters founder Carson Block said last week. "But, given that it's a fraud and likely a manipulation, this ultimate outcome was clear to us."
Huishan rejected the Muddy Waters report when it was published in December, calling the allegations "groundless" and saying the report contained "obvious factual errors."