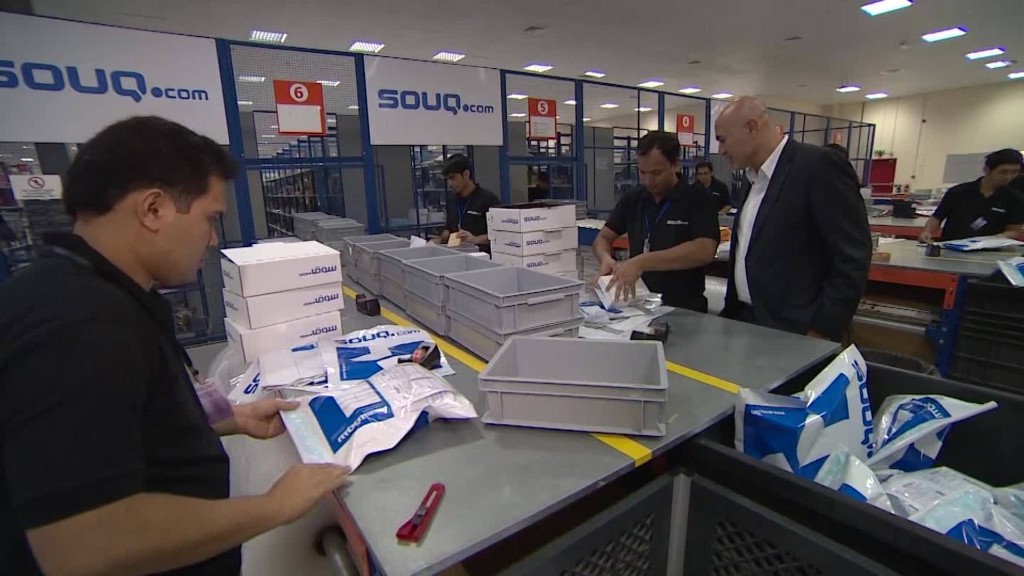 Amazon has had its eye on the Middle East for some time. Now it's finally made a move.
It has agreed to buy the region's biggest e-commerce platform, Souq.com.
"We've been serving customers in the Middle East for many years, but this of course allows us to do it in a way that it takes it to a whole new level, that it's local service, local delivery speed," said Russ Grandinetti, an Amazon senior vice president.
Amazon and Souq did not disclose the size of the deal. CB Insights valued Souq at more than $1 billion after it raised $275 million from investors last year.
Souq sells more than 8 million products, mostly to customers in the Gulf countries and Egypt. It will keep its branding.
Related: Japan's Rakuten bets big on drones for online shopping
Amazon (AMZN) had to beat back local competition to make the deal. Emaar Malls, an arm of Dubai's biggest real estate developer, said on Monday it had bid $800 million.
But for the CEO of Souq, Ronaldo Mouchawar, choosing Amazon was a no-brainer.
"We feel the opportunity, and growth in this part of the world is still massive," he said. "Online is just 1 to 2% of what is being purchased. For us culturally as well, Amazon is a great fit for us, and this is why Amazon was our partner and choice."
When Mouchawar founded Souq 10 years ago with two partners, e-commerce was virtually unknown in the Middle East. The company employed five people in Dubai. Now it has 3,000 workers across the Arab world.
The consulting company A.T. Kearney expects e-commerce in the Gulf region to quadruple from 2015 to 2020, to $20 billion. Grandinetti said Amazon would like to expand.
"Right now with Souq, even in just the Emirates, in Saudi, in Egypt, we have a lot of work to do because online commerce is still a very small percentage of total retail," Grandinetti told CNNMoney.
The competition will intensify next month when a new e-commerce platform, Noon, grabs a slice of the market.
Related: Amazon opens a grocery store with no checkout line
Noon is backed by Saudi Arabia's sovereign wealth fund and the man behind Emaar's failed bid for Souq. Noon is set to launch with 20 million products and a 3.5 million-square-foot fulfillment center in Dubai.
Amazon and Souq said the market is big enough to absorb new players. Analysts at Standard Chartered estimate that e-commerce in the region is growing 30% a year.
The deal is expected to close later this year.