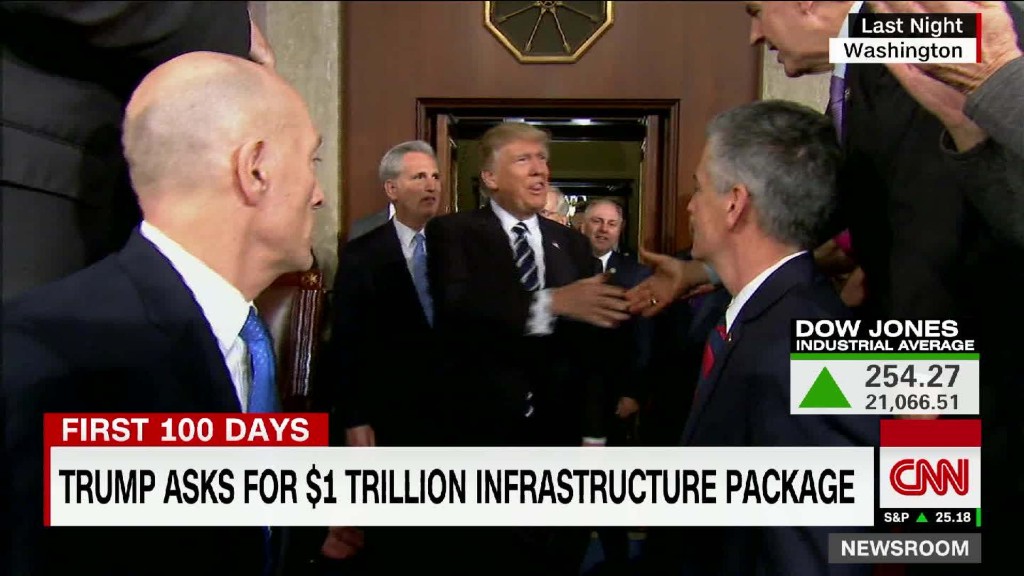 Consumers are suddenly a lot more confident about the economic future of the United States. That's a good thing. But it's also worth noting that consumers don't always have a great track record when it comes to predicting the financial future.
The Conference Board, an economic research firm, said Tuesday that its latest monthly survey of consumer sentiment surged in March to the highest level since December 2000.
Note that date. December 2000. At that point in time, the stock market, particularly techs on the Nasdaq, were in the midst of a massive plunge.
The dot-com bubble's bursting was one factor that led to a recession that started in March 2001 and lasted through November of that year. (That period, of course, included the immediate aftermath of the 9/11 terrorist attacks.)
And another closely watched measure of consumer confidence, The University of Michigan's Consumer Sentiment Index, hit its highest level since 2000 earlier this month as well.
Related: U.S. economy added 235,000 jobs in Trump's first full month in office
It's also worth pointing out that the Conference Board's consumer confidence index surged right after last November's election as well -- to the highest level since July 2007. The Great Recession began in December of that year and lasted until June 2009.
All of this is not to say that the economy is about to enter another downturn just because the notoriously late to the party consumer is suddenly feeling giddy.
It's understandable why there is suddenly more hope on Main Street these days.
While the Conference Board didn't mention President Trump by name, it would appear that average Americans -- much like small business owners and CEOs -- are excited about the possibility of tax reform and stimulus.
"Consumers' assessment of current business and labor market conditions improved considerably. Consumers also expressed much greater optimism regarding the short-term outlook for business, jobs and personal income prospects," said Lynn Franco, director of economic indicators at The Conference Board, in a release.
Related: Trump wants 4% GDP growth. 3% will do just fine
"Consumers feel current economic conditions have improved over the recent period, and their renewed optimism suggests the possibility of some upside to the prospects for economic growth in the coming months," Franco added.
Some economists argue that the U.S. is due for a recession soon because we haven't had one in nearly eight years. This has been a relatively long, albeit shallow, recovery.
Interestingly, and perhaps not surprisingly, the economy is also increasingly being viewed through partisan lenses.
The University of Michigan addresses politics more directly in its consumer confidence reports.
And it noted earlier this month that based on its gauge of economic expectations, Democrats "signaled that a deep recession was imminent" while Republicans felt that "a new era of robust economic growth was ahead."
What's more, the most recent political infighting over health care appears to have dented confidence in the economy among Republicans and Democrats.
Polling company Gallup said earlier this week that its latest U.S. Economic Confidence Index hit its lowest level since the election -- largely due to the stock market's recent slide and the failure to repeal and replace Obamacare.
Related: Housing market could get a bump from Trump
Gallup noted that Republicans still have a healthier view of the economy than Democrats, but added that "rank-and-file Republicans became significantly less confident in the economy last week."
If that trend continues, it will be interesting to see whether or not Republicans and Democrats alike decide to actually pull back on plans to buy more things over the next few months. At the end of the day, confidence doesn't power the economy. Shopping does.
If Trump is able to rebound from the collapse of his plan to repeal and replace the ACA and still get financial reform, a reduction in corporate and individual taxes and some level of infrastructure spending though Congress, that could boost the economy.
It may be difficult for the economy to grow at the 4% annualized rate that Trump has promised. But several experts think that 3% -- which would be an improvement from the sub-2% levels the U.S. has experienced lately -- is doable.
That would feel great for consumers and investors. And their confidence would likely be reflected through more spending.
--CNNMoney's Matt Egan contributed to this story.