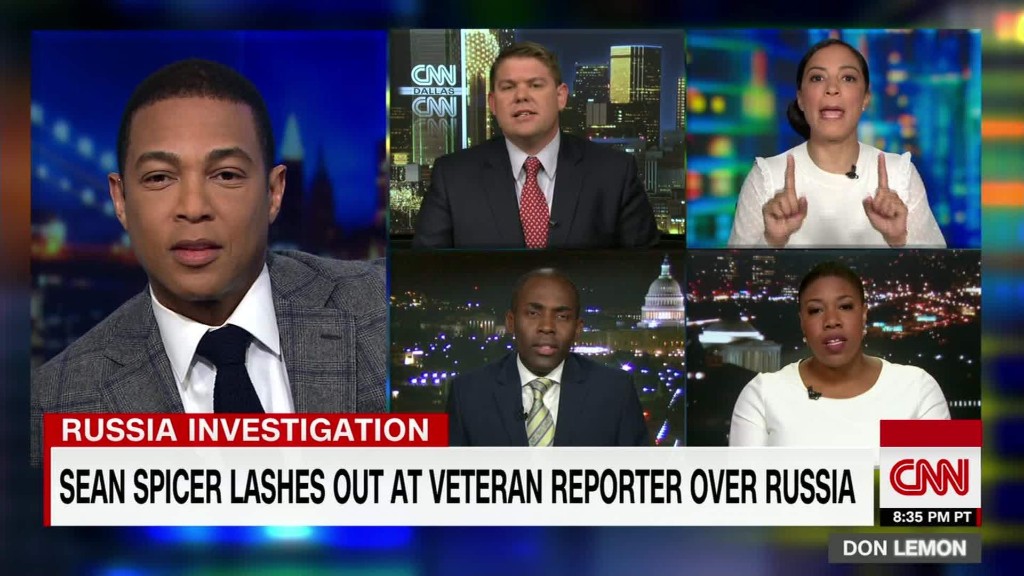 CNN panelists clashed Tuesday night over an earlier exchange between White House Press Secretary Sean Spicer and longtime White House correspondent April Ryan.
"April Ryan's only crime today, if you will, was being a black woman at work and Sean Spicer could not handle that," CNN contributor Symone Sanders said on "CNN Tonight," drawing an eruption of both protest and agreement from her fellow panelists.
"Please, give me a break," fired back CNN political commentator Ben Ferguson. "That's absurd. That's insanity, that's just stupid and incompetent."
Sanders was referring to an exchange from the White House press briefing earlier in the day during which Spicer instructed Ryan, of American Urban Radio Networks, to "stop shaking your head."
Spicer then accused Ryan of being "hell-bent on trying to make sure that whatever image you want to tell about this White House stays."
Related: April Ryan: The press is 'under attack by this administration'
CNN contributor Angela Rye also jumped into the fray Tuesday night, agreeing it was Ryan's race that made her the target of Spicer's ire.
"You know what?" she asked. "You guys are delusional if you don't think that's a problem ... They have an issue. Their agenda is with April Ryan, the fact that she is a credible, notable journalist in the black community."
But Ferguson argued that Spicer's antagonism towards Ryan had nothing to do with race or gender, but rather her politics.
"I am not saying she is not credible," said Ferguson. "What I'm saying is 'lets be intellectually honest and not lie about her viewpoint.' Her viewpoint has been consistently since Jan. 20th very antagonistic and not covering this White House in a decent way."
Ryan, for her part, suggested Wednesday morning on CNN's "New Day" that the exchange was part of a larger attack on the media also but noted a recent jab Spicer made at another female journalist.
"We are -- the press is -- under attack," she told Alisyn Camerota. "We are under attack by this administration. It's about discrediting credible media."
"I happen to be a black woman, but I'm part of the press," she added. "But this is part of a series of two women this week who have been in the news over something with the press secretary ... I just see from the weekend that reporter from Politico who he called an idiot and then this situation, it's showing a pattern."
Ryan was referring to a Saturday tweet from Politico's Tara Palmeri that said President Donald Trump is considering removing White House Chief of Staff Reince Priebus. Spicer denied her report. "She is an idiot with no real sources," Spicer told Breitbart News in an email.
-- CNN's Eugene Scott contributed to this report.