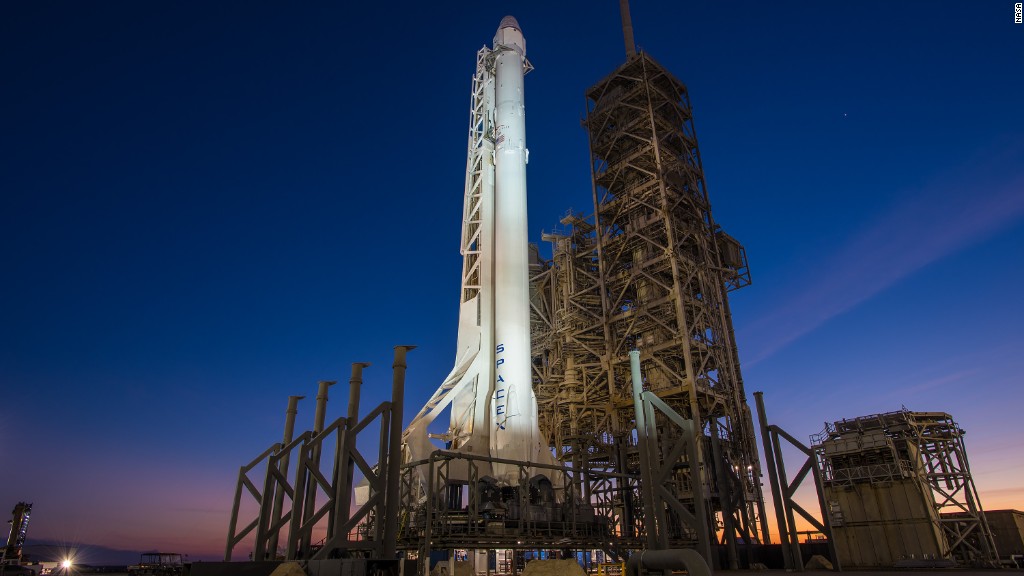 SpaceX is about to put the heart of its business model to the test: Reusable rockets.
The private space exploration company -- headed by Tesla (TSLA) CEO Elon Musk -- plans to launch another mission to space on Thursday at 6 pm ET out of Cape Canaveral in Florida. But this mission has the potential to be historic. That's because this is the first time SpaceX will reuse a rocket that has already traveled to space and then returned safely to Earth.
SpaceX will attempt to re-land the first-stage rocket booster again after it flies Thursday.
Related: SpaceX to fly two space tourists around the moon in 2018
The ability to reuse rockets is key to making space travel more affordable. Rockets cost tens of millions of dollars, and in the past they've typically just been left to burn up in the atmosphere after launch.
Neither SpaceX nor its customer for this mission -- Luxembourg-based communications satellite operator SES -- disclosed the financial terms of the deal. But both parties confirmed to CNNMoney in August that SES will get a discount on the $62 million sticker price of a launch because SpaceX is reusing an old rocket.
Over the past couple of years, SpaceX has made 13 attempts to recover the first stage of its Falcon 9 rockets, and so far eight have been successful.
Related: Space Tourism 101: How to prepare to fly around the moon
Five of those eight landings happened on remotely controlled platforms -- called droneships -- in the ocean. The other three occurred on solid ground.
Thursday will mark the first time SpaceX attempts to put one of those used rockets back in the air.
The rocket SpaceX will use Thursday first flew in an April 2016 mission to the International Space Station. After liftoff, the rocket booster landed safely a droneship in the Atlantic Ocean.
SpaceX first planned to reuse a rocket last year. But the company had to push back the date after a different rocket, which was new, exploded spontaneously at Cape Canaveral in September, causing months of launch delays for SpaceX.
SpaceX is not the only private space venture to successfully re-land a rocket, and it won't be the first to re-launch a rocket either. Blue Origin -- the company run by Amazon (AMZN) CEO Jeff Bezos -- has completed the feat several times.
But those were all suborbital missions, meaning Bezos's rockets never ventured much more than 60 miles from the Earth's surface.
SpaceX completes much more difficult missions. On Thursday, it's destined for geosynchronous orbit -- which is located more than 22,000 miles from Earth.
Related: SpaceX launches and lands another rocket
SES chief technology officer Martin Halliwell said Tuesday that it will be a difficult feat to land the rocket again after Thursday's mission -- but if they succeed, SES will take home some souvenirs.
"[SpaceX] has promised me some bits of the rocket," Halliwell said. "Hopefully, we'll have some bits and pieces that we can take back and put in the foyer of our board room."