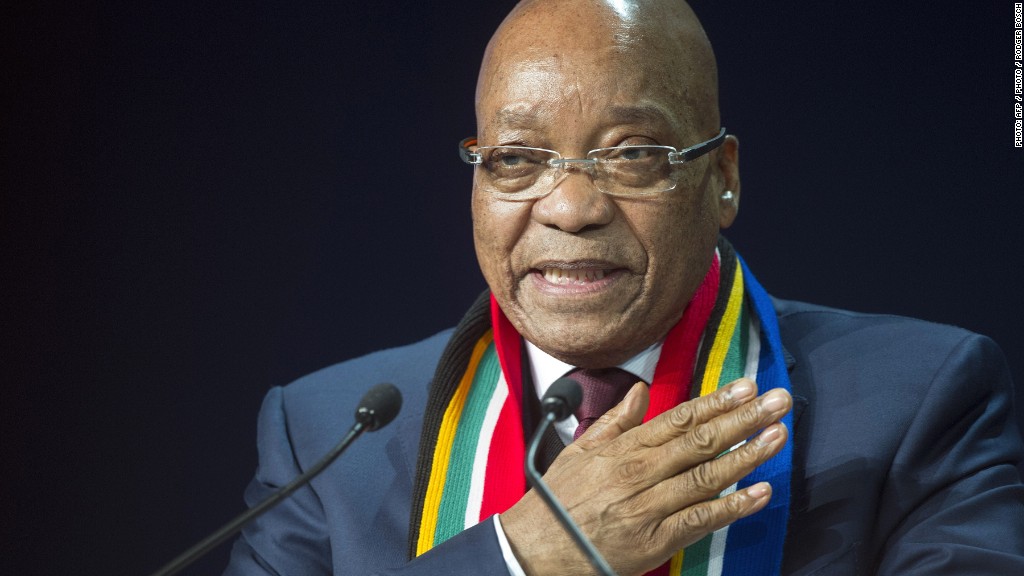 South Africa has fired its finance minister, sending the currency plunging.
The rand nosedived 4% against the U.S. dollar after President Jacob Zuma ousted Pravin Gordhan and a slew of other top ministers overnight, tipping the country into a new round of political turmoil and economic uncertainty.
Investors were already fretting about Africa's second biggest economy after Zuma ordered Gordhan to cancel a series of meetings in London on Monday and return home. The rand has slumped about 8% this week.
Related: South Africa rattles investors as roadshow abruptly halted
Some of South Africa's top companies warned that it would have severe consequences for the economy, and could lead to the country's credit rating being downgraded.
"If investors lose faith and trust in our economy, all citizens -- not just big business -- pay the price for this, in the form of higher inflation, decreased buying power as well as decimated savings, pensions and investments," the CEO Initiative said in a statement.
The CEO Initiative's members include the heads of Investec, Standard Bank, Telkom and top mining companies.
Investec shares, listed in London, fell nearly 9%. Another big financial firm, Old Mutual, saw its shares fall 6%.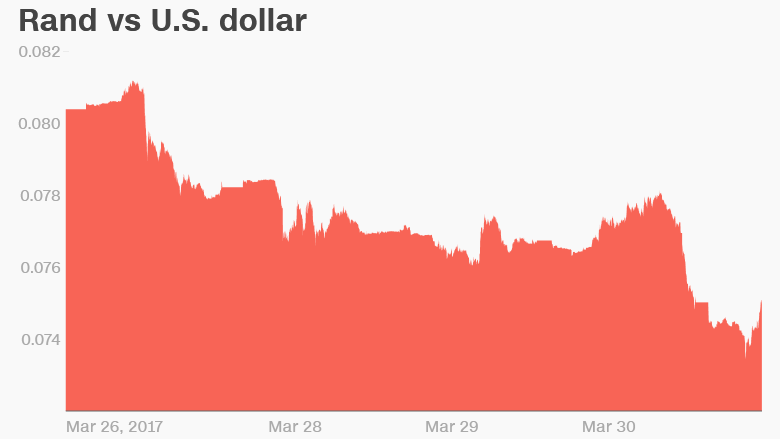 Analysts warned earlier in the week that dismissing Gordhan and other key cabinet ministers could cause chaos.
"This would be the worst outcome for markets over both the short and medium term," John Ashbourne, Africa economist at Capital Economics, wrote in a research note on Wednesday. He warned it's likely to worsen tensions within the governing party, the African National Congress (ANC).
Zuma's deputy, Cyril Ramaphosa, criticized his boss's decision to fire Gordhan. And South Africa's main opposition party said it would try to remove the president via a vote in parliament.
"We therefore urge all political parties, including members of the ANC, to vote President Jacob Zuma out when [our] motion of no confidence is debated in the National Assembly," said Mmusi Maimane, leader of the Democratic Alliance.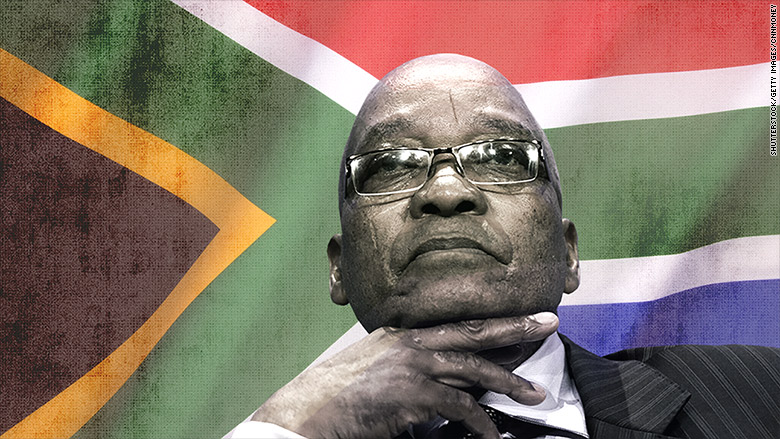 Gordhan built a reputation as a steady hand who expertly guided South Africa's economy and promoted its business interests. He first served as finance minister between 2009 and 2014, and returned to the job in December 2015, much to the relief of international investors.
Zuma brought him back after sacking two other finance ministers within a month, a period of turmoil that hammered South Africa's markets and currency.
Gordhan was credited with helping stabilize the situation. Before this week, the rand had strengthened more than 20% in a year.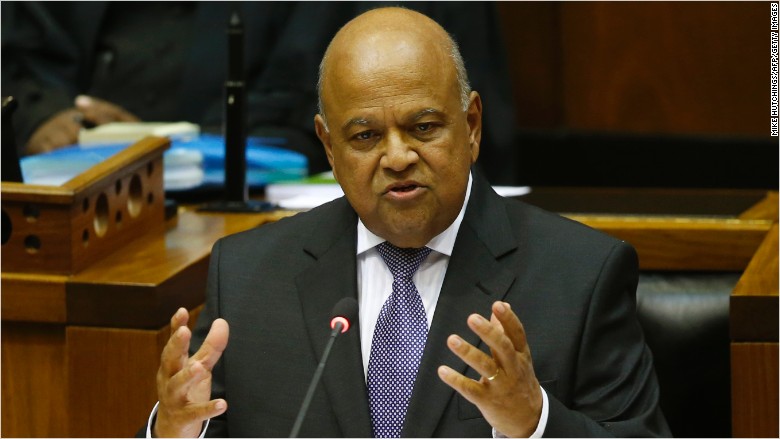 But Gordhan and Zuma clashed over issues such as the management of state-owned enterprises and the need for a big new economic plan, according to Ashbourne.
Related: Fraud charges dropped against South Africa's finance minister
In October, Gordhan described a move to prosecute him over fraud charges as "political mischief." He denied any wrongdoing, and the charges were soon dropped after widespread criticism from political and business leaders.
The president's office and the national director of public prosecutions repeatedly denied that the aborted prosecution was politically motivated by Zuma's intention to take control of the Treasury.
Gordhan's replacement is Malusi Gigaba, who until Thursday was the home affairs minister. He becomes South Africa's fourth finance minister in less than 18 months.
-- Eleni Giokos and David McKenzie contributed to this report.