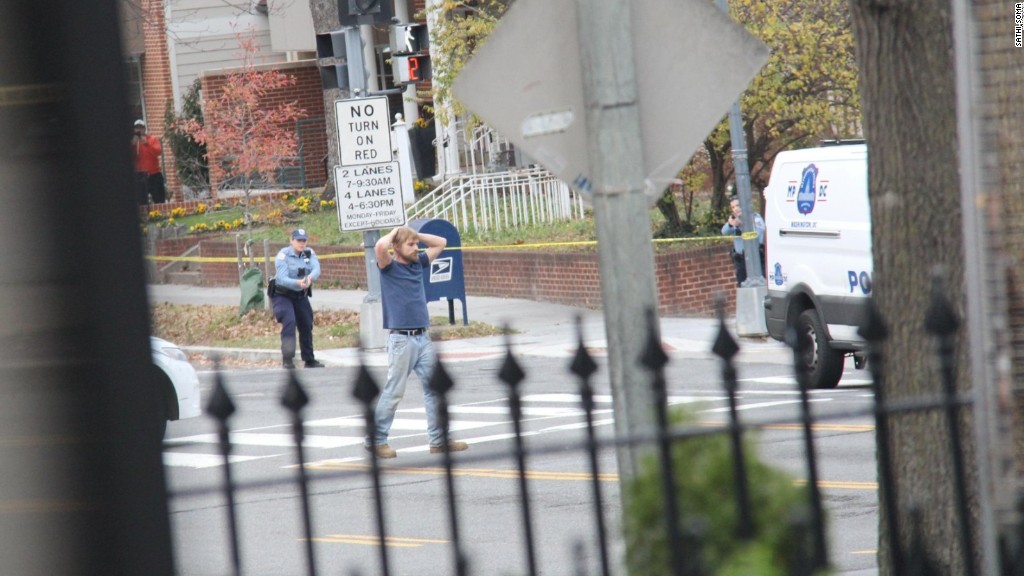 It isn't easy for Alex Jones to admit he's wrong -- apparently, it takes a couple tries.
Jones, the conspiracy theorist and proprietor of the right-wing website Infowars, offered a rare apology last week for his role in promoting a false conspiracy theory that a child sex ring was being run out of a nonexistent basement at a Washington, D.C. pizzeria called Comet Ping Pong.
The conspiracy theory, which came to be known as "Pizzagate," ensnared both the shop's owner, James Alefantis, and Hillary Clinton's campaign chairman John Podesta, resulting in threats to Alefantis and neighboring business owners from individuals who believed the false claims about the sex ring.
The story took an even more disquieting turn in December, when a North Carolina man named Edgar Maddison Welch entered Comet with an AR-15 rifle, saying he intended to "self-investigate" the conspiracy theory.
Related: 'Pizzagate': Comet Ping Pong not the only D.C. business enduring a nightmare
Facing the specter of a potential lawsuit, Jones expressed regret in a video released last Friday for "any negative impact our commentaries may have had on Mr. Alefantis, Comet Ping Pong, or its employees." The same day, Welch pleaded guilty in federal court to illegally transporting firearms over state lines, and a local count of assault with a dangerous weapon.
It was, as Alefantis' lawyer Michael Gottlieb noted to CNNMoney in an interview this week, Jones' second attempt at saying he was sorry.
The video was the result of a saga that began in late February, when Alefantis sent a personal letter asking for a full retraction, correction and apology from Jones during an on-air broadcast of his radio program.
"Of course," Alefantis wrote to Jones, "that can't undo the damage that you and your media companies have done by spreading those lies, but it would be a start."
Related: While other outlets fact-check Trump, Infowars provides alternative facts
On February 24, after receiving Alefantis' letter, Jones posted a rambling, nearly an hour long video to Infowars in which he offered a tepid retraction for his coverage. He asserted that he had little to do with the dissemination of the conspiracy theory, which he suggested was promoted by the mainstream media as a diversion.
"I kind of picked up when the Washington Post, New York Times, all them said -- when I wasn't even covering it -- everybody says a pizza place is doing this to kids. And I was like, we never covered it," he said. "A pizza place? And I went, whoa, they're in the news diverting us from all this other big stuff."
Standing before a gold curtain, Jones was all over the place in the video, at turns insisting that he was skeptical of Pizzagate only to speak sympathetically about the conspiracy theory moments later.
At one point, he began to exonerate Alefantis -- only to raise sinister questions in the same breath.
"I don't think Alefantis over there, or any of those people in DC at that pizza place where Podesta goes -- even though they've got weird acts there that people are like, 'We like kids. That's our preference. Yeah, we love kids.' I don't know what the hell that is. There's a lot of weird crap going on," Jones said.
Seconds later, Jones was back at the conspiracy mill, saying that Alefantis' letter raised suspicions.
"It makes me think, what is really going on there that I get these threats and these letters and, you know, all the rest of it, basically bringing up things, implying things that we haven't done, trying to bring us into things we've covered, when they all know where this stuff came from," Jones said. "It came from the WikiLeaks. It came from all the weird stuff that's in there."
Jones eventually got to the retraction, acknowledging a basic fact that proves Pizzagate false. The conspiracy theory has held that the supposed sex ring was run out Comet's basement, when in actuality the restaurant doesn't even have one.
"Yes, I retract that about Ping Pong pizza. There's not a damn basement. I don't think Alefantis is a pedophile. I've already said all that," Jones said. "But it's not an apology. I'm covering this giant thing going on because of the Podestas and the stuff they're involved in."
Related: Infowars taps Trump-friendly birther to lead Washington bureau
Gottlieb told CNNMoney that Jones "re-victimized" his client with the video "by making a series of ridiculous claims."
"I don't think it was adequate," Gottlieb, who Alefantis hired before the gunman came to his restaurant, said of Jones' first retraction.
Some time after it was published, the first video was removed from Infowars. (It has been preserved on YouTube.) And then, almost one month to the day after Alefantis sent the letter to Jones, the second video was posted -- after a heads-up from Jones' attorney to Gottlieb.
There's reason to believe that the timing was not coincidental. Under the law in Texas, where Jones is based, a potential defendant in a defamation suit has 30 days to retract after receiving a request to do so in order to avoid punitive damages. Jones' apology came in just under the wire.
Efforts to reach Jones on Wednesday were unsuccessful.
After Jones' retraction on Friday, Alefantis said in a statement that he was "pleased that Mr. Jones has apologized and admitted that he and his employees repeatedly spread falsehoods about me and my restaurant."
"I wish that he would have made this admission and apology months ago," Alefantis said. "And his apology, while welcome, does nothing to address the harm he and his company have done to me, my business, and my community."
Gottlieb, who said all legal options are "still on the table," concurred with his client.
"A retraction that comes in late March is a little bit late to remedy all of the damages that was done to James," he said.