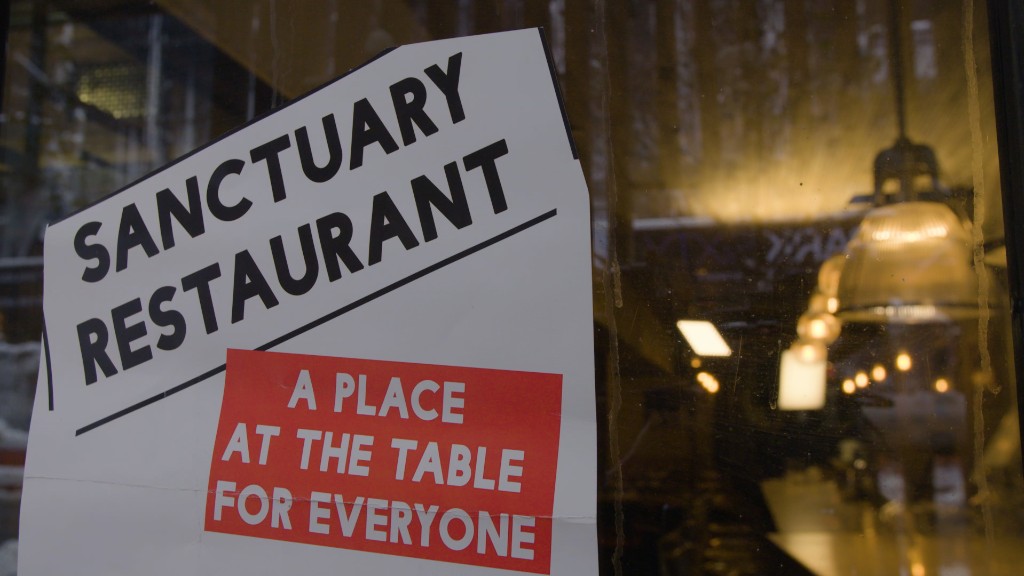 President Trump's efforts to crack down on immigration have left millions of undocumented immigrants with an uncertain future in America. In response, digital entrepreneurs are using technology to help support this community.
These five apps and tools arm undocumented immigrants with knowledge, safety and moral support without compromising privacy.
1. Notifica
With a press of a button, undocumented immigrants who are the subject of a raid by Immigration and Customs Enforcement will be able to use the Notifica app to send customized messages to 15 personal contacts. The app hasn't launched yet, but it has more than 7,000 people on the wait list to download it.
"Notifica is an app that gives people control of their own destiny," founder Adrian Reyna says. "I want to do everything in my power to make sure that individuals aren't afraid and they are able to live a life with dignity and respect that they deserve."
An undocumented immigrant himself, Reyna wanted to reduce fear by helping undocumented immigrants contact friends and family when they are in trouble.
He says the app will make sure undocumented immigrants don't compromise their safety or their contacts' safety. The messages are encrypted, and all records disappear after the message is sent.
2. Arrived
A hub for immigration resources, Arrived displays the latest immigration news and educates users on the deportation process. It also offers English lessons, answers popular queries like "how to write a resume" and offers a map with every non-governmental organization, law clinic and sanctuary city in the United States.
Arrived was founded and created by two full-time Googlers, William McLaughlin and Eduardo Gaitan.
"I immigrated to the United States from Colombia when I was younger, so I've gone through the whole immigration process by seeing firsthand how difficult it can be," Gaitan says. "And coupling that with what's been going on in the news with immigration, I wanted to be involved in some way."
The news feed provides analysis of the latest legislative proposals and actions coming out of Washington, so immigrants can separate facts from fiction. Arrived also provides a Know Your Rights card.
"There is a widespread, resounding, deafening silence in the tech community for the undocumented immigrants, and we're just trying to fill that void," McLaughlin says.
3. Tarjimly
Tarjimly is a Facebook messenger bot that connects a community of 2,000 volunteer translators with immigrants and refugees in real time. The bot plans to launch globally this summer.
The connections between the immigrants and volunteers are anonymous, and the only information shared is the translator's first name. Other information is up to the participants to share.
"Tarjimly is extremely important given a political climate where Trump can ban immigrants and refugees," co-founder Atif Javed says. "Technology must help us stick together in Trump's America and eliminate the fear we have of suffering people."
4. Cell 411
Although Cell 411 isn't specifically for undocumented immigrants, the app recently rolled out features for that population. It allows users to contact close friends and family when being confronted by ICE officers.
"I'm an immigrant myself," says founder and CEO Virgil Vaduva. "I remember when my visa expired and how terrifying it was."
The app allows users to stream and record live videos that cannot be erased. It can also send out users' GPS coordinates and includes a ride sharing option.
The number of Hispanic users has spiked since Trump's inauguration. There are 72,000 active users.
5. RedadAlertas
This soon-to-be-released app will deliver verified and crowdsourced data on ICE raids, checkpoints or other confrontations happening nearby.
Once a raid is verified, RedadAlertas will send alerts to other users in a 10- to 20-mile radius. RedadAlertas will also help community organizers, journalists and activists respond to and protect immigrants.
Created by Celso Mireles, a former undocumented immigrant and tech activist, RedadAlertas is being supported and refined by volunteers.