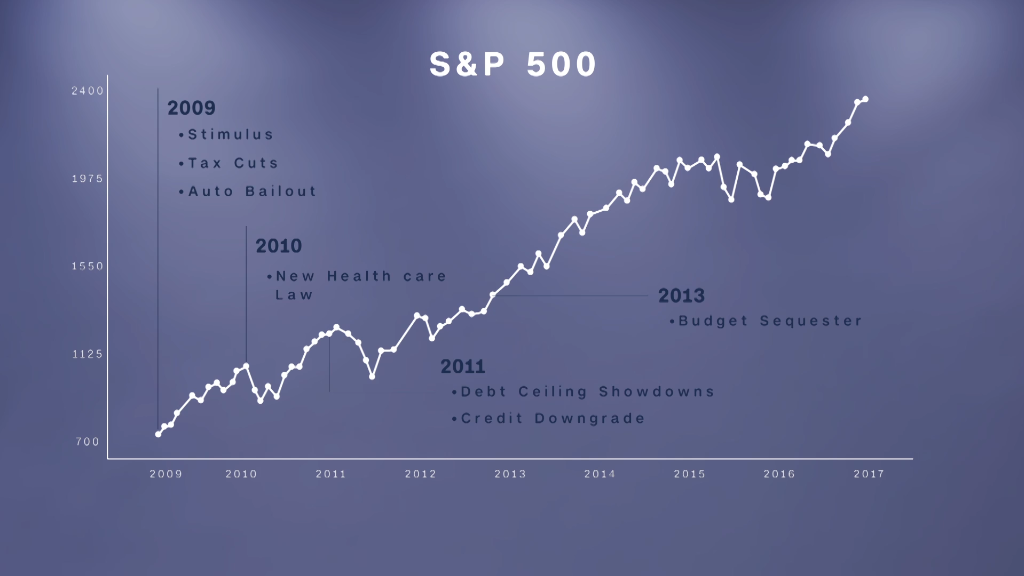 Investors are obsessed with politics lately. But in the next few weeks, Wall Street is likely to focus less on Trump's America and more on Corporate America.
The first quarter officially ends on Friday. Big companies will start releasing their latest results and outlooks in the middle of April. And the numbers should be very good.
According to estimates from FactSet, companies in the S&P 500 are expected to report an earnings increase of 9.1% from a year ago.
If that actually happens, it would be the best quarter of growth in more than five years -- the highest since companies posted 11.6% growth in the fourth quarter of 2011.
John Butters, senior earnings analyst at FactSet, notes that much of the gain will be due to a huge jump in earnings for energy companies due to substantially higher oil prices than a year ago.
Related: Big Oil could be ready for a big comeback
But financials and tech firms are also expected to post solid gains in profits.
Assuming that companies live up to the hype, it will be interesting to see if President Trump will congratulate himself for the improved state of corporate profits. To be fair, he probably does deserve some (albeit not all) of the credit.
Consumer confidence is up, which could mean higher sales and profits for many companies. CEOs and the heads of small businesses are more upbeat as well. The jobs market continues to improve too.
"Good news feeds on itself. People feel better than they have in years past," said Kevin Norris, president of Univest Wealth Management.
But the Trump administration isn't exactly off to a good start with its legislative agenda.
Plans to quickly repeal and replace Obamacare have fizzled. That's led to questions about whether Trump will be able to get tax reform, roll back financial regulations, and also a big infrastructure spending plan through Congress any time soon.
And that could mean that earnings estimates for the remainder of the year could be way too high. Many strategists are predicting double-digit percentage growth in profits for the second half of 2017.
Related: Enough about Trump! Market tired of politics
"The second half numbers are more likely to be reduced as the year progresses," wrote Lindsey Bell, investment strategist with CFRA Research, in a report this week.
Bell thinks earnings growth for all of 2017 could wind up being just 6% -- compared to expectations of nearly 12% at the start of the year.
Stephen Wood, chief market strategist with Russell Investments, is even less bullish. He thinks 5% growth is the best the market could hope for this year. Simply put, he thinks investors got way too excited about how quickly Trump could boost the economy.
"Trump policies will be pro-markets," Wood said, but he thinks investors need to be "more subdued."
"I'm skeptical of there being policy implementation without potholes and bumps," he added.
The big wild card is tax reform.
If Trump and Republicans are able to quickly do something that allows companies to repatriate cash sitting overseas and bring it back to the U.S. at a lower rate through a so-called tax holiday, that could kick earnings into an even higher gear.
The hope is that firms like Apple (AAPL), Microsoft (MSFT) and Google owner Alphabet (GOOG) would use some of the cash to invest more in the U.S. -- build more plants and hire more workers.
But these companies would probably also use some of the money to repurchase their own stock -- and boost their earnings per share in the process.
"Estimates for 2017 may be a little frothy right now," said Jeffrey Schulze, a strategist with ClearBridge Investments. "But that's not taking into consideration tax cuts. CEOs are optimistic and talk about spending more. Guidance could be better than expected."