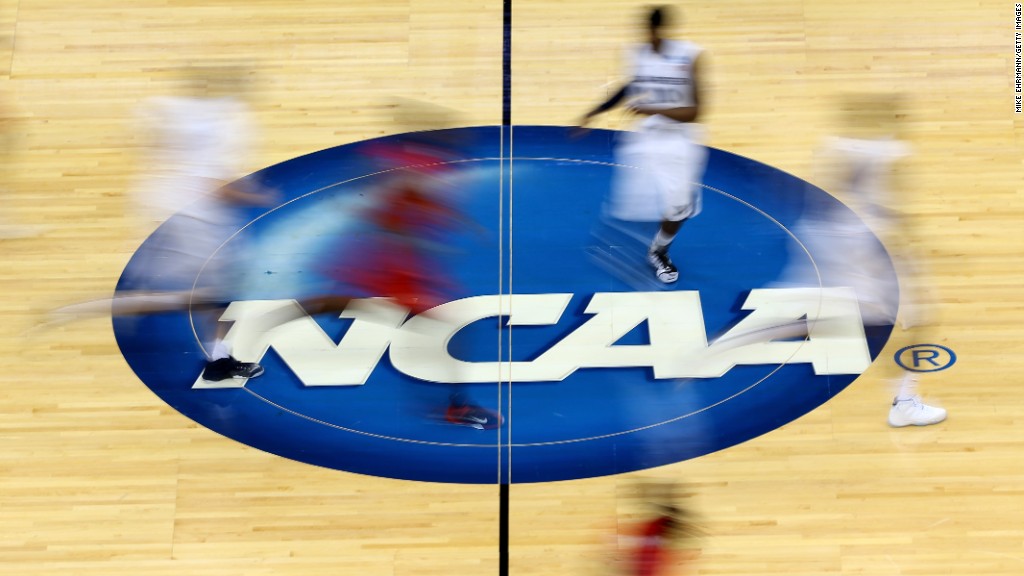 Gonzaga's most surprising achievement isn't getting to the NCAA championship game. It's the sizable profit its men's basketball team scored while playing in a small conference.
The Spokane, Washington, college's on-court success isn't a shock. It came into the tournament as one of four favored teams, and it only lost one game during the regular season. But its off-court success is especially impressive.
Gonzaga reported $12 million in revenue for its men's basketball program in 2016, and turned a $4.8 million profit, according to figures from the Department of Education.
That's more than the combined profit from the men's basketball programs at University of Oregon and South Carolina, and those two Final Four teams play in major conferences -- the Pac-12 and SEC.
Related: West Virginia factory worker wins $100,000 in NCAA bracket challenge
Not surprisingly, the University of North Carolina, the team that will meet Gonzaga in Monday night's final, is ahead of all three of these teams in revenue and profits. The perennial basketball powerhouse posted a profit of $12.7 million on revenue of $21.3 million. But you would expect the kind of money from the Tar Heels. Not the Gonzaga Bulldogs.
The 347 Division I schools had combined revenue of $1.6 billion from men's basketball last year. But just over half of that money is concentrated among the 66 schools that play in the five big money conferences. Virtually all those major conference teams reported a profit during the 2015-16 school year. But only one school in five at in the smaller conferences reported a profit.
A big part of the reason for this: The money generated by the NCAA tournament is distributed to the conferences, not directly to the schools.
The split is based on how many games are played in the tournament over a five year period by members of that conference. So the five major conferences that send multiple teams every year all are guaranteed to get a fairly big slice of the pie. Last year the NCAA gave a total of $205 million to all the conferences.
Related: Mount St. Mary's First Four win means a $3 million payday
The conferences spit the money relatively equally between their member schools, not just the schools that are playing in the tournament. So a school like the Big Ten's Northwestern, which never made it to the tournament before this year, can collect a fair amount of money just by staying home. The Big Ten figures show that Northwestern received $24.8 million from tournament distributions from 1991 through last year, or about $1 million a year.
Meanwhile, schools from the small conferences that might only send one or two schools to the tournament are never going to see that kind of NCAA payout, no matter how well they do in the tournament themselves.