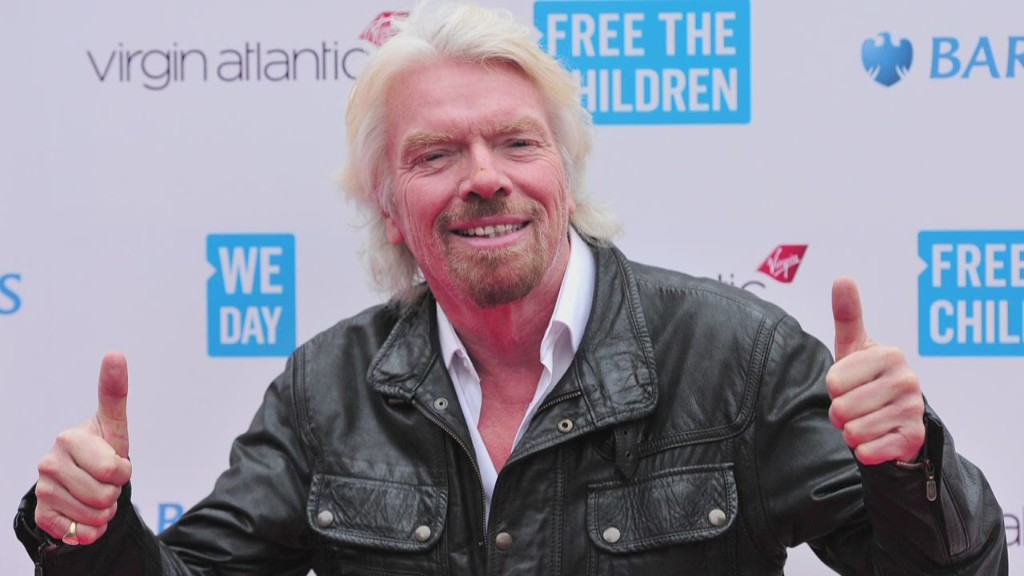 Virgin Atlantic Airways is still relentlessly cool, but is that enough?
Carrying itself as the icon of youth, vibrancy and entrepreneurship, Sir Richard Branson's foray into air travel is 33 years old. Today the airline is an established incumbent, not an irreverent insurgent, and it is facing financial challenges.
Virgin's leadership this week said the carrier would lose money in 2017 after four years of full-year profit. It attributed the upcoming loss to the impact of U.K.'s pending exit from the European Union and a sharp drop in the value of British pound. Most of Virgin's costs are paid in dollars, while most of its revenues are in pounds.
"British people have difficulty affording to travel now," Branson said. "A hard Brexit will damage the travel industry severely. I just hope that sanity will prevail and that if it's going to damage Great Britain and the travel industry that somebody would own up to that fact."
The airline touched down in Seattle this week with new service from London, its first new city in two years.
At a press event, Branson wore a red flannel shirt -- an ode to Seattle's long-departed grunge scene. He stepped off a mood-lit Boeing 787-9 Dreamliner flight flanked by the airline's flight attendants wielding Union Jack umbrellas.
Four years ago, Delta Air Lines (DAL) bought a 49% stake in Virgin for $360 million from Singapore Airlines. The partnership allows Delta and Virgin to closely coordinate schedules and pricing across the North Atlantic. For example, in starting the route to Seattle, Virgin ended flights to Detroit, and Delta took over the route to London.
Willie Walsh, the CEO of British Airways' parent company, famously bet Branson "knee in the groin" in 2012 if Virgin Atlantic's brand survived five years of Delta's influence.
But the odds are not in Walsh's favor. Seattle was the first of three new flights launched by Virgin this week, including links from Manchester to Boston and San Francisco.
"We are flying on," said Branson, "We're certainly not sitting still."
Virgin is waging a war of many fronts. A trio of Middle Eastern airlines has matched its upscale passenger experience and a rapid U.S. expansion by European low-cost airlines is driving down fares across a crowded North Atlantic.
Related: Alaska Airlines is killing off the Virgin America brand
Virgin Atlantic is only one part of the global Virgin brand, which touches everything from mobile phones to trains and hotels, gyms, banking and eventually space tourism.
"Virgin Atlantic has carried the brand for quite some time," said Craig Kreeger, Virgin Atlantic's chief executive.
Virgin Group's myriad products "grow affinity for the Virgin brand, which makes it much easier for Virgin Atlantic to acquire them as customers," Kreeger said.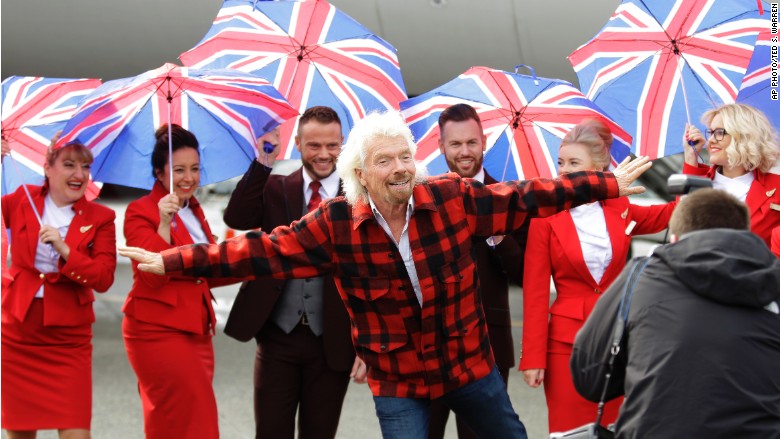 The Virgin aviation empire looks very different in 2017 than it did nearly a decade ago.
In 2009, the brand was spreading to all corners of the planet. At one point you could fly Virgin-branded airlines east starting in Los Angeles, stopping in New York, London, Hong Kong and Sydney, and then go back across the Pacific.
Today, Virgin America is entering its twilight years under new owner Alaska Air. Virgin Australia has consolidated a lot of its operations. A brief U.K. experiment with domestic routes didn't get traction and a Nigerian carrier has long since been shut down.
"I wasn't brought in to worry about the other Virgin airlines," said Kreeger. "It is not our vision to conglomerate into a Virgin international airline."
Related: It's a golden age for affordable flying. No, really
Virgin has been replacing its fleet with new twin-engine Boeing and Airbus airliners and is retiring the four-engined aircraft it once proudly trumpeted with the slogan "4 Engines 4 Long Haul." It has also shelved plans for flying the Airbus A380 superjumbo jet in favor of new smaller A350-1000 jets starting in 2019.
Hand in hand with Delta, Virgin has focused on offering offering regular frequent flights across the Atlantic and connecting U.K. passengers deep into the U.S. airline's network.
"We are a British focused airline. Our route network is created first and foremost around taking Brits to where we can make money carrying them," said Kreeger.
He said Virgin Atlantic is now trying to get U.S. travelers to spend their more-valuable dollars in the U.K. "London has never been a better bargain for Americans to come visit," he says.