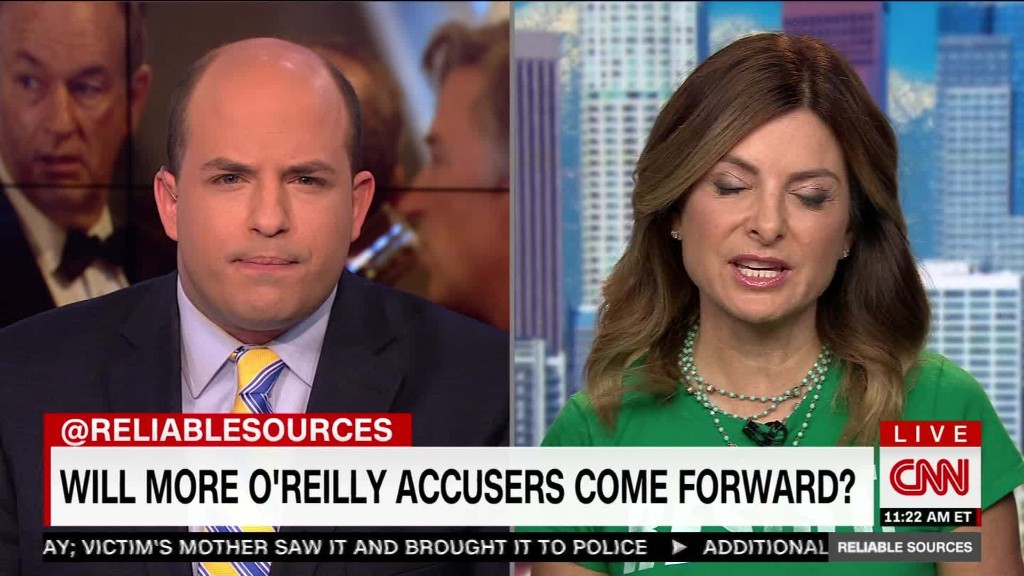 Still reeling from a bombshell report about its biggest star, Fox News on Monday was hit with a lawsuit filed by a contributor who accuses the network's founder, Roger Ailes, of sexual harassment.
In the lawsuit, Julie Roginsky alleges that Ailes advised her to "engage in sexual relationships with 'older, married, conservative men' because 'they may stray but they always come back because they're loyal.'" During meetings, according to the complaint, Ailes "repeatedly insisted on a kiss 'hello' requiring Roginsky to bend down to kiss him."
Roginsky, one of Fox's liberal contributors, said that Ailes led her to "believe that she would receive a permanent position as a host on 'The Five,'" the network's highly rated evening panel show. The promise was withdrawn after she resisted his advances, according to the complaint.
"Roginsky refused to engage in a sexual relationship with Ailes. As a result, Fox News and Ailes retaliated," the lawsuit said.
Related: Why Fox stock is immune to Bill O'Reilly scandal
Perhaps most troublingly for Fox News, the suit alleges that the environment inside the network has not changed since Ailes' departure under a cloud of other harassment allegations, contrary to the network's claims.
A Fox News spokesperson did not immediately respond to a request for comment.
Ailes' attorney, Susan Estrich, said in a statement provided to CNNMoney that Roginsky's "description of meetings that she supposedly had with Roger Ailes are total hogwash."
"Mr. Ailes vociferously denies her allegations. Her interactions with Mr. Ailes were not even close to the fictional version she wants people to believe now," Estrich said. "The idea that Mr. Ailes would pressure Ms. Roginsky or any other women to have sexual relations with him is total nonsense. In short, this copycat complaint is not about discrimination or retaliation. This is about someone who wants to pile-on in a massive character assassination in order to achieve what she did not accomplish on the merits."
The lawsuit arrives during a stormy period for Fox, long the ratings leader in cable news.
Over the weekend, the New York Times reported on settlements with five different women who alleged harassment or verbal abuse by Fox's highest rated host, Bill O'Reilly, reached by the network, its parent company or O'Reilly himself.
O'Reilly "denies the merits of these claims," 21st Century Fox, Fox News' parent company, said in a statement.
In a statement on his web site, O'Reilly said, "Just like other prominent and controversial people, I'm vulnerable to lawsuits from individuals who want me to pay them to avoid negative publicity. ... I'm a father who cares deeply for my children and who would do anything to avoid hurting them in any way. And so I have put to rest any controversies to spare my children."
Related: Fox braces for fallout from Bill O'Reilly scandal
In September, Fox settled with former host Gretchen Carlson, whose lawsuit against Ailes marked the beginning of the end for the powerful executive.
Like Carlson, Roginsky is also represented by the New Jersey attorney Nancy Erika Smith.
Along with Fox and AIles, network co-president Bill Shine, who was elevated after Ailes' departure, is named as a defendant in Roginsky's suit.
Roginsky alleges that Shine retaliated against her when she "refused to malign" Carlson and join "Team Roger" during the network's aggressive counter-offensive to the allegations last summer.
"Shine aided and abetted Ailes' acts of retaliation and harassment," Roginsky's suit said.