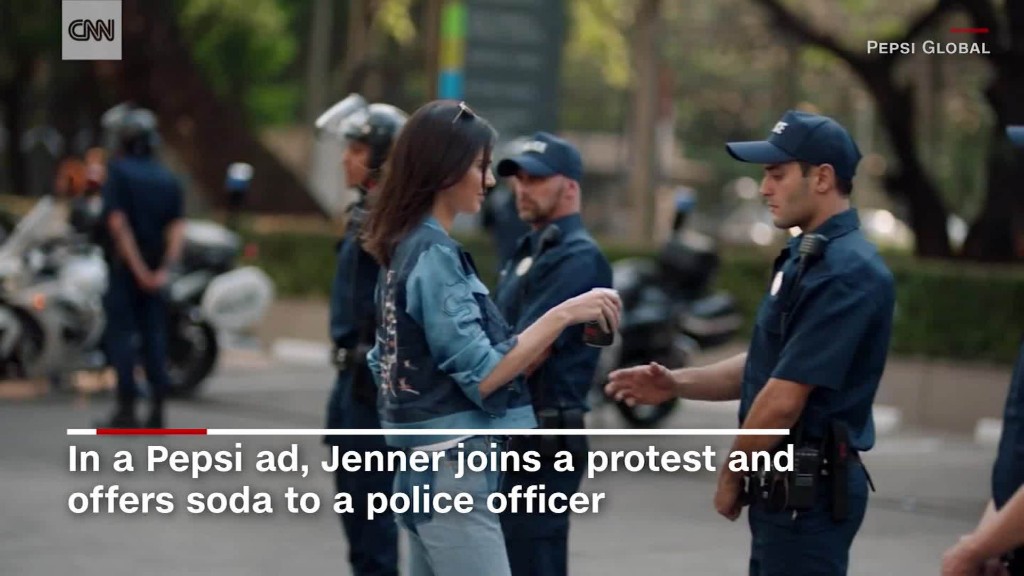 Pepsi has pulled its controversial Kendall Jenner ad.
The soda company made the announcement Wednesday after the ad triggered an immediate online backlash for using protest imagery to market the soft drink.
"Pepsi was trying to project a global message of unity, peace and understanding. Clearly we missed the mark, and we apologize," the company said in a statement. "We did not intend to make light of any serious issue. We are removing the content and halting any further rollout."
Pepsi (PEP) also apologized to Jenner herself for putting her "in this position."
The ad, in which Jenner participates in a photo shoot before joining a group of protesters and offering a Pepsi to a stoic police officer, was accused of appropriating the Black Lives Matter movement and using social justice to sell soda.
Bernice King, a daughter of Martin Luther King Jr., was among those who commented on the tone-deaf nature of the ad.
"If only Daddy would have known about the power of #Pepsi," she tweeted, with a black-and-white photo of her father being confronted by a highway patrol officer.
In a response on Twitter, Pepsi said the company believes in King's legacy and meant no disrespect.
Activist DeRay Mckesson tweeted sarcastically about the ad: "If I had carried Pepsi I guess I never would've gotten arrested. Who knew?"
Comedian Jim Gaffigan also mocked the ad in a tweet.
"'But you said you wanted social media to talk about Pepsi.' - Advertising guy to Pepsi executive before agency is fired," Gaffigan tweeted.