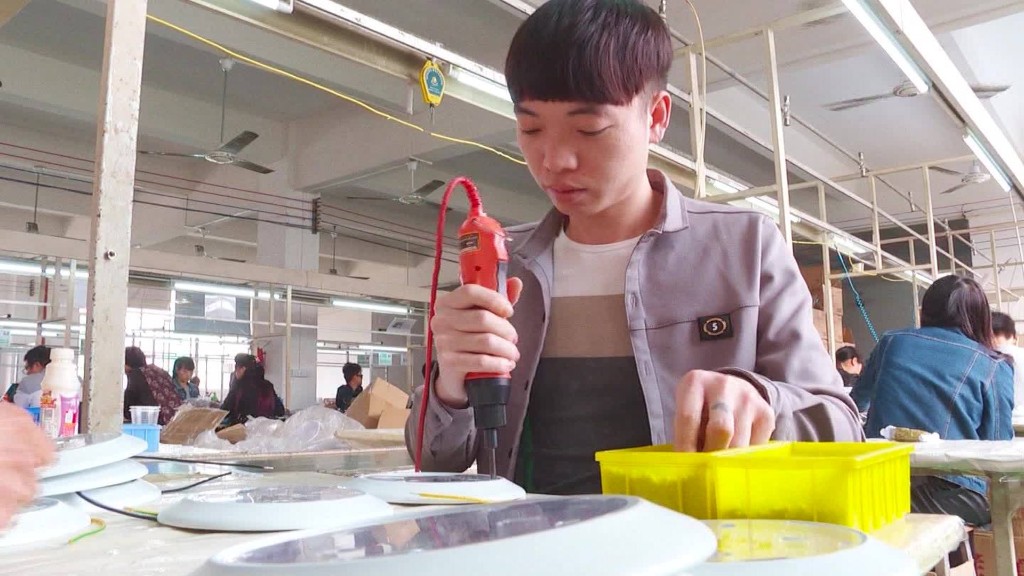 For at least one Chinese company, the Trump family is good for business.
While President Donald Trump promises tough talking on trade when he meets his Chinese counterpart Xi Jinping this week, his daughter's clothing brand continues to take advantage of the country's low cost production.
"Ivanka is a very good client," said Zhang Huarong, chairman of Huajian Group, whose factories churn out millions of shoes for Western brands, including Ivanka Trump. "But of course, I never imagined Ivanka's father would become president."
CNN was allowed to visit one of the company's plants in China's manufacturing heartland. But a request to see the factory where Ivanka Trump shoes are made was denied, partly because the brand doesn't want to publicize its China operations, according to Zhang.
Related: Ivanka Trump's stake in D.C. hotel renews ethics questions
That might have something to do with President Trump's frequent denunciations of what he calls China's unfair economic practices. On the campaign trail, he threatened to impose heavy tariffs on Chinese goods and pressure China over its currency in order to keep jobs and factories in the U.S.
A representative for Ivanka Trump's brand didn't respond to a request for comment. It already became embroiled in a political firestorm in February after the U.S. president attacked Nordstrom department stores for dropping his daughter's line of clothing and accessories.
Ivanka Trump said in January she was stepping down from the management of her clothing and accessories business, but she kept her ownership stake and moved the assets into a trust. The situation became more complicated after the announcement last week that she was taking an official position in the White House.
Her lawyer, Jamie Gorelick, told CNNMoney last month that Ivanka Trump would recuse herself from certain policy matters, like trade agreements specific enough to affect her line of clothing and accessories.
Related: Ivanka Trump sales boom in February
Big tariffs on Chinese-made goods could create a headache for her brand. Its supplier, Huajian, will be paying close attention to U.S. trade policy.
Huajian produces 12 million pairs of shoes each year, nearly all of them bound for American ports. Most of its workers put in 10-hour days, six days a week. Some of them earn about $400 a month polishing the soles of shoes that typically sell for at least $100 a pair in the U.S.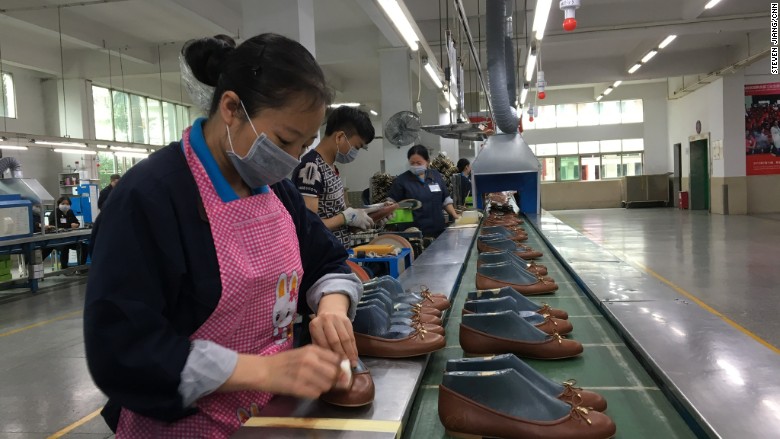 Many experts say that if President Trump puts the squeeze on Chinese manufacturers, it's unlikely to bring jobs back to the U.S.
"It's not a binary choice," said Ben Schwall, an American businessman with decades of experience in China. "It's not China or America. There's a lot of in between."
Related: Trump's tough talk on China is about to run into hard reality
Schwall, who helps U.S. businesses produce goods overseas, said low-skilled manufacturing jobs are already moving to countries such as Bangladesh and Vietnam, where costs are even lower.
And if President Trump ever follows through on his threat to slap punishing tariffs on Chinese goods, Zhang has a Plan B for Ivanka's shoes.
"When the cost becomes too high in China, I would move my production to Africa," he said.