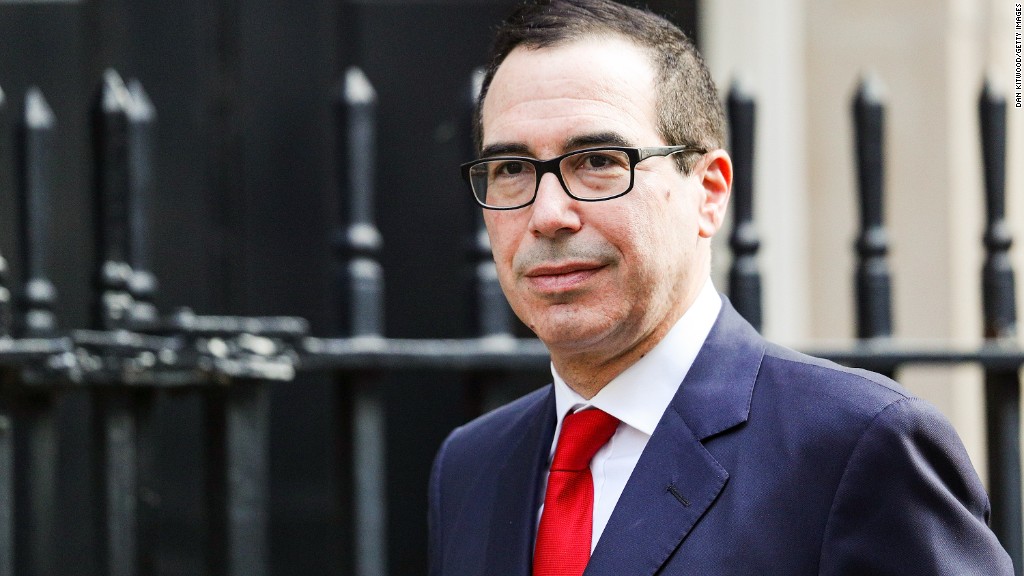 The Trump rally is essentially a massive bet that the gridlock gripping Washington for the past six years will finally break.
Stocks took off after President Trump's victory because Wall Street got excited that a Republican-controlled Congress would slash taxes and rip up regulations.
But last month's failure to repeal Obamcare raised doubts about Trump's ability to work with members of his own party. Now, investors are on the lookout for more signs of dysfunction in D.C. that suggest tax reform may not happen any time soon either.
The next big civics test comes on April 28, the deadline by which the federal government needs to pass a spending bill. If Congress fails to act, Trump's 100th day in office would also mark Day 1 of an embarrassing government shutdown that dents confidence in the administration.
A government shutdown, or even a close call, could rattle the stock market. It's not that investors fear the direct impact of a shutdown on the economy, which tend to be short-lived. (Even though a shutdown would hurt people involved by forcing federal contractors to go without pay and closing down national parks.)
More important for Wall Street, a government shutdown would be evidence of political dysfunction. Not just typical gridlock, the kind that investors were fine with when a Democrat was in the White House and Republicans controlled Congress. But dysfunction at a time when investors have been widely anticipating Congress would take action to help the economy and boost corporate profits.
"The April 28 government funding deadline will serve as a key litmus test in gauging the GOP's capacity to govern," Isaac Boltansky, an analyst at Compass Point, wrote in a recent report to clients.
"With each passing day, expectations for the already expansive GOP agenda are being tempered as real concerns regarding basic functioning begin bubbling to the forefront," Bolstansky wrote.
Related: Will Trump's 100th day mark the start of a shutdown?
Right now, Washington observers are predicting Congress will avert a government shutdown, though they admit the risk has risen in recent weeks.
Senate Majority Leader Mitch McConnell told reporters on Tuesday that bipartisan talks are underway on a spending bill and he expects a deal to be reached "before the time runs out," according to Politico.
But waiting till the last minute could also spook the market, according to Shannon Saccocia, head of asset allocation and portfolio strategy at Boston Private.
"The risk is that this is particularly contentious and the Republican party comes out looking more bruised than now. That could create some serious concern," said Saccocia.
Wall Street suffered a setback after Republicans pulled the Obamacare repeal efforts, but stocks have since bounced back a little.
Investors will be watching the shutdown issue and other political debates for evidence that the Freedom Caucus that helped upend the health care bill is causing more trouble for Trump.
U.S. House of Representatives Speaker Paul Ryan is already trying to manage expectations on tax reform, which in turn is exposing fissures within the Republican party. He said on Wednesday that tax reform will take longer to accomplish than repealing and replacing Obamacare would.
"The House has a (tax reform) plan but the Senate doesn't quite have one yet. They're working on one. The White House hasn't nailed it down," Ryan told an audience in Washington.
"So even the three entities aren't on the same page yet on tax reform," he added.
Right now, what the market cares about most is Trump's pledge for "massive" tax cuts and sweeping reform of the corporate tax code. The administration has promised this is possible by August, but that ambitious goal could look even less likely if precious time and resources are wasted on a government shutdown.
"It's sort of here we go again," said Sam Stovall, chief investment strategist at CFRA Research.
"A government shutdown would tell Wall Street that despite Trump's victory, it's business as usual in Washington. That it's going to be a lot tougher to get things passed than the voters, and investors, thought early on," Stovall said.
--CNNMoney's Jeanne Sahadi contributed to this report