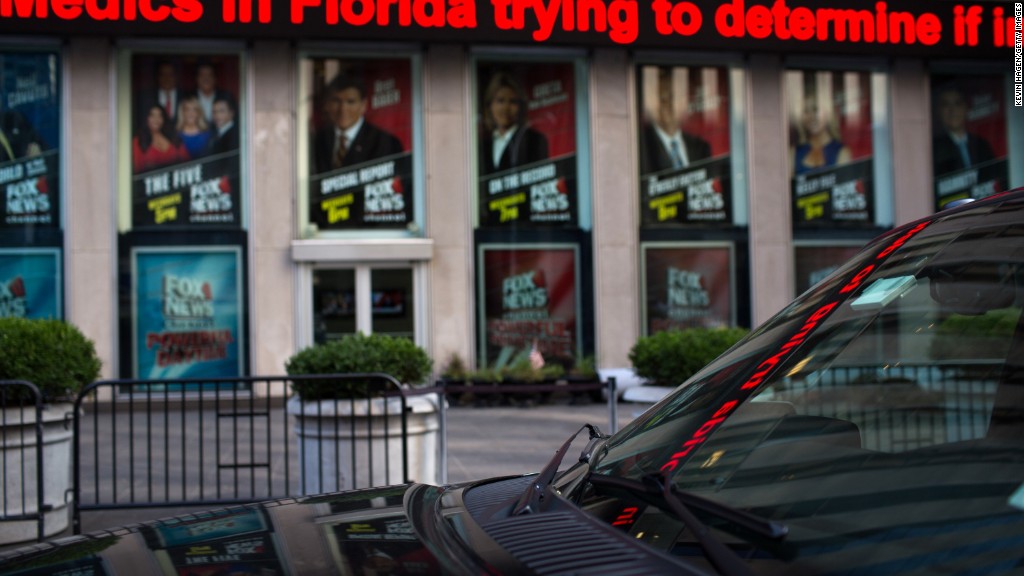 The sexual harassment settlements on behalf of Fox News star Bill O'Reilly might be more than an expensive embarrassment for the company. They could pose a legal problem as well.
That's because companies are required to disclose news of significant expenses, including any related to litigation and government investigations, to their investors.
The New York Times reported that Fox, its parent company 21st Century Fox, and O'Reilly have together paid $13 million in settlements to at least five women to settle sexual harassment and verbal abuse allegations against the host, who has the best rated news show on cable television.
The legal issue surrounding 21st Century Fox's disclosure requirement is whether a given payout is big enough to be considered "material" enough to affect investors' view of the stock. If it is, then the company is legally required to make it public.
Related: Why Fox stock is immune to Bill O'Reilly scandal
21st Century Fox (FOXA) reported revenue of $27.3 billion and income of $6.6 billion in its most recent fiscal year. So even millions in settlements might not be considered material.
"It's definitely a close call," said Eric Chaffee, a law professor at University of Toledo and editor of the Securities Law Blog. "Counsel for the company is walking a tightrope here," he said.
But it's not just about the size of a given payout -- it's also a question of whether a given settlement or investigation is big enough to affect the entire enterprise.
"There is an argument to be made that these settlements are disclosable because he's their biggest name," said Bryan Sullivan, an attorney and expert on corporate governance.
But "there is no bright line, there is no easy answer" as to what is material, Sullivan said. He added that there is also an argument to be made that 21st Century Fox was under no obligation to disclose these confidential legal settlements, since doing so could hurt the brand.
O'Reilly's show alone is reported to have brought in $446 million in advertising revenues between 2014 and 2016, according to the research firm Kantar Media. But more than 30 advertisers have pulled their advertising from the show since the Times report.
Chaffee said he doesn't believe the SEC is going to be eager to pursue a case against the company.
"This is not a slam dunk case where the SEC can be assured of a win," he said. "There are probably not a lot of people in the SEC who would have the appetite to pursue a questionable case."
The company could still face shareholder suits, Chaffee said, especially if the stock starts to fall on advertising losses or even a possible departure of O'Reilly.
Related: Fox News hit with new Ailes harassment suit
Sources have told CNN that federal prosecutors are already investigating whether 21st Century Fox should have disclosed recent settlements involving former Fox News boss Roger Ailes. A spokesman for 21st Century Fox and Fox News confirmed that the company has talked to federal prosecutors and is cooperating with the probe.
Ailes, who helped launch Fox News, left the company last summer following a sexual harassment suit by former anchor Gretchen Carlson. Fox News eventually paid Carlson $20 million to settle, and reached settlements involving Ailes with other women as well.
21st Century Fox declined comment on whether the O'Reilly settlements are part of the federal probe.
If 21st Century Fox is shown to have a pattern of failing to disclose million dollar settlements, or if the sexual harassment lawsuits lead to O'Reilly's departure from the network, the duty to disclose could become more serious, both attorneys said.
So far, investors don't seem worried about the O'Reilly settlements. Shares of 21st Century Fox are down more than 1% since the Times report.
O'Reilly has denied any wrongdoing, and said he settled to put the controversies to rest and spare his children. 21st Century Fox said in a statement that O'Reilly "denies the merits of these claims."
"Mr. O'Reilly is fully committed to supporting our efforts to improve the environment for all our employees at Fox News," the company said in statement over the weekend.
The federal probe was started by U.S. Attorney Preet Bharara before he was fired by the Trump administration last month. But since then, there have been signs that the investigation is continuing. Mark Kranz, who recently retired as Fox News' chief financial officer, has been offered immunity from prosecution in exchange for his cooperation with the investigation, two sources familiar with the investigation told CNN last week.
-- CNNMoney's Dylan Byers and Brian Stelter contributed to this report