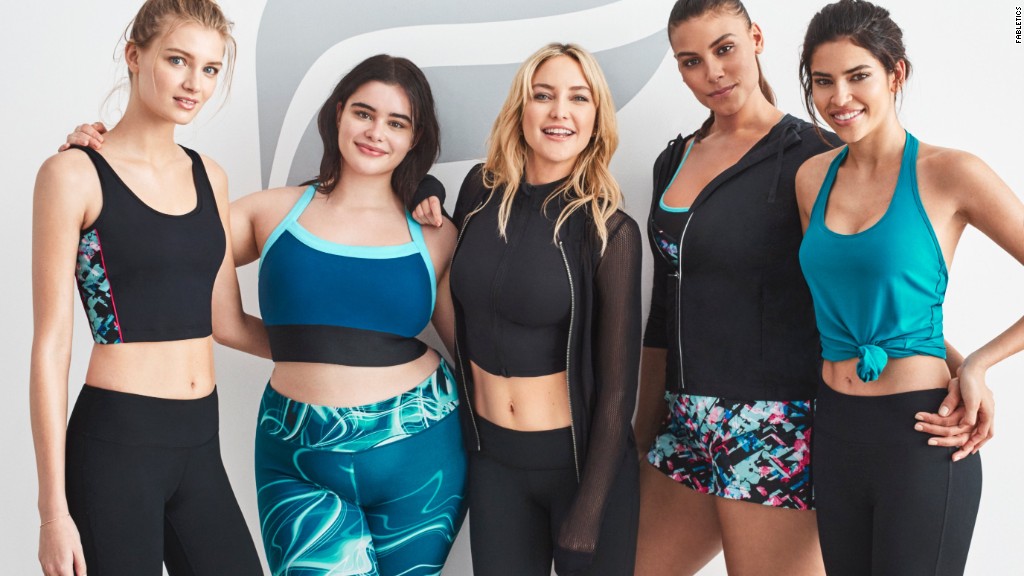 Kate Hudson wants to share her passion for fitness and clean living with women of all shapes and sizes.
Hudson, best known for her roles in movies like "Almost Famous" and "Deep Water Horizon," has expanded her activewear brand, Fabletics, into extended sizes. The line launched its new products this week with collections in sizes ranging from XXS to 3X.
"It's something that we've been working on for awhile, that we've been really trying to get right, and to be able to launch it is just, incredibly exciting," Hudson told CNNMoney. "We [want to] continue to motivate and empower women to get fit and healthy and try to have fun while doing it ... For me, that's where it really came out of was, this idea that being active doesn't have to be daunting."
On the contrary, Hudson said being active should be fun.
"We shouldn't put too much pressure on ourselves to, sort of, perform at some crazy level if we're not ready for that," she said. "I just want to try to create some sort of levity in the wellness, fitness world, so that girls actually enjoy it. Instead of feeling like it's some task."
Founded in 2013, Fabletics has 18 brick-and-mortar stores around the United States. In April, the company launched a VIP membership program that gives members access to digital workouts from top celebrity trainers.
Fitness has become a way of life for Hudson, and she said feeling great in your workout gear can be that extra kick to help get you motivated.
"Great clothes do help motivate. But I think ... part of the whole fitness world is ... a little bit, to me, too much about diets, and it's a little too much about fads. And I just in general, would like to be able to talk about it a little bit more honestly. And recognize that not every woman is a fitness fanatic, but that it's still a huge part of longevity. And finding joy in your life is to be active."
Hudson said that it's more than just fitness, it's about living in the moment and not looking back.
- CNNMoney's Audrey Benson contributed to this report.