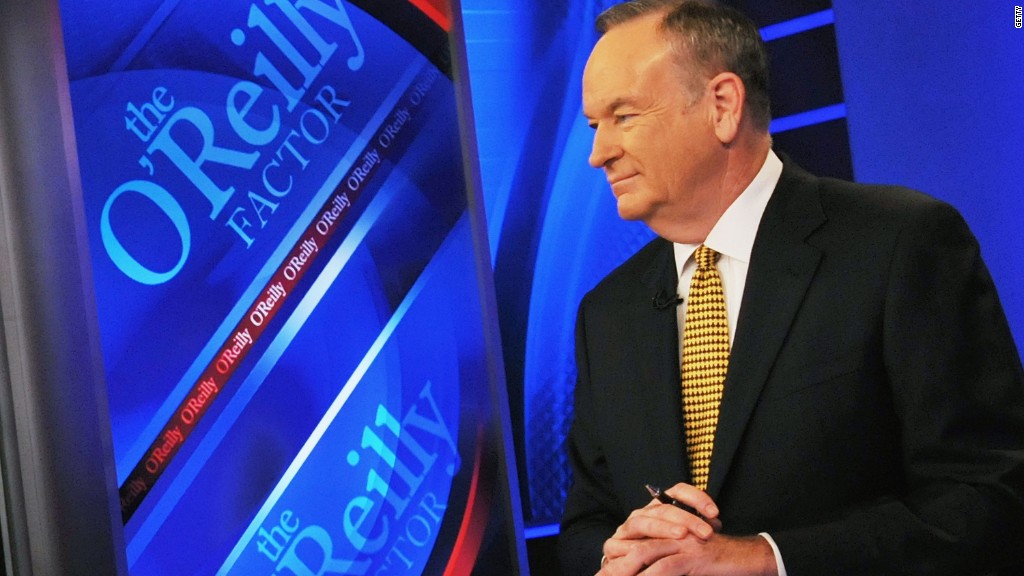 Car giants Mercedes-Benz and Hyundai, insurer Allstate and Big Pharma/consumer healthcare companies Sanofi and GlaxoSmithKline are among the dozens of blue chip companies that have pulled ads from "The O'Reilly Factor."
But the biggest advertiser for the Fox News show isn't a well-known company that could face a backlash from consumers due to the sexual harassment allegations made against Bill O'Reilly. It's a firm that buys and sells gold, silver and other precious metals.
According to data from research firm Kantar Media, a company called Rosland Capital was the top advertiser for "The O'Reilly Factor" in 2015 and for the first nine months of 2016. (More recent data is not available yet.)
And Rosland told CNNMoney it is staying.
"We have been advertisers on the network for a number of years. Around 10% of our ad spend with the network is for advertising that runs on that particular program," Rosland said. "At this time, we have no plans to change our advertising strategy."
Related: Did Fox have a duty to disclose O'Reilly settlements?
Rosland, like many precious metal companies, uses its ads to pitch gold and silver as a way for investors to protect their investments if they are worried about the country's rising debt levels, inflation, broader market volatility or higher interest rates.
In many respects, that makes the company a natural fit for the more conservative, older audience of Fox News. Another former Fox News host, Glenn Beck, also had a lot of gold ads during his old program. (Beck also used to work for CNN sister network HLN.)
Rosland's ads feature actor William Devane, most famous for starring in the 80s primetime soap "Knots Landing" and also for playing Secretary of State (and later President) James Heller on Fox's "24" and the 2014 miniseries sequel "24: Live Another Day."
In one spot, Devane talks about how he "protects his assets" with gold from Rosland Capital because he's worried about the more than $19 trillion in debt that the U.S. has.
Related: Can Fox News withstand the O'Reilly advertiser exodus? Probably
That may play well to supporters of President Trump. Despite proclaiming himself "The King of Debt" because of how he used leverage in many of his real estate deals, Trump has pledged to cut the nation's debt load.
Gold prices are still slightly lower than where they were on Election Day, but they have shot up nearly 4% since Trump's inauguration and are up more than 8% so far this year.
Kantar Media doesn't share specific data on exactly how much Rosland spent to advertise on O'Reilly's show.
But the research firm did say that the show pulled in nearly $180 million in ad revenue overall in 2015 and almost $120 million in the first three quarters of last year.
That makes "The O'Reilly Factor" the top advertising revenue producer of any news show on Fox News, CNN or MSNBC, according to Kantar.
Related: Here's what O'Reilly's sponsors are saying about the controversy
Interestingly, most of the other big advertisers on the show also aren't household names. According to Kantar Media, the second biggest buyer of commercials is a company called MyPillow, which, as the name implies, makes pillows.
In a series of tweets on Wednesday afternoon, MyPillow sought to distance itself from the growing O'Reilly controversy.
MyPillow said that the company "does not condone sexual harassment or any of the allegations against Bill O'Reilly" and added that it "buys a block of ads on the Fox Network."
The company also noted that Fox "decides when those ads will air each week. MyPillow is investigating whether it can pull its ads from that time block."
Two of the other top five advertisers on the show are floor protection company Furniture Feet and dietary supplement Prevagen.
The lone blue chip advertiser among the top five is Big Pharma giant Pfizer (PFE), which markets its erectile dysfunction drug Viagra on the show, among other medications. Pfizer told CNNMoney Thursday that it too was pulling its ads from "The O'Reilly Factor."
Prevagen maker Quincy Bioscience has previously told CNNMoney that it does not comment on its advertising plans but that the company condemns "all forms of sexual harassment."
Furniture Feet didn't respond to CNNMoney's request for comment.