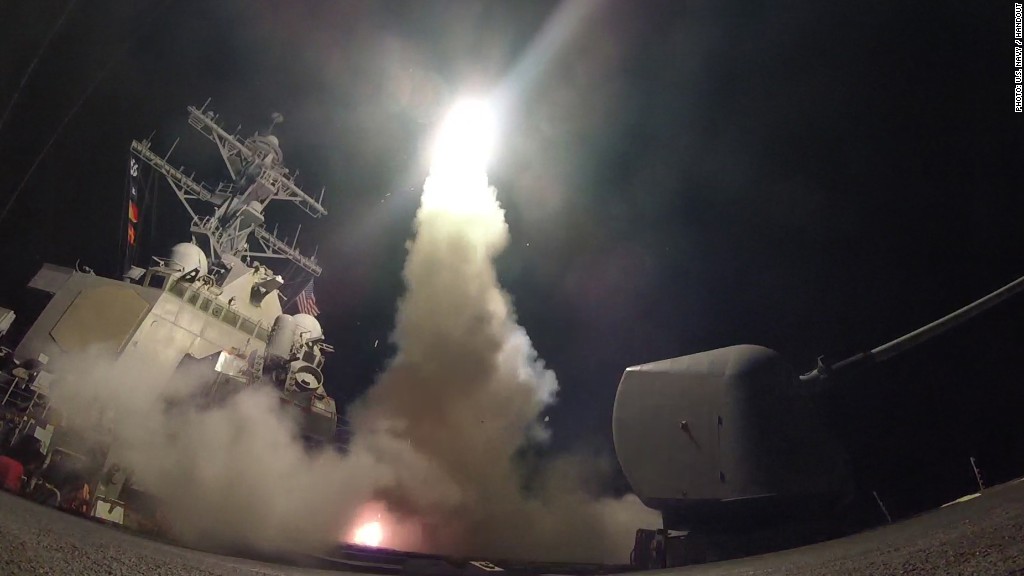 President Trump didn't just fire off a loud warning shot to the Assad regime in Syria. The military strike on Syria should also serve as a reminder to Wall Street about how suddenly conflict of global proportions can occur in the unpredictable Trump era.
Financial markets were briefly rattled by the U.S. tomahawk missile attack on Syria. Dow futures initially plunged over 150 points when news of the strike broke but they rapidly recovered.
Oil prices spiked 1% and gold, a safe haven during times of fear, climbed to five-month highs.
Wall Street calmed down on Friday morning and focus returned to the U.S. and a mostly disappointing March jobs report. But the initial risk-off reaction shows how everyone, including investors, was caught off guard by the sudden military action.
The U.S. strike on Syria is a "reality check on the world situation, which we believe is at a high-risk point," influential money market strategist David Kotok wrote in a note to clients on Friday.
Investors may have grown accustomed to drawn out deliberations about possible military action under a war-weary President Obama.
By contrast, Trump acted swiftly in response to the graphic images of innocent Syrians hit by a chemical attack on Tuesday that U.S. officials say was carried out by the Assad regime.
Trump has repeatedly vowed to catch adversaries off guard by acting with little warning -- and he kept that promise with a very quick action on Syria.
Veteran ABC News correspondent Martha Raddatz called the attack "the single fastest punishing strike I have ever seen" on air Thursday evening.
Related: Russian markets fall after U.S. strike on Syria
Of course, Trump's unpredictability also gives Wall Street little time to prepare for conflict, even when it involves a government backed by nuclear-armed Russia.
"Geopolitical concerns are rising, but the implications for global markets are a bit unclear," Win Thin, global head of emerging market currency strategy at Brown Brothers Harriman, wrote in a note to clients. "We expect nervous, choppy trading conditions to continue as we go into the weekend."
Nervousness was especially evident in Russian markets. Stocks in Moscow retreated 2% and the ruble also took a hit as the strike casts doubt on hopes of better relations between Washington and Moscow.
But U.S. markets responded in a calmer fashion as Trump's action brought support from many other world leaders.
"The world (except for Assad and Putin -- who are relatively quiet given what just happened) is applauding, and markets are getting over it," Michael Block, chief market strategist at Rhino Trading Partners, wrote in a report.
Related: Russian markets slump after Syria strike
Still, all of this raises the stakes when it comes to other geopolitical headaches, especially North Korea.
The Trump administration has ramped up its rhetoric towards North Korea in recent days, threatening to take unilateral action if China doesn't help contain the nuclear threat posed by Kim Jong Un.
Those words have to be taken even more seriously following the airstrike on Syria. But investors have shown little concern thus far about the risk of a conflict with North Korea, its massive military, and its unpredictable head of state.
Despite the geopolitical uncertainty, not to mention the question marks surrounding the domestic political agenda, U.S. markets are sitting near all-time highs and volatility remains historically low.
Kotok, chief investment officer at Cumberland Advisors, said his firm increased its cash reserves as a result of the Syria strike.
"One cannot know the extent of a shooting war or a military action until it happens," Kotok wrote. But "one can act on early signs or discernible trends."