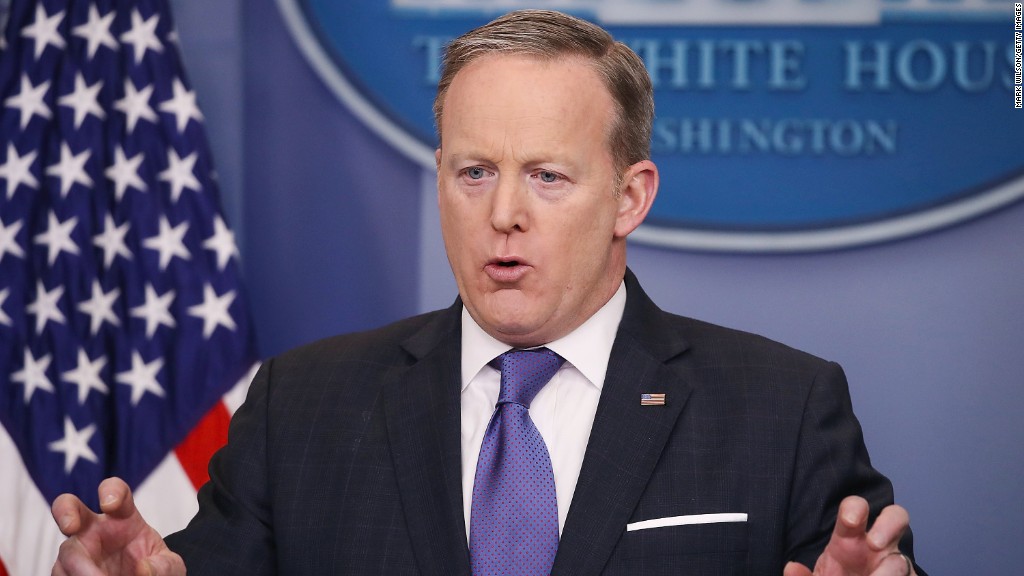 President Trump's White House isn't ready to talk on television about its military strike against Syria -- unless they're talking to Fox News.
In an awkward moment Friday, White House press secretary Sean Spicer abruptly asked that his daily on-camera press briefing be "off camera," causing the pool camera to turn away from Spicer as he spoke.
Viewers of networks carrying the briefing watched as the pool camera panned right and focused on a big container of cheese puffs that was sitting on a table.
In announcing the decision, Spicer said, "I want to make sure that the president has an opportunity to [address the issue in] his words and his audio."
"It's off. Off. Everything is off," he said.
Just before the briefing, however, Spicer gave an interview to Fox News in which he discussed the Syria strike. He also recorded another interview with Fox News White House correspondent John Roberts.
But reporters at other media outlets had to make do with 18 minutes of off-camera remarks. A transcript of the briefing was later released by the White House.
Related: Maggie Haberman is the New York Times reporter Trump can't quit
The off-camera briefing took place at Tideline Hotel near Mar-A-Lago, where Trump is meeting with Chinese President Xi Jinping. The two leaders have both refused to take questions from reporters, and even before the strike they were not scheduled to hold a joint press conference.
When asked about the decision to forego a joint press conference, White House spokesperson Sarah Sanders told CNNMoney, "This is a working visit."