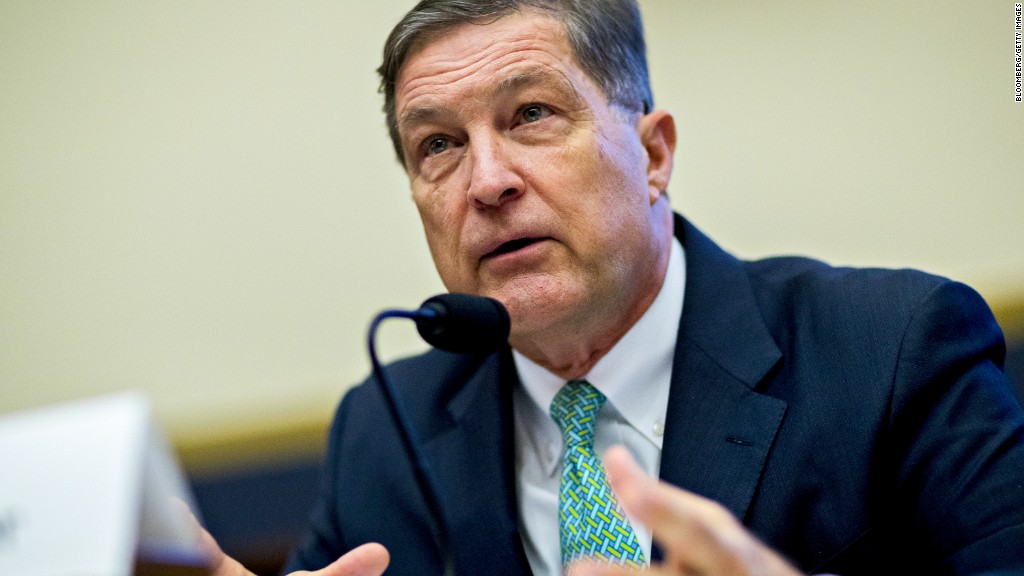 The Federal Reserve tapped Jerome Powell to be the new point man overseeing how Wall Street banks are regulated.
Powell, who has been a governor on the board since 2012, was assigned to head the bank oversight committee, according to role changes posted on the Fed's website Friday. The announcement comes days after Daniel Tarullo, the central bank's regulatory czar stepped down after being in the position for the past eight years.
Powell's appointment is unlikely to create a directional shift in the Fed's supervision of the largest banks, including JPMorgan Chase (JPM), Bank of America (BAC), and Wells Fargo (WFC). The former undersecretary of the Treasury for President George H. W. Bush, who was responsible for financial institution policy, among other areas, has largely shared Tarullo's views on financial regulation.
Related: Wall Street's outgoing regulatory czar: Leave Dodd-Frank alone
One area of shared agreement is the so-called Volcker Rule, which restricts banks from proprietary trading, tucked in the 2010 Dodd-Frank reform law.
Powell has urged Congress to rewrite the rule, arguing that the litmus test of regulators asking, "Is it proprietary trading or something else?" only winds up adding "tremendous expense and burden," according to remarks he made in Chicago in January. Tarullo has also endorsed rethinking the rule, which he said was "too complicated," as part of a broader review of the 2010 law.
Related: Wall Street hates the Volcker Rule: Will Trump kill it?
President Trump has asked Treasury Secretary Steven Mnuchin to conduct a review of current regulations to determine if certain policies can be changed or thrown out. As part of that, the administration is likely to scrutinize the merits of the Volcker Rule, along with others.
Earlier this week, the president reiterated his campaign promise to dismantle the reform law.
"We're going to do a very major haircut on Dodd-Frank," said Trump at a town hall with CEOs, including Citigroup (C) boss Michael Corbat.
"We want strong restrictions. We want strong regulation, but not regulation that makes it impossible for the banks to loan to people that are going to create jobs," Trump continued.
It's unclear, however, how long Powell will have purview over the banking committee. With Tarullo's departure, Trump now has the chance to fill three vacancies on the board, including a vice chair of bank supervision, giving him the chance to appoint officials who will offer a lighter touch when it comes to supervising banks.
On Friday, National Economic Council Director Gary Cohn told Bloomberg Television the president may be closing in on naming his Fed nominees.
"I think you're going to see some appointments come out in the Fed governorships in the near future," said Cohn. "We're very excited about those appointments. That will help us with a lot of the deregulation of the banks."
Ian Katz, a policy analyst with Capital Alpha Partners, told clients he still expects the president to name his own pick for Tarullo's replacement, but if White House officials "can't agree on someone for that spot, the president could eventually ask Powell to do it."
Despite Powell being nominated by former President Barack Obama, that wouldn't be an unrealistic expectation given he was a Republican appointee in the Bush White House and a former partner at private equity firm Carlyle Group, wrote Katz.