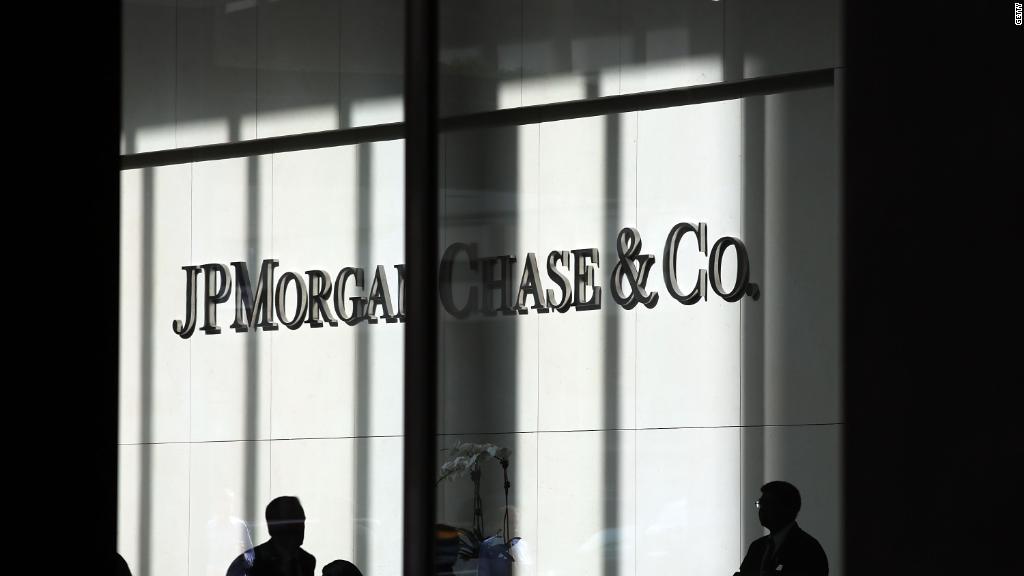 1. Bank earnings galore: On Thursday, JPMorgan Chase, Wells Fargo and Citigroup will report their first quarter earnings.
JPMorgan's (JPM) fourth quarter profits, reported in January, were better than expected. CEO Jamie Dimon said at the time that his general outlook was rosy. This week, Dimon appeared even more optimistic in his annual letter to shareholders, where he bragged about his bank's monster balance sheet.
Wells Fargo (WFC), on the other hand, is still feeling the effects of its fake accounts debacle. The Department of Labor this week ordered Wells Fargo to rehire a whistleblower it fired in 2010 and pay him $5.4 million in lost wages. But Wells Fargo's $110 million settlement with wronged customers might help it move away from the scandal, and some analysts say rising interest rates mean both Wells Fargo and Citigroup will exceed expectations.
Still, it's been a rocky ride for bank stocks, which soared after Donald Trump was elected but have slumped since then.
2. China a currency manipulator? President Trump met with Chinese President Xi Jinping for the first time on Thursday. Trump has spoken harshly of China in the past -- he believes the country has kept its currency artificially low, a move he says has been harming the U.S. economy. President Trump said his Treasury department would declare China a currency manipulator on the first day of his term -- but Treasury Secretary Steve Mnuchin hasn't made up his mind yet. And experts don't think Trump will go there now that he's president.
The Treasury Department traditionally issues two reports per year on the foreign exchange policies of the United State's trading partners. The next one is set to publish on April 15, so we'll know soon enough how the government feels about on China's yuan.
3. New York auto show. The New York International Auto Show kicks off on April 14. The annual show, the largest in the country, gives automakers a chance to flaunt sleek new designs and concept vehicles.
Auto enthusiasts are especially excited about the 2018 Dodge Challenger SRT Demon, a fast, powerful muscle car that Dodge has been teasing for weeks. Dodge brand sales have been increasing, so it's not surprising that Dodge maker Fiat Chrysler (FCAU) has been hyping the new car.
CNNMoney's Peter Valdes-Dapena will be at the show on Wednesday, so keep an eye out for our coverage.
4. Tax day protests: On Saturday (three days before your taxes are due) protesters will march in an effort to convince the president to release his tax returns. Trump's refusal to release his returns has been a point of contention for critics, who argue that the unprecedented move obscures the public's understanding of the president's finances.
For what it's worth, we do have some information about Trump's taxes -- the White House confirmed that Trump paid $38 million in taxes in 2005.
5. Coming this week:
Wednesday -- Delta holds call discussing its March quarter 2017 financial results
Thursday -- JPMorgan, Wells Fargo and Citigroup release first quarter earnings
Friday -- New York International Auto Show kicks off
-- Correction: An earlier version of this story misstated the amount Wells Fargo was ordered to pay a whistleblower in lost wages.