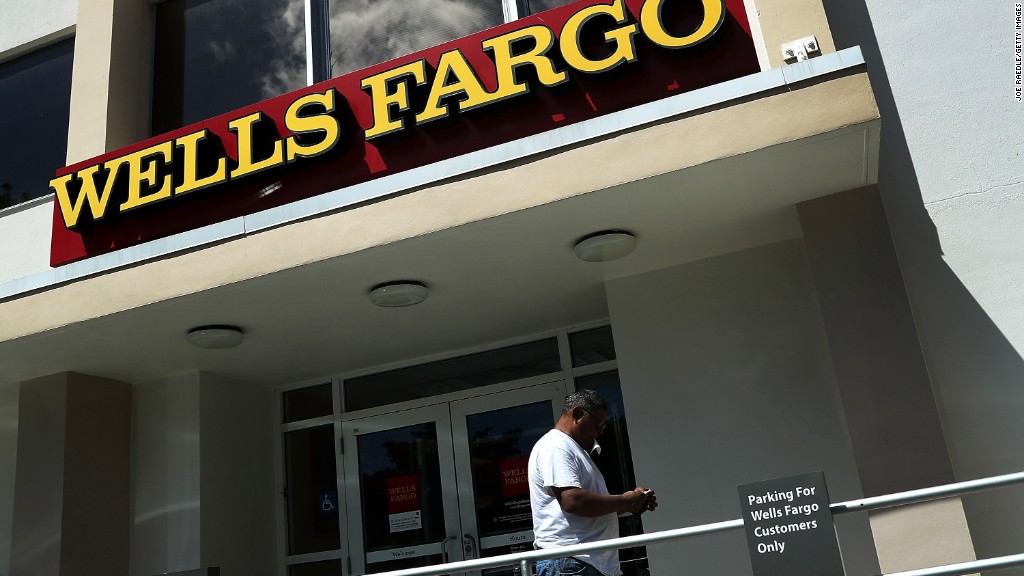 An internal Wells Fargo report prepared 12 years ago -- in August 2004 -- eerily foretold the fake account scandal that has recently shaken Wells Fargo to its core.
That investigation, titled "Gaming," warned that Wells Fargo employees had an "incentive to cheat" that was "based on the fear of losing their jobs." It said that workers felt they couldn't meet the bank's unrealistic sales goals "without gaming the system."
The 2004 report was sent to Wells Fargo's chief auditor, HR personnel and others. The Wells Fargo (WFC) task force even cautioned that the bank faced "reputational risks" with customers and recommended management consider eliminating the sales goals.
But, like other warnings, this 2004 report fell on deaf ears inside Wells Fargo.
"There is no evidence that the report and its recommendations were further escalated," according to Monday's 110-page investigation released by Wells Fargo's independent board of directors.
It's another example of how Wells Fargo executives repeatedly proved unable -- or unwilling -- to take the difficult actions required to fix major flaws the bank's cultural and incentive problems that fueled the scandal.
"Senior leaders were reluctant to take steps that they believed might have a negative impact on...financial performance," the report said.
Related: Wells Fargo claws back $75M from CEO, top exec
Judges slammed sales goals in 2004
Rather than admitting the flaws in the sales model, community banking head Carrie Tolstedt and others found it "convenient instead to blame the problem of low quality and unauthorized accounts and other employee misconduct on individual wrongdoers and poor management in the field," the report found.
Even though it took until September 2016 for the public to learn of the Wells Fargo scandal -- up to 2 million fake accounts and 5,300 fired between 2011 and 2015 -- the behavior was going on for much, much longer.
The independent investigation found that "mass terminations" for sales abuse went back to "at least" 2002 and then "continued sporadically over the next 10 years."
Another warning sign that went unheeded from the August 2004 internal investigation report: Wells Fargo had been losing in court when it tried to deny unemployment benefits to employees fired for sales abuses.
Incredibly, the judges who oversaw those cases were so appalled by what they saw that even they "made disparaging comments" about Wells Fargo's incentive system, according to the report.
Yet it took a dozen years -- and a national firestorm coupled with Congressional hearings -- for Wells Fargo to finally eliminate those now-infamous sales goals, where employees were incentivized to open multiple accounts for each customer.
Wells Fargo CEO Tim Sloan told CNNMoney during a conference call on Monday it was "very frustrating" to learn that these early warnings detailed by the board went unheeded.
Related: Top federal Wells Fargo inspector removed
'Diminished reputation'
The 2004 report even predicted the damage to Wells Fargo's brand that has recently forced the bank to launch several marketing campaigns.
If "customers believe that Wells Fargo team members are not conducting business in an appropriate and ethical manner," the report read, "it will result in loss of business and can lead to diminished reputation in the community."
The 2004 report was sent to Wells Fargo's chief auditor, a senior in-house employment lawyer, community bank HR personnel, the head and sales and development in the community bank and Michael Bacon, who was head of corporate security at the bank.
The findings were also discussed at a "gaming offsite in October 2004," the report said.
However, it wasn't until December 2004 that Tolstedt was provided a memorandum on the task force's work and even then a detailed content of the report was not "conveyed" in the memo.
The tale of Wells Fargo failing to heed the 2004 warning also shows a critical flaw in the type of "decentralized structure" that the bank believed in.
Wells Fargo favored a management style that offered "strong deference" to the leaders of various business lines with lax checks and balances, the board investigation found.
Wells Fargo even had a mantra to sum up this style of governance: "run it like you own it."
Related: Fed taps new 'too big to fail' regulator
'Insufficient' action
The fake account scandal -- and damage done to employees, customers and shareholders -- could have been minimized if Wells Fargo took action earlier.
One way the Wells Fargo board investigation measured the fake account problem is by looking at what percentage of the bank's accounts were funded with at least the minimum amount of deposits. The thinking was that accounts were being opened even when customers didn't want them and in many cases didn't even know about.
The rate of Wells Fargo's accounts that met the minimum funding "dropped steadily" from about 90% in 2005 to below 80% in 2012, according to the board.
However, it then improved and even exceeded 95% in 2016 "paralleling Wells Fargo's increasing focus on sales practices" after 2013. That was the year the Los Angeles Times published a landmark investigation on Wells Fargo's sales culture.
Still, the board said that once Wells Fargo management did take action, the steps were "incremental, implemented slowly and insufficient" to fix the root of the problem.
Wells Fargo's board clawed back an additional $28 million from John Stumpf on Monday, saying the former CEO was "too slow to investigate or critically challenge" the bank's sales tactics. Tolstedt has to give back an additional $47 million and the board criticized her for having "resisted and impeded scrutiny" and "minimized the scale" of the problem.
Wells Fargo has sought to fix its corporate structure by putting more checks and balances under central control and prohibiting Sloan and future leaders from holding the dual roles of chairman and CEO like Stumpf did.
Sloan promised during the conference call on Monday that Wells Fargo will "learn from these mistakes that are right there in black-and-white in this exhaustive board report."
"We're not going to let those mistakes happen again. They will not happen on my watch," he said.